Need someone to talk to? There's a Post for that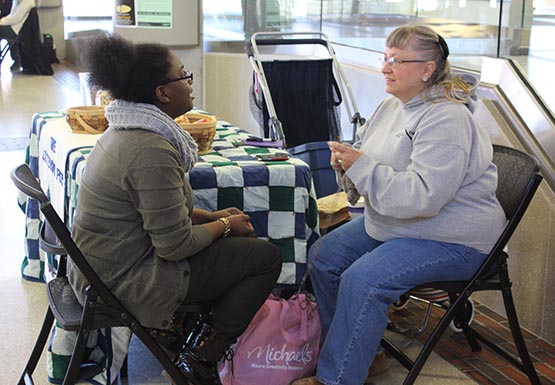 As a student, you've probably passed her in the Union a dozen times this semester where she sits knitting, a couple days a week. Maybe you've never even noticed her, or perhaps you stop there every time, shouting, "Hey Linda," and have so many stories you're dying to share with her.
Regardless, Reverend Linda Harle-Mould has a mission on Buffalo State's campus. And that mission is to simply listen to what students have to say.
Around 13 years ago, Campus Church ConneXion, the organization Harle-Mould works for, had this idea to set up a program where different churches could come, set up tables on campus, and talk to students a few days a week.
Through some discussions with the Campus Ministry, Harle-Mould, a Buff State graduate, soon discovered that the important thing was not to provide a particular organization every week to push their faith on students, but rather have one person consistently come to campus and just listen to whatever is on students' minds. So she set up show right underneath the steps leading up to Fireside Lounge every week.
Harle-Mould wanted to create a place where anyone could come and feel comfortable and accepted, just as they are. She said she tells students the same thing every time they come up to her at her table, which is lined with a white, blue, and green checkered quilt that she handmade specifically for her listening post to create what she refers to as a, "homey environment."
"I tell everyone, 'My name is Linda, this is The Listening Post. It's a place to come have a snack, sit, and talk. It's a safe place,'" Harle-Mould said, a smile wide across her face as she sat in her usual attire of jeans and a white sweatshirt, her long white hair spread across her shoulders.
The table she sits at is lined with snacks, usually animal crackers, apples and peanuts. Harle-Mould joked the food is important because it's the number one thing that attracts the students. After all, who doesn't love free food?
The students' discussion topics range from superficial to serious. Maybe a student stops to just grab an animal cracker and chat for a second. Or perhaps they come to brag about a good grade they got in a class, to discuss their roommate troubles, or other college life issues they have, all the way to coming to talk about their suicidal feelings or depression. Regardless how deep the topic goes, Harle-Mould is just there to listen.
She's established herself on campus as being an ideal person to come chat with about everyday life, and she thinks that's why students keep coming back to her.
"I think because I'm here every week, I've become a familiar face," Harle-Mould said. "Word of mouth spreads that I'm not going to convince anyone anything, or tell them what to do, and that I mean what I say."
Harle-Mould may be known as the lady who sits and knits, but she didn't always knit as she sat and waited for students to come share their thoughts.
"I discovered if I sat here without doing anything, students thought, "Why is there this weird lady just looking around the Union?" Harle-Mould said. "I'm also a better thinker when my hands are busy. But over the years, I can't tell you how many students I've taught to knit and crochet."
Harle-Mould said she one time had a student who graduated three years ago, who came and sat with her every day since that girl was a freshman, to learn how to knit. She got so good at it, that once she graduated, she joined the Peace Corps and taught 200 women in an African village, where she was stationed, how to knit.
"Some of the students know how to text a thousand words a minute and are technologically much better than I could ever dream of being," she said. "But there's something about the act of creating something with your own hands that's very meditating, and you feel a sense of accomplishment that is different from what happens with much of technology."
Harle-Mould admits that doing The Listening Post is actually very selfish on her part because she loves talking to students and hearing about their plans, hopes, dreams, and goals. She goes to all of the graduations and realizes the importance of her connections to the students.
"It's the greatest moment for me to see students walk across the stage, that maybe I've known since they were freshman," she said, "and I know in a way that their parents don't, the struggles they have gone through. That's the most wonderful part about doing this."
Harle-Mould is in the Union most Wednesdays and Thursdays from 11 a.m. to 2 p.m., sitting and knitting, just waiting to hear absolutely anything anyone has to say.
Email: [email protected]
Leave a Comment