A Dream to Believe In
A little imagination led Buff State grad to love, Atlanta and country music's biggest stage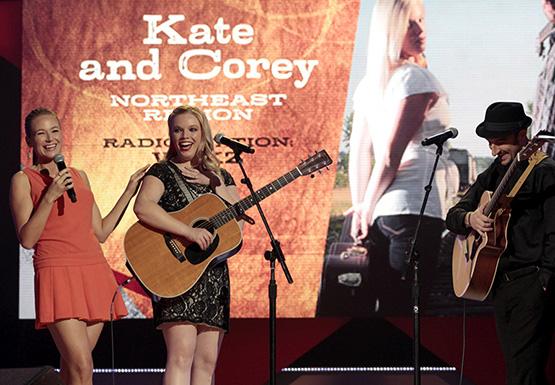 Kate Shaffer stood at the center of the biggest stage of her life, apprehensive to what was about to happen, but appreciative of everything she had been through to get to that point.
Her partner and fiancé stood by her side, guitar in hand, three feet to her left, where he had been since they met four years prior on a much smaller stage back home in Buffalo.
As the duo began to sing, "You're Gonna Like Us," a single from their debut album, it turned out they were right. The 2,500 fans that packed into Ryman Auditorium that January night in Nashville, Tenn., simultaneously began tapping their feet to the concrete beneath them as the bluesy beat filled the air.
Looking out into the crowd, Shaffer remembers being taken by the look and feel of the auditorium. It was much smaller than she imagined, more like a traditional Sunday church than a world-famous music hall, but its trademark curved balcony and stained glass windows were every bit as stunning as they had been in her dreams.
It had been a long, winding journey for Shaffer to reach this point, one filled with a little luck, a lot of love and her fair share of struggles. But for the time being, win or lose, she had reached the pinnacle of her career as a professional musician.
It was nothing like she ever imagined two years earlier at Buffalo State.
•••
Shaffer, a dance and communication double-major here, had no idea what she wanted to do.
As graduation began to sneak up on her in the spring of 2011, she couldn't decide if she should be filling out PR job applications or tweaking her resume for a dancing career.
She didn't do much singing at all while taking classes at Buff State. In fact, until junior year, the only real practice she had with her voice came during a talent show at her high school in Cheektowaga or on open mic nights at area bars and restaurants.
But Shaffer credits her success, albeit brief, to her time at Buffalo State. Heavily involved in dance her entire life, she said her adviser, Joy Guarino, encouraged her to keep an open mind while selecting classes in order to seek out life's more interesting aspects.
It was a life lesson she hasn't soon forgotten.
"Dance kind of taught me how to creatively find solutions," Shaffer said. "Money's not everything. You should do what makes you happy to do, and find other creative ways to make money along the way. Dance taught me that."
Janet Reed, another dance professor, helped set Shaffer up with open mic opportunities outside of school.
Those opportunities led to her first gig prior to graduation when she was asked to join on as the lead singer for a local classic rock band called the Nawty Dawgs.
In more ways than one, that chance has led Shaffer to everything that is important to her today, including her lifelong partner.
•••
Shaffer met Corey Coleman in 2009 while at a show watching her friend's band.
The chemistry was instantaneous, but at different points in their lives — Coleman, a transplant musician from Watertown hoping to launch his own band in Buffalo, and Shaffer still working toward her degree — the two wouldn't see one another again until more than a year later.
One November night led Shaffer and Coleman to the same Niagara Falls restaurant for a show. Coleman's band, 90 West, was performing at Jaco's Pizza that night.
As Shaffer, unsuspecting, walked in to see her old friend on the stage, Coleman hung his guitar on his shoulder mid-song and said, "'I don't know your situation. I don't know if you're single or not, but I think we should do dinner tomorrow night,'" Shaffer recalled. "I hadn't seen him in so long, I forgot he was in the band."
Shaffer would graduate from Buffalo State the following semester, and they eventually moved into an apartment in Kenmore together.
Everything that would come from that point forward started that summer with a song stuck in Coleman's head.
"Never Been to Spain" by Three Dog Night wasn't really their style, but when the duo started singing in the living room together that night, it sounded too right for them to ignore.
"I think we should do this," Shaffer asserted. "Let's quit our jobs and be full-time musicians."
Shaffer had been recently laid off from her part-time job. Coleman followed suit, and the two quit their respective bands to join together.
They formed the bluesy, Americana duo of Kate and Corey that September.
"We decided to struggle for a little," Shaffer said, "at least until we could start making a living. I said, 'If it gets really bad, we'll go find full-time jobs doing something else and it'll be okay.'"
They made $300 in their first month. She got rid of her cell phone. He sold his car. They downsized to a smaller apartment in Lackawanna.
"It was a lot of sacrifice; a lot of tears, laughing, supporting each other," Shaffer said. "And it all made us grow really close."
Working together, Shaffer as the "planner" and Coleman as the "idea man", they started landing gigs around Buffalo as their concept of Kate and Corey began to catch on, but they weren't singing their own songs. They needed to branch out if they were going to make it anywhere.
"Other musicians were telling us we needed to leave town: 'You're young, you're talented and you could really do something with this,'" Shaffer said.
After booking a few mini-tours around Atlanta, Shaffer and Coleman decided to take a leap of faith to further their careers down south.
They released their first album in September.
It all worked better than they ever could have thought.
•••
Imagine life at status quo, living as an everyday college senior with big dreams, uncertain of what lies ahead.
Now imagine, two years later, sitting in a dressing room once occupied by your favorite artist, about to take the same iconic stage they once performed on.
Shaffer was living out her dream this winter while she and Coleman competed in the Texaco Country Showdown, a national country singing talent show designed to identify "the best new act in country."
After cruising through the local, state and regional competition for a trip to Nashville, the country music capital of the world, Shaffer and Coleman were selected as one of five finalists from 52,000 entries to compete for $100,000.
It's the same competition Martina McBride, Garth Brooks and Miranda Lambert, to name a few, came through on their way to country stardom.
Shaffer and Coleman lost by six points, finishing second, 282-276, to a group from California.
As Shaffer sat in the dressing room named after Johnny and June Cash, following the biggest performance of her lifetime, she reflected on how far she's come since roaming the stage of her high school talent show, or even just in the past two years.
"We walked in and said the place felt haunted," Shaffer said. "Not in a bad way, but just knowing we were in the same place as all these legends, you could feel their energy. It was surreal."
Today, Shaffer, 23, and Coleman, 30, live in Marietta, a suburb of Atlanta, in a 1,600-square foot townhouse, much cozier than where they started off in Buffalo.
They've been called one of the "five best new acts in the country," and are nominated for a Georgia Music Award in the Americana/bluegrass category next month.
Never satisfied, they continue working to book any gig they can get, with big plans in the works.
Their second album will release early this fall, and in five years, Shaffer said, they hope to play at the Ryman Auditorium once again, and maybe even appear on the Late Show with David Letterman.
Shaffer's dream that began while she was a college senior will come full circle in a few weeks, when she returns to Buffalo to marry her partner and best friend.
When Coleman proposed, he planned a trip to New York City. One of their first stops was to Strawberry Field in Central Park, which serves as a memorial to former legendary Beetles member John Lennon, who Shaffer and Coleman idolize.
At the center of the circular, tiled memorial reads the word imagine.
As Shaffer, the dancer from Buffalo State who kept an open mind, tells it, when she went to grab her camera to snap a photo of Coleman posing on the memorial, she looked up to find him on one knee, ring in hand.
Imagine that.
Brandon Schlager can be reached by email at [email protected].
Leave a Comment