'Probz' becoming a part of Buff State culture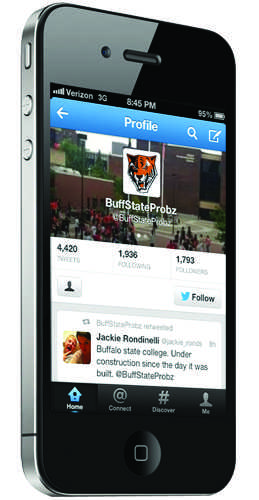 Mike Perozzi sat in his Bulger classroom in the fall semester and thought to himself.
As a junior art education major, there isn't much Perozzi allows to go unnoticed in a classroom setting.
"As a future teacher, I know how I would run my classroom," he said.
So when a few of his classmates began getting out of line in the Foundations of Art Education class, he couldn't help but think of the choice words he might have for them if he were the professor. But he didn't say them aloud. He flipped out his LG Optimus and poked at his Twitter app.
"Seriously some people are so rude in my foundations of art education class," Perozzi tweeted in November. "We all paid attention to you & your presentation now do the same @BuffStateProbz."
It wasn't the first time Perozzi, also known as Mikey Pee on Twitter, voiced his frustration on the popular social media web site. The transfer student and Rochester native typically reserved his opinions for fashion, music or his daily life.
As Twitter took the nation by storm, Perozzi had heard about a new fad catching on across campus and was eager to indulge himself in the Buffalo State culture. Like most others, he was hooked to the @BuffStateProbz handle from the start.
Since its creation in December 2011, the quirky account has become a common destination for Buffalo State students looking to blow off some steam or gather a quick laugh at the expense of classmates.
Today, there are 1,794 Buff Staters like Mikey Pee who follow the account religiously, awaiting the next batch of relatable re-tweets, and that number will only get bigger as more students enroll.
It's come a long way in a year.
•••
The problems began on a frigid mid-winter morning walk from M Lot to Bulger.
Jill Idziak, a 2012 communication graduate, had set off with a friend on their dreaded daily trek from their car, across the frozen campus, to a 10 a.m. dance class.
"Oh my god, I friggin' hate this walk. Why can't parking be closer to the classrooms?" Idziak rhetorically mused to her walking buddy.
Parking is a well-documented issue not only at Buffalo State, but at college campuses across the country. Idziak and her friend wondered how many other students must share their frustration on a daily basis.
"We were just miserable," she said. "Walking from M Lot to Bulger in dead winter, that sucks. And everyone can relate to that."
And so it began.
Idziak was already well established on the Twitterverse, with more than 2,000 followers on her personal account, so she decided to create a place for students to share their unfiltered and unrelenting opinions on the everyday ups and downs of life at Buff State.
Something that started as a joke between friends has grown to become as much a part of the campus culture as Bengal Pause, Springfest and Homecoming Week.
"When I tell people I run the BuffStateProbz account, they go, 'Oh my god, that's you?!'" Idziak said, acknowledging the 15 minutes of campus fame the account has brought her.
As it turned out, Twitter plus complaining equaled a simple yet perfect formula to attract the college mind.
Idziak began receiving dozens of responses daily, so many that the battery to her iPhone began dying from the overflow of account notifications. Before she knew it, she was waist-deep in tweets complaining about parking, campus food, annoying roommates, disgusting bathrooms and everything in between.
"It's basically like Gossip Girl for Buffalo State," Idziak said. "That stuff's funny. It's what people want to read. … It's no coincidence that funny Twitter accounts are the ones with the most followers.
"Nobody's going to follow if you just say, 'Oh, Buffalo State's so beautiful today!' But what about that condom in the elevator? Did you see that?!' It's what people like. It's just funny."
•••
While most Buffalo State students who follow along on Twitter take BuffStateProbz for a good laugh, there are others who remain unamused.
As much as BuffStateProbz, which is not officially affiliated with the school, has become a comedic forum chronicling the ups and downs of campus life, it has also inadvertently become the host for pointed criticism toward Buffalo State itself.
The negative connotations of many, if not most, of the tweets directed at and re-tweeted by the BuffStateProbz account has some questioning whether it's a good thing for the college.
They argue it emphasizes the campus' downfalls, magnified by the wide net Twitter casts, to outsiders who may be considering Buffalo State for school. Others say it's inappropriate and disrespectful toward the faculty and staff who work hard to maintain a positive atmosphere for students.
Idziak said she's surprised by the negative feedback. She thinks people need to keep in mind that most of the issues that can be seen on the BuffStateProbz timeline are not isolated to Buffalo State.
Similar accounts exist at other SUNY schools, like the University at Buffalo or Fredonia, that relay identical campus problems.
"It's not like it's an anarchy against Buff State," Idziak said. "I don't think that students hate Buff State. … Are there problems at Buff State? Sure. But are they as bad as BuffStateProbz make it out to be? Maybe not.
"Do I think BuffStateProbz makes people not want to go to Buff State just because of what they see on Twitter? Not at all."
For Perozzi, in fact, it was just the opposite. He first came across the account while still attending Finger Lakes Community College. Perozzi argues that the account actually encouraged him to transfer to Buffalo State.
"It drew me to the school because it gave me a good sense of the community that existed here that everyone wants to be a part of," Perozzi said. "Everybody's going to say the food sucks at a school. Everybody's going to say their dorm sucks. That's just part of college. The food isn't going to be good. The dorm isn't going to be great, and that's what you learn from."
Instead of seeing it as a negative, Idziak believes BuffStateProbz presents an opportunity for the college administration to take notice and use it as a forum for feedback on all things campus-related — good and bad.
"The official Buffalo State Twitter account should follow us," Idziak said, "so they can see the problems and ask themselves: A. Who's doing this stuff to our campus? And B. What can we be doing to make this a better place to go to school?"
•••
In a sense, the same quirky snark that fills the BuffStateProbz timeline and keeps its followers glued to their phones in between classes is also working to make Buffalo State a better place to be a student.
Idziak has since developed a method to manage the madness. As she reviews incoming tweets from the desk at her new day job, each re-tweet is calculated.
The criteria: How hard does it make her laugh?
"It's almost like a popularity contest: Who's going to have the best Buff State tweet of the day?" Idziak said. "People will be like, 'Oh my god, Buff State Probz retweeted me!"
For many students, a re-tweet from the BuffStateProbz account means a sense of accomplishment for a day. It generates conversation among the followers. Before you know it, students are connecting with others who otherwise may never have met.
"You'll be like, 'Oh, yeah. This happened to me, too!'" Perozzi said. "The fact that it's community based is good for the school because it's a release for students."
Perozzi has become one of BuffStateProbz's biggest fans as he finishes his second semester here. He enjoys interacting with the account, saying it helps to foster a sense of community that often gets lost in the hustle and bustle of a commuter-dominant campus like Buff State.
In a way, he says, it makes Buffalo State feel more like home.
"It's funny. Some people will recognize you from a re-tweet and be like, 'I saw you on here!' Perozzi said. "Now you have something in common. You can make friends from it."
It's all part of the perfect storm that's contributed to the subculture Idziak created more than a year ago.
"People like to laugh and people like to complain," she said. "Bring it all together and put it on one Twitter account and you're golden."
Brandon Schlager can be reached by email at [email protected] or on Twitter @B_Schlag
Leave a Comment