Dream season ends in first round for volleyball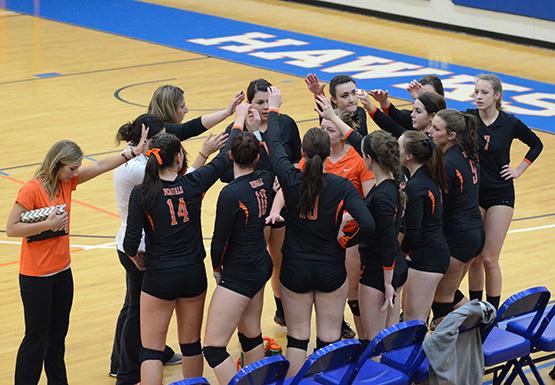 The night before the Buffalo State volleyball team's first-round NCAA tournament match against University of Chicago on Thursday, the Bengals took the court at host Calvin College for the first time to practice.
After the whirlwind of winning the SUNYAC title on Nov. 10, finding out their first round opponent the next day, and hopping on a bus for the seven-hour ride to Grand Rapids, Mich., early Wednesday morning, the reality of making the NCAA tournament for the first time in program history still hadn't sunk in for coach Maria DePeters.
"Everything happened so quickly that it didn't really register what was going on," DePeters said.
Then she walked onto the court at Van Noord Arena. She saw the bright lights, the two-level stadium seating, the press boxes. It finally hit her.
"It was like, wow. We're at a national spectrum," DePeters said later. "It was really cool."
The same night, before practice, senior outside hitter Sarah Horvath walked into the Bengals' private locker room at Van Noord Arena to get ready for practice. She saw the cooler stocked with Powerade, water, granola bars and bananas. Like DePeters, she and the rest of the Bengals were in awe at the perks of playing in a big-time tournament.
"We were just shocked that they did all that for us," Horvath said. "Then on game day, they gave us little treat bags. It was just really cool. Usually at every other tournament, we share showers and facilities with other teams. But they treated us really well (at the NCAAs)."
Like the facilities at Calvin, the Bengals' opponent, No. 16 University of Chicago, was also top-notch. The Maroons entered Thursday's match 26-10 after beating No. 7 Emory in the University Athletic Association championship game.
When each team took their respective side of the court to warm up, Horvath noticed that one side had significantly more height than the other.
"They were very tall," Horvath said. "That's one thing we noticed in the warm-ups. We were looking through the net, and I just remember looking at (teammate Sam Parente), being like, wow, they're so tall. I think every player on their team was probably taller than me."
University of Chicago has seven players on its roster listed as 6 feet or taller, and only one player listed under 5-foot, 7-inches.
"You could just tell that they were a highly recruited, big team," Horvath said. "They were a very good blocking team, and offensively their hitters were great. They're just an all-around solid team."
Right from the start, Chicago established itself as a tough opponent. The Maroons jumped out to a 6-1 lead before taking the first set, 25-13. DePeters noticed her team was nervous, and talked to her team after the set.
"I told them that you can't get to the national tournament and play like this, because that proves to people that we don't deserve to be here," she said. "I think they took that to heart, and they knew that they could've played better, and they did. They turned it around."
Buffalo State bounced back in the second set, eventually coming away with a 26-24 victory after 15 ties and eight lead changes. After the win, DePeters said her team was feeling very confident, and the Bengals carried that momentum into the next set.
But even DePeters was surprised when the Bengals jumped out to a 9-2 lead in the third set against the heavily favored Maroons.
"I was honestly a little shocked," DePeters said. "Chicago's a great team. They had a lot of height, a lot of speed. I was surprised that the girls got up that far on them, really."
But Chicago came back to take a 14-13 lead, and later, with the game tied at 19, scored five out of the next six points to win, 25-20.
Chicago stormed into the next set, taking the first six points. The Bengals went on a short run to get within four points at 8-4, but that was as close as they'd get. Chicago went on to win the fourth and final set, 25-14, eliminating the Bengals from the NCAA tournament and ending their season.
After the match, DePeters told her team she was proud of them for getting that far. This was the first NCAA appearance in program history, and the Bengals' 25 wins was the fourth-highest win total of all-time.
"They should feel really proud of themselves that they took a set away from that team and took them to four," DePeters said. "We played really confidently, and I said, if you're going to end your season, what better way than to end it at NCAAs."
From 2003 to 2010, the Bengals won just 65 games and lost 175. When DePeters took over in 2011, she made changes right away—although winning wasn't immediately her top priority.
"We did have some good kids on the team with some talent, but there wasn't team camaraderie, there wasn't a family-like atmosphere, the girls (weren't getting) the well-rounded experience that they deserve when playing a college sport," DePeters said. "When you start to build some of that stuff up, you can see it translate on the court."
The results showed right away. In DePeters' first season as head coach in 2011, the Bengals made the playoffs, but lost in the first round. Last season, they lost in the SUNYAC title game.
This season, DePeters saw her team come together on and off the court. In the pre-season, the captains organized a team trip to see the Goo Goo Dolls in concert. But, DePeters said, that tight camaraderie sometimes contributed to the Bengals' bumps in the road.
"When we lost games, we were losing because I think the girls were almost a little too comfortable with one another," DePeters said. "They were like, 'oh, this person will pick up the ball, and I might not have to,' instead of, 'no, I want the ball every single time,' expecting it and not having that drive."
But DePeters said her team found a spark that carried them to one of the best seasons in program history.
In 2013, the Bengals tied a program record with an 11-game win streak, won the SUNYAC championship and made the NCAA tournament. Senior Chelsea Moore made Second-Team All-SUNYAC, while senior Kelsey Bashore and junior Sam Parente made First-Team. Parente also earned a spot on the All-New York Region team and was named honorable mention All-American.
"It wasn't a season that was all, as I always say to the girls, 'gum drops and roses,'" DePeters said. "Everything wasn't perfect. We really had to go through our hard times, but I think because we persevered over a couple things, I think that's what made the end of the season so phenomenal."
Email: [email protected]
Twitter: @LeifReigstad
Leave a Comment