Balanced attack spurs men's basketball to season-opening wins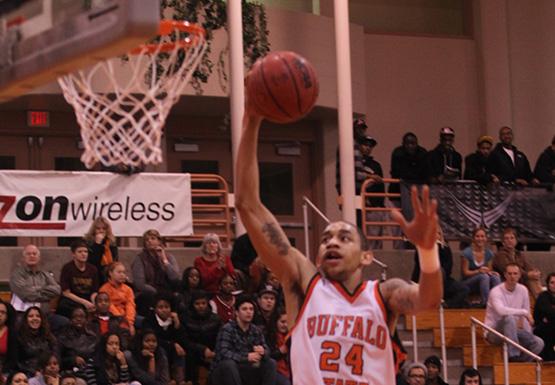 Going into the 2013-14 season, the biggest question surrounding the Buffalo State men's basketball team was how was it going to recover from losing the leading scorer in school history.
Jake Simmons, who graduated last year, finished his Buffalo State career with 2,079 points, averaging 21.4 points per game his senior season.
His departure leaves a gaping hole on the team, something coach Fajri Ansari knows needs to be filled by multiple players on his team.
"That wasn't by design necessarily last year, it just turned out that way," Ansari said. "We have a young team this year, so obviously balanced scoring is going to be very important."
Early in the season, the Bengals look to have accomplished their goal of having a more balanced attack.
In Buffalo State's season-opening 67-59 win over St. John Fisher Saturday, 12 different players scored at least one point, and three scored in double-digits.
A big part of Buffalo State's ability to get all players involved was its effective defensive play and points off of turnovers.
The Bengals forced 17 turnovers Saturday, and scored 25 points off of those turnovers. By comparison, the Bengals turned the ball over just nine times in the game.
"We do like to pressure," Ansari said. "I'm not comfortable with just letting people come to set up on us. We at least try to make teams work for their points."
Roderick Epps led the Bengals with 15 points and eight rebounds in the game. Justin Mitchell had 12 points and Bradley Doyley had 10. Jordan Glover had nine points on just four shots, going 3 for 4 from 3-point range.
In the first half, Buffalo State led by as many as nine points before St. John Fisher was able to close the gap to two at halftime.
In the second half, the Cardinals came out strong, and took the lead early in the half. They led by as many as five points, but Buffalo State answered back.
Two straight 3-point shots by Glover gave the Bengals the lead, and they never looked back. Buffalo State went on a 12-1 run over the next six minutes, and was able to close out the game from there.
"They were big," Ansari said. "I'm glad it was more of an instinctive reaction for him to shoot like he did, because he only took four shots."
Buffalo State shot 48.1 percent from the field in the second half, including 50 percent from 3-point range.
The Bengals got 17 points from the bench, something Ansari knows will be key throughout the season.
"That's an example of us being well-balanced as a team," junior guard Maurice Miles said. "A lot of us can come in and make plays, we just don't need one player to score."
One of the biggest adjustments Buffalo State has needed to make in the offseason is acclimating all of the new players to the team.
The Bengals have eight new players this season, including six freshmen. To have more than half of the 14-man roster be new faces has required the Bengals' players to alter their approach to the season.
Senior forward Justin Mitchell said that the new players have made the transition easy, however, because they understand their responsibilities on the team.
"Coming in, they know what they have to do," Mitchell said. "They don't come in right away looking to score, they just play their role."
As for the team's goals for this season, Ansari was quite frank with what he expects out of his team this year.
"We always play for a championship, so that's the goal we set forth every year," he said. "I mean, why play if you're not going to aim for a championship."
On Tuesday, Buffalo State defeated Medaille, 87-82, thanks to a strong second half performance.
The Bengals were losing, 62-59, with just under 10 minutes to play before going on a 16-0 run to take control of the game down the stretch.
Mitchell led the Bengals with 21 points and 10 rebounds for his first double-double of the season. Buffalo State had 28 points from its bench and shot 46 percent from 3-point range for the game.
The Bengals will play in the Buffalo State Coles Classic this weekend at the Sports Arena. They take on Ohio Northern at 8 p.m. Friday and John Carroll at 4 p.m. Saturday.
Email: [email protected]
Twitter: @cdierken
Leave a Comment