Cross country falls flat at regional race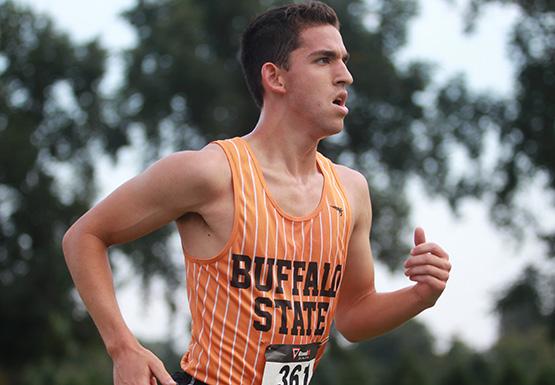 The Buffalo State men's and women's cross country teams traveled to Letchworth State Park last weekend for the NCAA Atlantic Regionals, the team's final meet of the 2013 season.
The weather was beautiful, the course was fast, and head coach Dustin Dimit was happy to finally have good conditions after going through horrible weather and course conditions almost every week this season.
In the end though, the good weather didn't help, and the men finished 26th out of 39 teams and the women finished 26th out of 38 teams.
The top performers on the men's side were Kyle Foster, who finished 92nd out of 275 runners (26:54) and Austin Becker who placed 131st (27:33).
For the women, Julia Smith finished 95th out of 269 runners (23:35) and Tara Murphy came in 145th (24:17).
Since it was the final meet of this season, the team's focus was to go out and finish strong, but it also wanted to prepare for next season in the process.
Because of this, top runners Bumkoth Jiak and Felipe Yanez didn't compete in the race for the men. In their place, Dimit chose to let some of the younger runners get some experience.
"We wanted some of our younger guys to gain that experience," Dimit said. "We knew this year we weren't as strong as the year before so we wanted to make sure we were building on the future."
On the women's side, they wanted to improve on their finish from last year, which they did. Although it was only one place better, Dimit was still happy that they took a step in the right direction because it's something they can build on next year.
Dimit saw this year as a rebuilding year, and said that they were a few runners and a few injuries away from being a much better team than they were.
Foster echoed his coach's sentiment.
"Overall, I think we did good, especially for losing four of our top seven over the season," Foster said. "We're a young team so there is definitely room for improvement but everybody is on the right track and a lot of people are already talking about next season."
Female runner Kat McNamara, who said she wished she had done better on a personal level, also reiterated what both her coach and teammate said.
"As a whole team I think everyone did really well this season, everyone has been moving up," she said.
Dimit sees this upcoming recruiting class as one of his best classes since he began coaching at Buffalo State and is excited for what is to come next season.
Email: [email protected]
Leave a Comment