Students battle, iPods and Red Bull in hand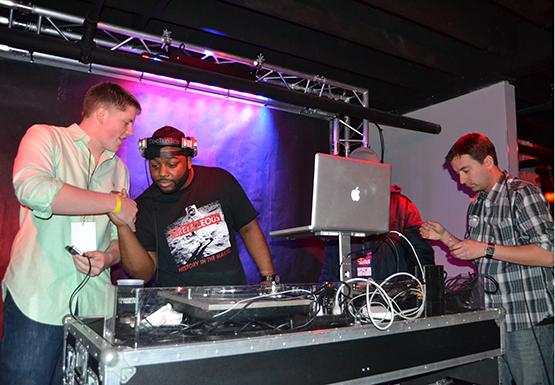 Students often look for fun and interesting reasons to abandon schoolwork and enjoy the college experience. However, sometimes it's difficult to find new events to attend in Buffalo.
Red Bull recently came up with a way to blend all things creative and collegiate with its second annual Play and Destroy iPod Battle. The innovative minds of Red Bull designed a head-to-head battle between contestants from SUNY Buffalo State and the University at Buffalo.
Each contestant was equipped with nothing but their iPod and their own creativity when choosing the best song to fit the battle category, or "battle-gory." Chosen students were pitted against one another in a playoff-style bracket, to be judged upon by the crowd. Each round consisted of three "battlegories," during which the contestants played 30 seconds of their selected songs.
"The battle categories are created to evoke creativity from the DJ participants," said Pat Morgan, an emcee for the event. "The saying goes, 'There's more than one way to skin a cat,' and so goes it for these categories. For instance, 'Best New York Song' could mean anything from Frank Sinatra to Jay-Z. It's all about interpretation, and these contestants getting the crowd as worked up as possible."
The crowd was able to get its collective groove on and have a good time without a lot of chaos. With the exception of one fight breaking out, the atmosphere mainly consisted of people who wanted to have fun and listen to good music.
"I was expecting it to be a lot more rowdy, but I'm feeling it," Buffalo State student Jessica Machlovitz said.
Morgan said that the event was meant to promote interaction between students and schools, as well as creativity.
"Red Bull has the foresight to create these events, and it's on the participants to provide the identity, character, and local culture," he said.
According to the student brand manager at Buffalo State, Leonard Funderburk, there were two or three more contestants from Buff State, while the majority of the crowd was from UB.
Some of the participants were feeling the pressure of their performance and the crowd's reaction. "I'm nervous," said Buffalo State contestant Phil Oliver before his battle. "UB came with three bus loads of people. We're small, but we're strong."
Although there were only a few female participants, they were able to hold their own against the guys.
"It's awesome," said UB student Emma Callinan after winning a battle. "I did it last year, too. It's super empowering as a girl, especially when it's against a guy. I'm pretty sure it's 10 times more empowering than winning against a girl."
DJ Big Rob of 93.7 WBLK laid down some tracks during the brief pauses of the battle in order to keep the energy going.
Drink specials are also expected when a beverage company like Red Bull hosts an event, and it didn't disappoint. Everyone was able to enjoy specials of Red Bull while the 21-and-up crowd was able to take advantage of a variety of deals on alcohol.
Email: [email protected]
Leave a Comment