Retired Buffalo State staffer rewards student excellence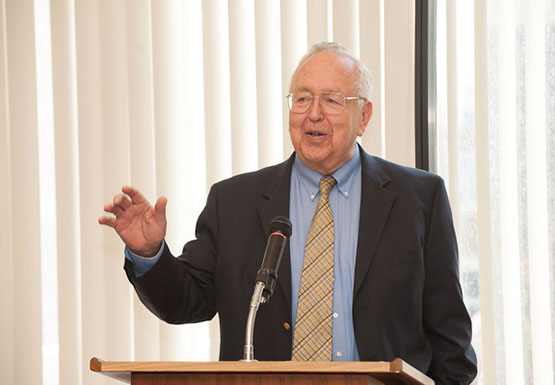 The Ross B. Kenzie Family Presidential Scholarship program was established in 1998, which is awarded to recognize academic achievement, leadership development and community service.
Kenzie was the chairman of the governing board for Buffalo State from 1982-98.
Now retired, Kenzie remains active by doing what he can to improve his scholarship. He added an additional scholarship to the 2011-12 and 2013-14 academic year. A $2,400 award is renewable annually, given the students maintain a 3.0 GPA.
An award of $520 is also granted each semester to scholars who make the Dean's List.
"Being a big part of the college for several years, I wanted to do something for the future," Kenzie said. "This scholarship is part of that future and will be there forever."
According to the extensive research document created by Muhammed Sumbundu, a graduate intern in the president's office, the scholarship intends to create an experience where a relationship is built around leadership, empowerment and mentoring.
Sumbundu shared that students have the privilege of meeting and interacting one-on-one with Kenzie and the program director and administrators of Buffalo State.
Students are provided with networking opportunities to better the chance of academic achievement through a variety of program activities.
The scholarship seeks out students from the following populations: African-American, Latino American/Hispanic, Native American/Pacific Islander, or Asian American.
The scholarship is open for all students coming out of high school with a 90 average or higher, and a minimum of 1,000 on their SAT.
"We settled on anyone intelligible, but I found an interest in African-American and American Indians," Kenzie said.
In an ethnicity chart of the current Kenzie scholars done by Sumbundu, 58 percent are African-American, 19 percent are multiple ethnicities, 8 percent are Asian American, 7 percent are Latino American/Hispanic, and the following 8 percent is divided between Native Americans and Pacific Islanders. Another chart shows that 73 percent of the scholars are females, with the remaining 27 percent being men.
The program started out with four students and has grown to 25 students on an annual basis.
"It's a scholarship that makes a huge difference in the lives of students, it holds them to a higher standard," Sumbundu said.
A 2012 graduate of Buffalo State, Divine Sebuharara, said she has benefited significantly from the scholarship. Sebuharara studied health and wellness with a minor in sociology. She received a letter from Sandra Washington, the director of the program, offering her the scholarship.
"I can't even describe in words, it is really amazing how helpful Mr. Kenzie is to the students. We were constantly provided with help and support," Sebuharara said.
Aside from being aided financially, Sebuharara was provided with etiquette training during luncheons with other scholars, and attended several workshops with Kenzie and Washington. This was an opportunity for Sebuharara and other recipients to learn more about themselves, network, discuss career topics and what the students wanted to do with their futures, and get to know a lot of people from the Buffalo State campus.
"It was a very family oriented scholarship," Sebuharara said. "To kick off the year every year, we would go to Mr. Kenzie's home for a picnic and the president would come."
Sebuharara attended Ithaca College last year to accomplish her graduate work.  She now works at Cornell University as a research aide on the project ACT for Youth.
Another 2012 graduate and scholar, Janine Diaz, graduated with a fashion technology degree.
Diaz now works as an assistant designer at Aidon Mattox, which is an eveningwear line, and several department stores will carry her line this winter, Sumbundu said.
Kenzie's mailbox fills up with thank you letters from new and continuing scholars each semester. Aside from providing students with the scholarship, Kenzie holds an informal barbeque at his home on the weekend prior to the start of the academic year, Sumbundu said. The barbeque serves as an opportunity for students to get to know each other and Buffalo State administrators.
According to the research document, the Kenzie graduation stands at a high 78 percent. Most of the Kenzie alums and current scholars major in childhood education, and the second highest concentration is criminal justice.  Sebuharara falls into the third highest concentration, sociology.
Email: [email protected]
Leave a Comment