Empty USG senate seats filled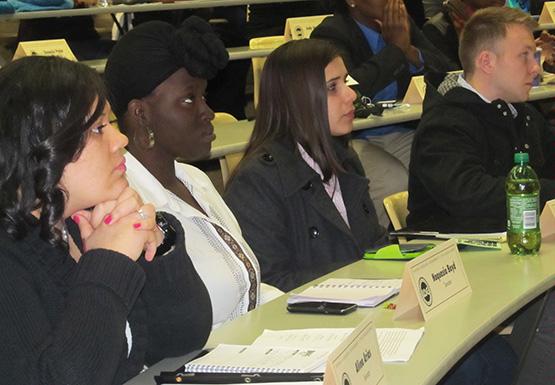 The United Students Government filled the final four available seats in the senate at Tuesday's meeting in Bulger West. It also added a new organization and re-acknowledged two existing ones.
Chief Justice Edward Bryant kicked off this week's meeting by introducing a candidate for the open justice position. Freshman criminal justice major Yaniris Ramos stood in front of the senate to explain why she thinks she is the perfect candidate for this position.
"This will be the perfect opportunity to be more involved in campus," Ramos said. "My goal is to satisfy our needs as students, as well as representatives of our school."
After giving her speech, Ramos went outside so the senate could vote her in to be the new associate justice. Once Ramos returned, she was welcomed to her new position by a unanimous vote.
Associate director of student life Sarah Velez was elected to the position of committee chair with a vote of 34 in favor and zero not in favor.
USG President Eric Sauerzopf spoke on the idea of a new turf field that would not just be for the athletic teams to play on, but would be open to anyone who would need it. The idea is very new, but Sauerzopf said he hopes to get everyone on board for this new project and will continue to provide updates within the following weeks.
USG Treasurer Justine Britten encouraged the senate to think of something that would allow them to leave their mark on campus.
"As the 37th legislature we definitely want to leave a legacy," Britten said. "It doesn't have to be something that we can pay for. [It can be] an advocacy project or something that you want USG to do, that you think would benefit the student body."
Janey Nemard, Juliana Bolaji, Barthelemy Jean Baptiste and Corey Bryant were voted in as the final four USG senators. Nemard, a junior business major, spoke first and expressed why she felt qualified to be part of the budget committee.
"I helped run a virtual company in high school and wound up winning chief financial officer," Nemard said. "I was elected to go on a trip to California and raised over $500,000 to bring back to my company."
AVP Serenity Smith spoke on behalf of Nemard.
"I've known her since freshman year of high school and everything she's said is completely true," Smith said. "She takes risks, she takes chances, and I think we should take a chance on her. She'll definitely be an asset to USG."
When Juliana Bolaji gave her speech, she chose to focus on her personal strengths.
"I believe that I possess the qualities of a leader," Bolaji said. "I'm reliable, organized, and as a communications major I am able to communicate ideas."
AVP for Student Life, Noah Puukila, was able to relate to Baptiste, a Haitian candidate, through his experiences in Haiti after the massive earthquake that occurred in 2010.
First year student and theatre major, Corey Bryant, gave a speech that demonstrated his desire to make a change.
"We as people must be willing to demonstrate what we intend for future generations to follow," Bryant said.  "I feel the positions I've held prior, such as president of the student government, have prepared me mentally, socially, and professionally. I wholeheartedly believe that a role as USG senator, or any position, is not just a name or a position, but a responsibility."
Email: middleton.record@live.com