Helium lends big hand in revitalization of Buffalo comedy scene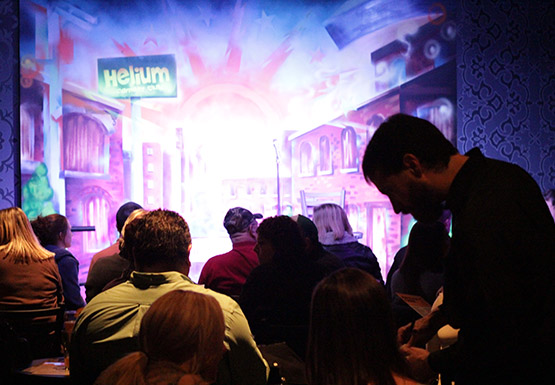 It's a surreal feeling for Josh Potter.
He remembers, not so long ago, when he had to drive a considerable distance from his Buffalo home to tell a few jokes at a comedy club. The jaunts were over an hour to destinations like Rochester and Erie, Pa.
Now, trips to the stage are much shorter for him.
With the opening of Helium Comedy Club last December, Potter, one of the most touted stand-up comedians in Buffalo and radio personality on 103.3 The Edge, has a much more convenient forum to do what he loves. Helium, neighboring First Niagara Center downtown in the Cobblestone district, has quickly become the center of Buffalo's comedy scene, and a second home for Potter.
"I could probably walk here if I wanted to," Potter said at Helium last week, an hour before performing a five-minute open mic set, something he does multiple times a month there. "That's crazy to me. And it's still crazy a year after."
Helium has allowed local comics, like Potter, and nationally renowned acts alike to bring the funny back to an area that before December, didn't have a comedy club since Tonawanda's Comix Café shut its doors in 2007.
The club is known as an A room because the notable talent it generates is conducive to filling the 260-seat showroom on a consistent basis. The likes of Charlie Murphy, Rob Schneider, Marc Maron and Ralphie May have all headlined over the last year.
While Buffalo is directing its sights on revitalization, with the cranes to prove it, Helium is doing its part in aiding the attempt. It is associated with and connected to Elements, a full-service restaurant and bar, and hosts a national headliner almost every weekend for multiple-night stands.
Many shows sell out, though some do not. Nonetheless, the club has created a popular downtown destination in the process of enriching the comedy culture.
"We've sort of filled a void in the Buffalo entertainment industry," said Andrew Kulaszewski, general manager of Helium and Elements, "and that's allowed us to really grow and to really take strides so that we can be a part of Buffalo's downtown scene for years to come."
Helium is a family-owned business that also has locations in Philadelphia (the initial room that opened in 2005), Portland, Ore., and one opened earlier this month in Raleigh, N.C. But there wouldn't be a Buffalo chapter if it weren't for Kristen Becker, another leading comedian in Western New York.
Marc Grossman, owner of all four Helium comedy clubs, showed an interest in selling tickets to Becker's performance's through the ticketing company he owns. The connection between the two evolved from there.
Becker, knowing of Grossman's exploits with Helium, was interested in something more ambitious. She asked if the Philadelphia-based owner would be willing to invest capital to help her open a club in Buffalo. Instead, Grossman thought it made more sense to commit his own personal time if he was going to spend money.
What ensued was Becker selling Grossman her vision of the comedy community in Buffalo and the high potential an A room had in the area.
"Essentially, she just convinced me that there was enough of a demand there," Grossman said.
Upon opening his third Helium location, in Buffalo, Grossman elevated Becker to general manager. It's a position she held until moving on in the summer, when Kulaszewski was promoted to fulfill the duty. Although Becker is no longer affiliated with the club, her footprint is postmarked on it, and thus far, her optimistic outlook of comedy in the city has been justified.
Grossman said Buffalo isn't a comedy hotbed yet because of how young in the circuit it is, but signs point to it becoming one someday. Grossman has noticed similarities in the progress Buffalo has made in the stand-up scene since Helium sprouted up to what Philadelphia and Portland experienced in the club's infant stages there.
It took a couple years for those cities to develop local talent and lesser-known names as acts to see. Building the Helium brand in Buffalo to a point where the audience can trust it'll be treated to an entertaining show, regardless of a comic's standing, is the model being followed.
"The people that would only come for the big-name guys, they'll start kind of mixing in 'Oh, I've never heard of this guy, but let's try him. We know Helium delivers a good product,'" Grossman said.
Even comics who have performed at Helium are billing Buffalo as an enthusiastic group of laugh-seekers.
Potter recalled stand-up star Robert Kelly having a few drinks at Elements while he was in town for a two-night set at Helium in early July. Kelly then received a call from fellow comic Dave Attell, who performed in Buffalo two months prior. The conversation steered toward Kelly mentioning his whereabouts, prompting Attell to reveal Helium Buffalo is one of his favorite venues to perform at in the country.
"It's so much fun to perform here because everybody is so into the shows," Potter said.
Potter has gained as much from the opening of Helium as anyone.
Life before Helium was not ideal for Buffalo comedians determined for exposure. Potter performed when he could, but the only place that drew a somewhat steady crowd was Nietzsche's, on Allen Street, for open mic Tuesdays.
"It was rough before (Helium) opened," Potter said.
But the last 11 months have been dreamlike for Potter, who has made his talents more eminent during that time.
He is a mainstay at Helium's Wednesday night open mics, and is there almost every weekend to watch headliners perform and network with them. When not a spectator of featured shows, Potter often emcees — he's done so six times at Helium, most notably for Todd Glass, Dov Davidoff and Baron Vaughn.
Potter has established himself as one of Buffalo's premier funnymen, and Helium has played a lead role getting him to that point.
Annually, each Helium site holds a Funniest Person Contest, and Buffalo had its first installment in August. Not surprisingly, it was Potter who advanced through the four-day preliminary round and went on to win the judge-based vote in the semifinals and finals to claim the honor of being the Buffalo comedy king.
The competition illustrated a smidgeon of how much the club has meant to resident comics trying to mature in a budding setting.
"(Helium) wants Buffalo comics to get really good and grow, so they can have a product and be like 'Hey, look at what we made,'" Potter said. "They support the people that support them. It's definitely going to give comics more of an opportunity."
Email: garland.r[email protected]
Twitter: @AA_Garland
Leave a Comment