Men's hockey splits weekend pair
Bengals still searching for consistency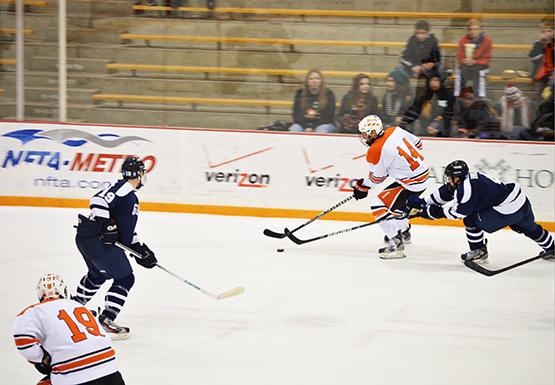 Coming into the 2013-14 season, the Buffalo State men's hockey team preached consistency, especially against conference opponents.
But four games into the season, the Bengals are still searching for consistent play night in and night out.
"In this league, it's so tight," goaltender Kevin Carr said. "Everyone's good, and anyone can beat anyone on any given night, so consistency helps you move forward, and I think that's what we need to focus on."
Buffalo State split its weekend doubleheader with Morrisville State, winning, 7-5, Friday before falling to the Mustangs, 5-3, in the rematch Saturday.
Coach Nick Carriere said the Bengals came out flat early on Saturday, and dug themselves into a hole that they couldn't recover from.
"SUNYAC hockey is very competitive," he said. "(Against) every team in our conference, you really have to be prepared and come in ready to go."
On Friday, seven different Buffalo State players lit the lamp en route to the team's victory. Defenseman Ben Kramer and forwards Nick Berst and Cory Gurski each had a goal and an assist, and forward Mac Balson had two assists for the Bengals.
Morrisville State opened the scoring less than five minutes into the game when Rob Molinaro slipped one by Carr to make the score 1-0.
Buffalo State responded with three unanswered goals to close out the period with a 3-1 lead, despite allowing 16 first-period shots and three Mustang power plays.
The Mustangs again opened the scoring in the second period, this time just 1:56 into the frame on the power play. The Bengals took three more penalties in the second, two of which resulted in power-play goals by the Mustangs.
"We got in penalty trouble once again, no secret there," captain Mike Zannella said. "I think they were 3 for 6 on the power play. That's way too much, penalties are killing us."
The third period continued to be back and forth, with Morrisville scoring first to tie the game at 4. Buffalo State answered with two goals before the Mustangs scored again to close the gap to one.
Kyle Whipple scored on an empty net with 49 seconds left in the game to seal the victory for Buffalo State. Carr made 32 saves in the win.
Zannella said that the Bengals need to do a better job of not taking penalties, and keeping shots from getting through to Carr.
"We have to be a lot stronger defensively, we have to be more disciplined and stay out of the box," Zannella said. "I think the offensive talent on our team is through the roof, but we're going to have to really hone in on our defense."
On Saturday, Buffalo State again surrendered the early lead, but this time they didn't answer with goals of their own.
The Mustangs peppered Carr early, putting 18 shots on goal in the first frame. They scored the game's first four goals before Buffalo State answered with three of their own to make the score 4-3 with 6:10 to go in the game.
Morrisville State held off the rally, however, and scored to put the game out of reach with 4:58 left.
The Mustangs again scored three power-play goals. In all, Morrisville State was 6 for 13 on the power play over the weekend, something Carriere knows the Bengals need to address if they want to start winning more consistently.
"We had a long, pretty direct meeting on Saturday at the hotel," Carriere said. "We identified some of the things on the penalty kill that we want to do better, and unfortunately we just haven't been able to identify the things that we need to do quick enough from a penalty kill perspective, and that's something we need to do better. It ends up being the difference in games."
One possible explanation for Buffalo State's slow start out of the gates is the plethora of young players on the ice.
Last weekend, nine of the 21 Bengals who played were either freshman or first-year transfers. Carriere said the new players need to adjust to how hockey is played at Buffalo State.
"We play a pretty physical, in-your-face, hard-working style of hockey, and we still have some guys that kind of need to understand how consistently they have to do that sort of stuff in order to get wins," he said.
Carr agreed, adding that the communication between him and the new players is something that still needs to be worked on.
"It's an ongoing process, not only with the new guys but (also) with everyone that has been here," Carr said.
This weekend, the Bengals will play their first home games of the season. They play Potsdam on Friday before meeting undefeated and SUNYAC-leading Plattsburgh on Saturday. Both games are scheduled for 7 p.m. at the Ice Arena.
Email: [email protected]
Twitter: @cdierken
Leave a Comment