Volleyball wins SUNYAC championship, automatic NCAA bid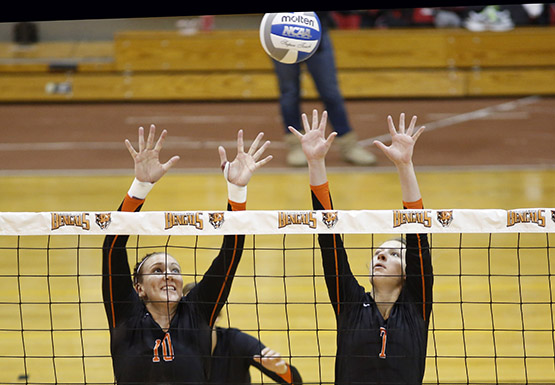 The Buffalo State volleyball team beat New Paltz in four sets, 26-28, 25-23, 25-22, and 25-21 in the SUNYAC championship finals on Sunday at New Paltz, securing the program's first-ever NCAA tournament bid and the SUNYAC title.
Entering the tournament as the No. 2 seed, Buffalo State beat Cortland in straight sets on Saturday to set up Sunday's showdown against New Paltz, a match that saw 23 ties and 13 lead changes.
Following a tight first set loss, Buffalo State jumped out to a 20-10 lead in the second set. But the Bengals had trouble closing it out, letting New Paltz claw back to within one point, 24-23, before escaping with a narrow victory.
In the third set, the Bengals fought back from an 18-13 deficit to win, 25-22, a pivotal victory that gave Buffalo State momentum heading into the fourth set with a chance to wrap up the SUNYAC title.
Up 17-11 in the fourth set, Buffalo State again couldn't keep a tough New Paltz team from storming back. The Hawks managed to gain a 20-19 lead before Buffalo State scored six of the final seven points to win, 25-20.
The Bengals (25-9) handed New Paltz (32-6) its first loss to a conference opponent this season, avenging a four-set loss to the Hawks in October that snapped Buffalo State's 11-match win streak.
Junior outside hitter Sam Parente led the Bengals with 16 kills, and was named Tournament MVP, while senior setter Kelsey Bashore added 44 assists and ten digs. Parente, senior libero Chelsea Moore and senior outside hitter Sarah Horvath were named to the All-Tournament team.
The Bengals will play No. 20 University of Chicago on Thursday in Grand Rapids, Michigan in the first round of the NCAA Tournament.
Leave a Comment