Women's hockey looks to turn page with new coaching staff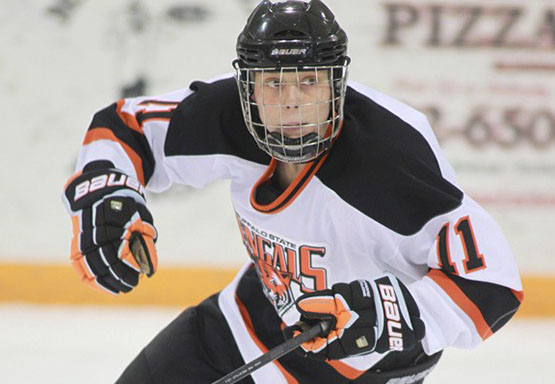 As she contemplates her senior season, Buffalo State women's hockey goaltender Jordan Lee knows that there is one thing she and her teammates have to keep in mind.
"Expect anything and everything, basically," she said.
That'll be the theme during a year of transition for the Bengals. Not only has yet another senior class departed (among it, captains Lauren Mallo and Rio Flynn), but the entire coaching staff has been flipped.
Robert Burke was fired as coach in March after the Bengals went 6-18-1 overall in 2012-13. He has since been replaced with Candice Moxley, a former Division I women's hockey player at Niagara University and assistant coach for Ohio State prior to joining Buffalo State's bench. Also new is assistant coach Lucy Schoedel, a two-time MVP at Syracuse and former goalie scout for the U.S. women's hockey team.
In the months since, Moxley has implemented a few changes in the locker room — and the players are already feeling the impact.
"She wants us to persevere and be better at a higher level," senior defenseman Emily Cornett said, stressing several times that Moxley expects players to be responsible for themselves.
"In the years prior, it was level," Cornett added. "There was no accountability, no pressure to excel."
That accountability factor has manifested itself in different ways. Practices, two hours under Burke, are now an hour and 20 minutes.
There's more structure, Cornett said, more that is executed and focused on with the time they're given. Included in the practices are position-specific skill days — forwards work on shooting and scoring, while defensemen focus on breaking out of the zone.
"I definitely feel the players are grasping things a lot better, and everyone's just more eager to learn things on the ice," Cornett said.
Off the ice, strength and conditioning are a huge focus. The players are in the weight room more and adjusting their diets, and Lee says she's noticed a difference.
"Individually, I've been starting to eat better, and I have a lot more energy," she said.
Over the summer, Moxley also reached out to the team, sending out a player handbook that she said was "more like guidelines for our team, and how we operate and how we present ourselves."
She asked the players for feedback throughout the off-season, and so far the progress has been smooth.
"(Their feedback) is huge," Moxley said. "It's buy-in, so if the girls are bought into the plan and in the direction we want to go, then things are going to be a lot easier."
Buying into a new system is huge when you play in the ECAC West, where national champion Elmira and perennial powerhouse Plattsburgh also reside. Moxley knows there will be a learning curve for everyone.
"I want to develop each and every player individually, find their strengths and weaknesses and put them in areas where they will succeed," she said. "In our conference, no team's going to be a cakewalk. There's going to be a grind day in and day out."
Leadership is also a major factor, and while no captains have been chosen yet, Moxley and Schoedel have a lot of areas to consider, both on and off the ice — even down to their nutrition and classroom performance.
For Lee and Cornett, both in their final seasons, the goals are clear.
"Team-wise, I want to get over .500, and hopefully make the playoffs, because that would be huge," Lee said. "I just want to play the best year of my life, for my team and for myself."
Cornett believes there are good things ahead for the squad.
"In general, everyone's happier," she said. "I think I've just been mentally preparing for a new culture and just embracing whatever new things come. It's definitely exciting."
Email: [email protected]
Twitter: @A_Rodriguez39
Leave a Comment