Football pushes win streak to three games, holds on to small chance for ECAC Bowl bid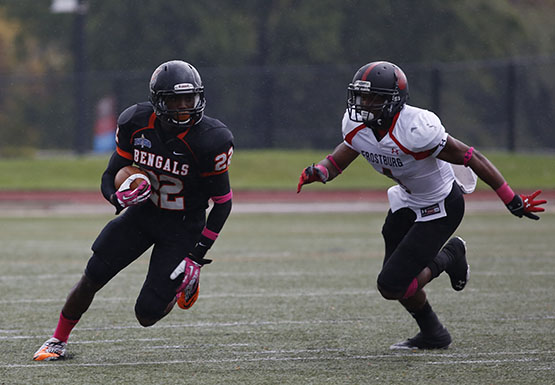 The Buffalo State football team continued its hot streak Saturday with an impressive 59-41 road victory over Hartwick.
The win was the team's third in a row, and gave the Bengals a .500 record in Empire 8 conference play for the first time all season.
"Three weeks ago, this is where we aspired to be, looking down the road," head coach Jerry Boyes said. "We're back to where we really felt like we should have been all along."
The game started out with a bang for Buffalo State.
After Hartwick missed a field goal on its opening drive, the offense capitalized with a 75-yard touchdown pass from quarterback Casey Kacz to wide receiver Mike Doherty on the second play of the series.
Hartwick answered with a touchdown of its own, but on the ensuing drive, Buffalo State's offense hit a big play once again.
On the first play of the drive, Kacz dropped back and again found Doherty open downfield for a 68-yard touchdown.
The Bengals' offense went on to score three more touchdowns in the half, including another Kacz pass – this time to wide receiver Sherman Nelson – and two touchdown runs from running back Rich Pete.
The 35 points Buffalo State scored in the first half was the most it had scored in a half since it scored 48 points in the first half against Brockport on Oct. 29, 2011.
Defensive end Brian Greene said that the offense's success in the first half took pressure off the defense as the game went on.
"It's a good feeling to have so many weapons on the field at one time," Greene said. "They were always capable of it, it's just that they're finding their swagger just like the defense did."
The second half started even quicker than the first for the Bengals.
Doherty returned the kickoff 73 yards to the Hartwick 15-yard line. Two plays later, Pete scampered into the end zone for his third touchdown to put Buffalo State up, 42-21.
Two plays into Hartwick's next drive, defensive back Jeff McDuffie intercepted a pass from quarterback John Garcia, and returned it 70 yards for a touchdown. It was the second week in a row that the Bengals had scored a defensive touchdown.
"That's a double whammy, you might say," Boyes said. "It's just a huge downer for them, you're taking away an opportunity for them to score, and we score. It's just a tremendous boost to have something like that happen."
Kacz said that the defensive touchdown gave the whole sideline momentum, and lifted a weight off of the offense's shoulders.
"When the defense steps up like that and gets a score, it takes so much pressure off the offense," he said. "It brings up the sideline morale by leaps and bounds."
Hartwick scored three touchdowns the rest of the way, and Buffalo State added one more touchdown and a field goal to make the final score 59-41.
Pete finished with 132 yards on just 16 carries and a career-high four touchdowns. Doherty had four catches for 158 yards and two touchdowns. Defensively, McDuffie finished with three interceptions and defensive lineman Jahi Owens had two sacks.
Kacz finished with 357 passing yards and three touchdowns, as well as an interception. More importantly, he rushed for 33 yards, giving him sole possession of the Buffalo State record for rushing yards by a quarterback.
"It's exciting to know that I have something that I'll be in the record book (for) at Buffalo State, that I left my mark," Kacz said.
Now at 5-4 overall and 3-3 in conference, the Bengals look ahead to their final game of the season with a glimmer of hope for an ECAC Bowl bid.
More than anything, though, the players and coaches are focused on beating St. John Fisher and ending their season on a four-game winning streak for the second year in a row.
"We want to finish this thing out in fashion," Boyes said. "There still is an outside hope of an ECAC (bowl), but all we can do is worry about what we can control and that's our play this Saturday, so we're just concentrating on that."
For Kacz and the rest of the seniors, the game Saturday could be the last time they play collegiate football, so they want to go out with a bang.
"I know our seniors want to go out on a winning note, and hopefully our underclassmen understand how bad we want to win this game," Kacz said.
Kickoff between Buffalo State and St. John Fisher is scheduled for 12 p.m. Saturday at Coyer Field.
Email: [email protected]
Twitter: @cdierken
Leave a Comment