Volleyball has strong showing in final tuneup before SUNYACs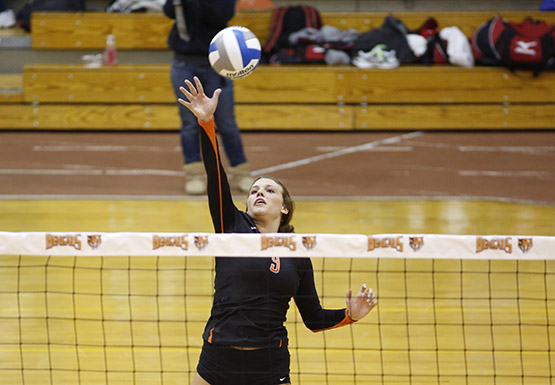 After a 12-hour bus ride from Buffalo State to St. Louis, Missouri, the Bengals went to the zoo.
But the women's volleyball team wasn't in 'The Show-Me State' to see lions and tigers and bears— they were there to play the Panthers (Greenville College), the Wolverines (Michigan-Dearborn) and… the Bears (tournament-host Washington-St. Louis).
Buffalo State went 2-1 in the Washington University Bears Invitational, a final tune-up tournament before next week's SUNYAC championships, beating Greenville College in five sets on Friday, smoking Michigan-Dearborn in straight sets on Saturday before falling to the Bears in straight sets later that day.
Following their visit to the zoo, the Bengals faced a tough Greenville team that was 22-5 heading into the match. Five sets, 32 ties and nearly two hours later, the Bengals managed to come away with a hard-fought win, 25-23, 24-26, 17-25, 25-20, and 18-16.
"The Greenville game was unbelievable," head coach Maria DePeters said. "It was probably our best game of the entire season. They're a very good team… a team that's not used to losing. We could have taken that second set but we let up in the beginning a little but, and then lost the third, then played awesome volleyball in the fourth and fifth."
Sophomore outside hitter Hannah Renaldo had a team-high 19 kills for Buffalo State, while senior setter Kelsey Bashore added a triple-double with 10 kills, 13 digs and 43 assists.
"It was definitely, by far, the most intense game of our entire season," Bashore said. "It was one of those games that we worked really hard the entire game, and they were a really good team, so it was an awesome win."
The match went back-and-forth, with both teams scoring one right after the other. The fifth and final set alone saw 11 ties, and when it was finally over, DePeters said her team felt great.
"It was awesome," DePeters said. "We had a lot of fans there, and the gym erupted when we won. The girls came away feeling fantastic. Then we put our momentum right into Saturday morning against Michigan-Dearborn."
After clawing out a 26-24 win in the first set, Buffalo State won the next two sets easily, 25-18 and 25-16 to sweep the Wolverines.
But the Bengals had a tougher time against No. 8 Washington University, losing to the Bears in straight sets, 10-25, 19-25, and 22-25.
"I [told] the girls we're probably not going to come out of here with a win, but we wanted to play competitively, not give up, play strong and attack them," DePeters said. "The first set was a little bit about getting our feet wet, and then after that we played really good volleyball. We were hitting really, really hard balls, but Washington's defense was fantastic, and they were able to transition their digs into better attacks."
In their previous seven matches, the nationally-ranked Bears had dropped a total of just two sets, both in a 3-2 win over No. 4 Emory.
"I think that at first, everyone had nerves," said junior outside hitter Sam Parente, who was named to the All-Tournament team. "Everyone was kind of on their heels. But as the game progressed, we just kept getting better and better. If it wasn't for the rough start, we probably could have taken them to four games."
DePeters said she scheduled this tournament because she knew that the tough competition would help prepare her team for the SUNYAC playoffs. Buffalo State is the No. 2 seed, and will play the winner of Friday's quarterfinal game between Fredonia and Cortland in the semifinals at 3 p.m. on Saturday at New Paltz.
"I think [this weekend] couldn't have gone any better as far as [with us] going into the playoffs," said Bashore, who was also named to the All-Tournament team. "We played the best teams [we've played] all season this past weekend, and to be able to win some of those games gets us really excited for playoffs."
Email: [email protected]
Twitter: @LeifReigstad
Leave a Comment