Men's hockey opens its season by splitting pair of conference matchups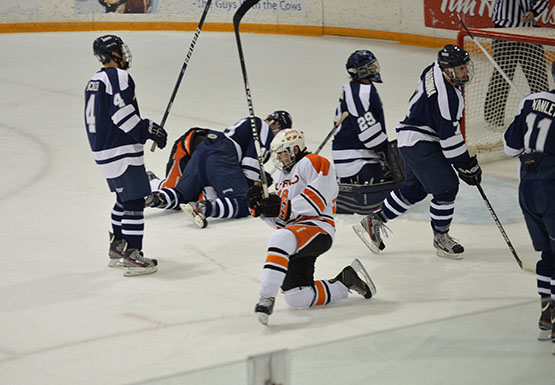 The Buffalo State men's hockey team was in position for a program first on Saturday night. But like the previous 41 tries, this one fell short, too.
The Bengals traveled to No. 4 Oswego and competed at a high level for most of the game. They overcame two one-goal deficits before falling, 3-2, leaving them 0-38-4 all-time against the Lakers. That occurred a night after Buffalo State defeated Cortland, 5-4, on the road in its season and conference opener.
It was a non-traditional Oswego team in regards to the makeup of the roster. Though not all played Saturday, the Lakers sport 19 freshmen and two seniors, which is a long way from last year's national championship runner-up squad that featured 14 seniors.
Due to it being the second game of the year for both squads, thus marking the early stages of many college careers on the side of the Lakers, Buffalo State (1-1 SUNYAC) had one of its best chances to bust the protracted skid. Instead, the Bengals, starting six freshmen of their own in the game, look to take the positives from the game and apply those in future SUNYAC games.
"I think it was a good learning experience for our group to realize 'hey, it's not the same Oswego team that we've seen in years past,'" coach Nick Carriere said. "They have a lot of new guys and it was definitely an opportunity for us to take a couple points away from it."
It was a back-and-forth affair against the Lakers, who proved even without a heavy veteran presence why they are a highly regarded power in Division III annually. Oswego fired 53 shots on Kevin Carr, who stopped 50 of them.
However, Buffalo State made the most of its chances and went stride-for-stride with Oswego through two periods, when the shots were at 27-25 in the Lakers' favor. That led Carriere to believe the Bengals had a genuine shot at upending Oswego.
"We played well," Carriere said. "Especially for two periods I think we were at least holding our own and carrying the play at different times of the game. It came down to just a couple of little scenarios."
Down, 1-0, in the first, Bengals freshman Adam Rossi scored his second collegiate goal in as many games with 11:34 to go in the frame to knot the score.
"That's what you always want to do," Rossi said of finding initial success as a first-year player. "It just allows you to keep building off that and hopefully get stronger moving forward."
After Oswego's Alex Botten found the back of the net midway through the second to regain the lead, another freshman made a contribution. Taylor Pryce lit the lamp for the first time as a Bengal just under three minutes later to square things on a sharp passing play with Mike Zannella and Dan Turgeon.
The line seems to be developing some early-season chemistry, as Pryce set up Turgeon, a junior transfer, for a goal against Cortland.
"As the weekend went on, both games, every shift, I felt like we got better," Pryce said.
Like a team determined to prove getting upset by Fredonia in overtime on Friday night was a fluke and its national ranking is not, Oswego struck back. Less than a minute after Pryce tied it, Matt Galati scored what proved to be the game-winner. Shortly thereafter, it looked as if the Bengals came back again, but it was determined that Pryce kicked the puck into the net and it was disallowed.
Oswego took over and heavily controlled the play in the third period. Much of the play was in Buffalo State's end and the Lakers put serious pressure on the Bengals when they did retrieve the puck.
Carr stopped all 26 shots he faced in the third to keep his team in the game while the offense was not able to capitalize, generating just one third-period shot. It did create several quality scoring chances in the final minute with Carr pulled, but time ran out.
"Hats off to (Oswego), they cranked it up a little bit," Carriere said of the third period. "Offensively, I think we had nine or 10 shots in a row that were blocked. That just tells me that maybe we were trying to get those pucks on net a little bit too hard and not playing our game and taking what the game gave us."
The Bengals went into Oswego undefeated after the one-goal victory in Cortland on Friday. In addition to Turgeon and Rossi, Billy Strakosch, Ben Kramer and Ryan Salkeld had markers to provide the Bengals with a balanced attack en route to the win.
Buffalo State will continue on the road this weekend when they take on Morrisville State on both Friday and Saturday. Faceoff for each contest is scheduled for 7 p.m.
Email: [email protected]
Twitter: @AA_Garland
Leave a Comment