Academy Award-nominated actor aids students in theatrical endeavor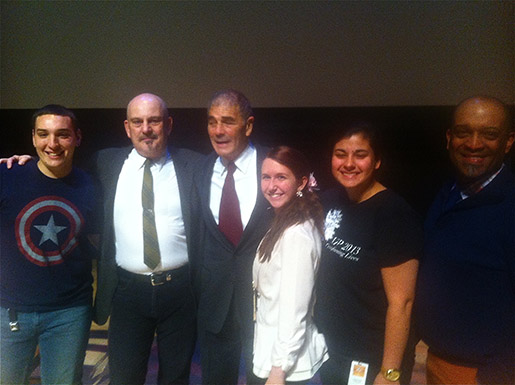 Academy Award-nominated actor Robert Forster spent last week as an artist-in-residence at the Burchfield Penney Art Center. Forster worked with SUNY Buffalo State students and faculty to produce a new play during his stay.
"This is really great for our campus and for students interested in a career in film and television," said Allie Brady, events and rental manager at the center and Buffalo State alum. "We're extremely excited to have (Forster) here."
Brady described the week's events as a learning lab for students. She also said that it drew a lot of interest from fans of Forster outside of the college.
Forster has acted in film and television for almost 50 years. He is known for his roles in "Medium Cool," "Jackie Brown," "Heroes," and "Breaking Bad."
The week's events began at 7:30 p.m. Monday in the Burchfield Penney Auditorium, where Forster performed on stage in an event called "A Conversation with Robert Forster." Admission was $10 for the public and free for Buffalo State students. The event drew many non-students to the center.
Burchfield Penney Executive Director Anthony Bannon introduced Forster. Bannon and Forster became friends when they were on the board of the George Eastman House in Rochester, and their relationship led to Forster's stay at the center.
On a stage decorated for the new play, Forster greeted the audience. He spoke to the audience about his career, gave acting tips to theater students, and shared life advice.
During the week, Forster worked with theater students and faculty from Buffalo State to produce a one-man play about Ronald Reagan. The play was called "One Man Show."
Carlos Jones, an assistant professor in the theater department at Buffalo State, and Shaun McLaughlin, a lecturer in the same department, guided the students through the rehearsals with Forster.
They said that the students were handling all of the production processes in the play, including audio, projections, and stage management.
According to Jones, the theater department has had guests work with students before, but never for more than one or two days. He also said that although there have been guest talks and workshops before, this event is unique in that it's a hands-on experience.
"More importantly, students can take the lead on the project," Jones said. "Forster is really great with speaking and listening to students."
Allison Monaco, a theater senior at Buffalo State, was one of the stage managers for the play. She has co-stage managed before, but this was her first time calling a show.
"This is a fantastic opportunity for me," said Monaco. "Mr. Forster could not be more pleasant, patient, and kind throughout this process."
According to Bannon, the week-long program gives Forster a chance to take a break from his schedule to focus on his one-man play.
"He sees this as an opportunity to develop and feel his way through a new production," Bannonsaid. He said that Forster was working day and night with students and faculty, receiving critiques and advice.
Bannon also thought it was a unique opportunity for students. He said it was a rare opportunity to see the creation process of a theatrical event.
"How often do you get to see history being born?" Bannon said. "Now, this play may not find its legs, but it has a darn good chance given the actor and producers."
On Friday, the dress rehearsal for "One Man Show" was open to Burchfield Penney members and Buffalo State students and faculty.
On Saturday, Forster and the students unveiled the one-man play. It was only open to members of the art center and students and faculty at Buffalo State. Admission was $10 per person and free for students.
Forster is the second artist-in-residency at the center. The first was Janelle Lynch, an artist from Jamestown, whose residency will last until the end of the year.
According to Bannon, the next artist-in-residency will be writer Ishmael Reed, who will begin his stay in spring 2014.
Autumn Evans can be reached by e-mail at [email protected]
Leave a Comment