Buffalo State ready to start up its economic development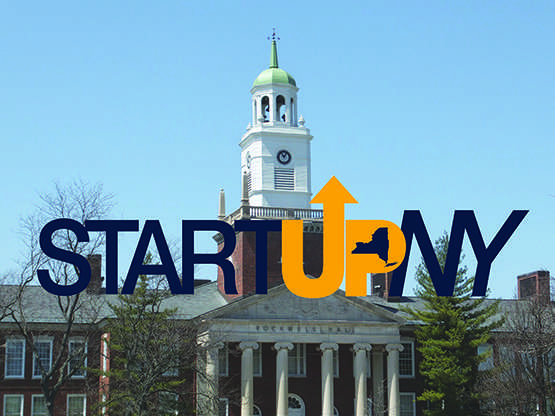 During his campus address in September, interim President Howard Cohen identified a plan to address six focus areas he deemed crucial to the college's future. Cohen called these the "Six Priorities," which he will oversee this year while Buffalo State searches for its next president. This is the third story of six that will run in The Record to elaborate on the President's plans as they come to fruition.
The Start-Up New York program will soon accelerate economic development at SUNY Buffalo State.
The program starts Jan. 1, 2014 and offers benefits like tax breaks to businesses that meet certain criteria and are within a SUNY campus.
A general plan for the implementation of this program on the Buffalo State campus has been submitted and is awaiting approval. Empire State Development Corporation will approve or deny the submitted plan within 30 days from when it was submitted.Businesses that get accepted into the program will be able to open inside campus buildings.
"We've identified one of the wings of Buckham Hall, the B wing as a place for start up companies," Cohen said.
Only businesses relevant to Buffalo State, as an institution, will be accepted to develop on campus. These include businesses that already exist and businesses looking to get started.
"Any business that we recruit through Start-Up NY has to have a relationship with one or more academic programs," Cohen said. "That might mean internships, that might mean a faculty relationship, it might mean other kinds of opportunities for students."
Cohen said that some of these businesses could even recruit graduates of Buffalo State.
According to Cohen, the idea is to use the expertise on campus to help develop Western New York.
"(The planning process) is essentially done …we are very excited to have completed a plan of action," said Susan McCartney, special advisor to the provost for economic development.
McCartney said that the Start-Up New York initiative that was approved by Governor Cuomo is very innovative because it encourages business growth on college campuses.
The private businesses that get accepted into this program will not have to pay New York State property tax for 10 years.
"We are very enthusiastic and committed to making sure that the business that are accepted … align correctly with what we do here at Buffalo State College," McCartney said.
McCartney said that the businesses selected to take part in the program would have to be enthusiastic about working with Buffalo State students, faculty and the campus as a whole.
Buffalo State administrators do not make the final decision on who is accepted into the program. The Empire State Development group will have the final say on which businesses are allowed to take part in the program.
McCartney said that an advantage Buffalo State has is the presence of a small business development center. Not all campuses have a resource like that.
"We would like somebody spectacular by Jan. 1, and like five business by March," McCartney said. "I'd like 50 by the end of (2014). We are going full charge ahead."
Email: [email protected]
Leave a Comment