Student volunteer's mission helps veterans, active military members receive holiday cheer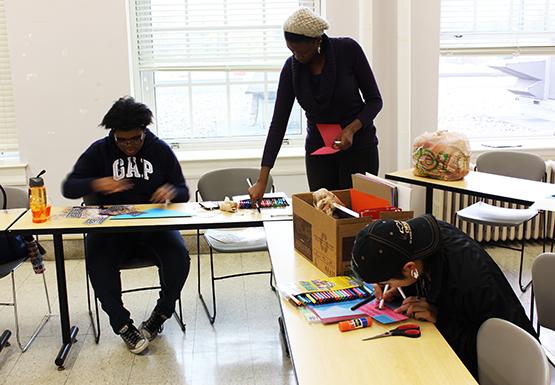 Joella Lukwiya has trouble pinpointing "home." It was originally Uganda, and can currently be identified as her apartment in Tonawanda — but the term was never a constant.
Lukwiya lived in a family with a United Nations Ambassador for a father, which lent to a unique and well-traveled life thus far. But it's what she saw when she was back in her birthplace that prompted her latest humanitarian mission.
Holiday Mail for Heroes gives volunteers the opportunity to make holiday cards for veterans, and is currently held in Bacon Hall 220. It kicked off on Oct. 10 and runs every Thursday during Bengal Pause until Nov. 21.
Lukwiya comes prepared with all of the card-making supplies and everyone is welcome to participate. The turnout has been less than what she's expected, in her opinion partly due to the fact that most students flock to the Student Union during the midday break.
The American Red Cross will collect all of the cards that were made nationwide, screen each one individually, then distribute them to active duty military and veterans hospitals all over the country.
Lukwiya's favorite part of relaying the spirit of Holiday Mail for Heroes is a video that she plays before each card-making session. The video comes off of the ARC website, and recaps a card delivery to veterans at the Walter Reed Army Medical Center.
"It's been showing people the video and seeing people's reactions," she said. "There's a great impact when they see where they are going."
Lukwiya is currently pursuing her master's degree in public administration in public and nonprofit management at SUNY Buffalo State. After finishing up her high school degree in Long Island, she set her sights on the University at Buffalo for an undergraduate degree, because she wanted to go to the largest school in the SUNY system.
Upon completing her studies, Lukwiya would ideally like to work for the American Red Cross. Through her current position as a graduate assistant in the Volunteer and Service-Learning Center, she was able to mesh her appreciation of the Red Cross and her human-centric focus by reaching out to the Red Cross to participate in their national program Holiday Mail for Heroes.
"I called them up and they were extremely excited," she said.
The VSLC gave Lukwiya the freedom to choose any program she wanted to put on at the school. The planning rested almost completely on her shoulders, and the time frame to get it up and running was less than a month. Because of other VSLC obligations and because she is in the office 10 hours per week, Lukwiya was able to find only two spare hours to dedicate to planning per week. Setting up the program gave her real life event planning experience, including time constraints.
Doing something that takes two minutes can make the difference in the day, or even life, of a veteran. The cards send a message that they are cared about, and provide them with a sense of home.
Lukwiya will also be feeling a sense of home this winter break. After not seeing her parents for a year, she, her parents and her brother Manny (who is also studying at Buffalo State) will be reunited in Ottawa for a holiday celebration.
An extended family celebration will not be possible, for her family is spread over the globe. Some cousins live in London, and other family members, like her grandmother, live back in Uganda. Lukwiya has not seen her grandmother for seven years, but keeps in contact and plans on flying back to reunite next summer.
Although there are travel plans in her future, Lukwiya is ready to settle in one place. It seems the small city of Buffalo, which only used to be a place of education for her, has resonated with the young woman who once fell in love with France. She knows that even from here, she can give back to people all over the world.
"I love Buffalo," she said. "I think it has a lot to offer."
Email: [email protected]
Twitter: @WulffSamantha
Leave a Comment