Canadian rockers, The Sheepdogs to end their year in Buffalo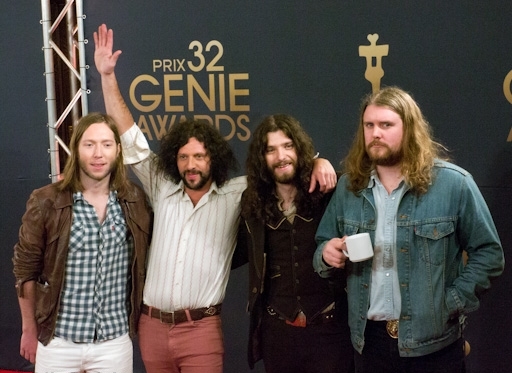 There's no place like your second home.
For several Canadian bands, including The Sheepdogs, their shows in American cities that are close to the Canadian border such as Buffalo can carry a more electric and equally welcoming atmosphere.
"Buffalo feels a lot more Canadian than a lot of other places," bassist Ryan Gullen said in an exclusive interview with The Record.
In addition to several previous performances in Buffalo, Gullen said he enjoys attending Buffalo Bisons games when he's off the road, while lead vocalist Ewan Currie and his brother/bandmate, Shamus occasionally attend Buffalo Bills games.
For this stop in Buffalo, the Canadian rock band will be performing on Friday, December 16 at the Town Ballroom. This marks their last show of a lengthy 2022 run in support of their newest album, "Outta Sight."
Having been forced off the road for approximately two years due to the COVID-19 pandemic, Gullen said the band was very eager to resume their heavy touring schedule.
"We really planned to hit it hard when the time came to come back to it," he said.
While the "Outta Sight" album was written, recorded and produced in a time of uncertainty, Gullen said the band took that as inspiration to create something for when the band could resume going back out on the road.
"A lot of the record really reflects the idea about really looking forward to where we're at now," he said. "We can kind of be back doing what we love doing, being on the road traveling and playing music for people."
Even as the band has gone back out on the road with concerns of the pandemic largely in the rearview mirror, there are still several obstacles involved with being on the road, including increased costs of travel since the pandemic's onset.
"The cost of travel, the cost of even just buying lunch, feels like it's twice the price of what it used to be," Gullen said.
He also mentioned the overall difficulties of Canadian bands such as theirs cracking into a much larger American market.
"We will we always have had really fun, good shows in Buffalo but it's amazing how quickly you can drive from Canada across the border and go from playing to 3,000 people to 50 people," Gullen said. "It's wild how a border can do that."
This year, the band is also looking back on the 10 year anniversary of winning a contest that made them the first unsigned artist to grace the cover of Rolling Stone magazine.
Even though it proved to be a big boost and presented them with several new opportunities, the band felt they still had something to prove.
"So much of after Rolling Stone was trying to solidify that we're not just a band that won a contest," Gullen said.
In addition to their extensive touring, The Sheepdogs have continued to solidify their following by cultivating a fanbase with both traditional and modern methods.
"We ride the line between wanting to be modern but also understanding that for the most part, rock audience likes albums, whether or not that goes well with Tik Tok," Gullen said.
Daniel Romano's Outfit will be joining The Sheepdogs as a special guest for their December 16 performance at the Town Ballroom starting at 7 p.m. For more information on the show and tickets, visit the venue's website.