Buffalo State unveils new chemistry seminar series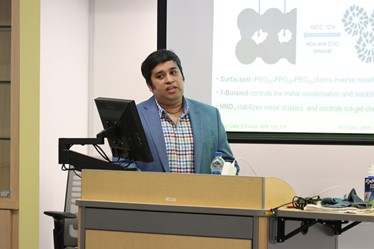 Scott Dugas, Sports Writer & Photographer
October 28, 2022
BUFFALO, N.Y.- Although the Buffalo State Chemistry Department has lacked ideal enrollment over the past few years, the passion that the students and professors embody has kept the department strong.
During the Fall 2022 semester, Buffalo State rolled out a list of professors, graduate students and other guests to come to unveil their research for anyone interested in it.
On October 27, Dr. Sourav Biswas unveiled his current research about catalysts.
Biswas joined the Chemistry Faculty at Buffalo State in the Spring of 2021. Being one of the youngest and most driven professors, his lab, with help from other professors at the University of Buffalo, has been working together to identify better catalytic reactions using different inorganic and organic compounds
I personally have Biswas as my intro to inorganic chemistry professor.
I can say for certain that Biswas is one of the freshest and most promising professors that has recently joined the Buffalo State team. With a Ph.D. from the University of Connecticut and two post-doctoral stints at the University of Wisconsin and the University of Delaware, his focus and drive to research is an admirable features for all to see.
With six total seminars this semester, there's still plenty of time to come and check one of them out. The schedule will be available below for any students interested. There are three seminars remaining for the fall semester.
With the high amount of interest shown at each seminar, hopefully the Buffalo State chemistry department will continue this seminar series in Spring 2023.