How short-staffing and lack of training provides an unsafe environment for concert goers at Darien Lake: Part one
Scott Dugas, Sports Writer & Photographer
October 24, 2022
DARIEN CENTER – If you live in Buffalo, NY or within 50 miles of it, chances are you've probably been to a concert at Six Flags Darien Lake.
Whether you went with friends, family or maybe solo, chances are you've noticed some serious issues with the day to day operations of the venue.
From underage drinking, large fights, sexual assault allegations and a large number of injuries that go unnoticed, it's clear that there is something wrong at the top.
Let me go on record to say not all of Live Nation/Darien Lake concerts are bad.
This is an opinion based solely on my experience. If you're able to afford VIP Seats, or any seats under the tent for that matter, the problems explored in this article won't apply as much to you.
As someone who's been to the venue both as a photographer as well as a regular attendee, I can say that there are ways to avoid the negative energy and have a great night. We'll explore the good things later on.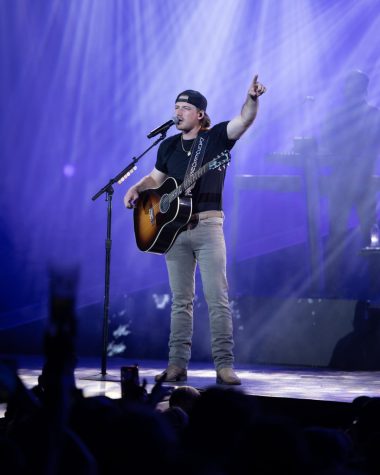 Parking:
Looking at the other concert venue options around the Buffalo area such as Keybank Center and Highmark Stadium, those venues have a large area to hold the thousands of concertgoers, with many entrances, many exits and many options to choose from.
Not the amphitheater parking. Although parking at Darien Lake is free and included in the price of your ticket, it's safe to assume that there are a couple ways in, and a couple ways out.
In the event that an emergency happens before or after the event, unless you're near an emergency exit, employee parking exit or anywhere close to the road, you're out of luck.
Security:
Security might very well be the largest issue I noticed.
It's not the idea that the security isn't good at their job, it's that there isn't enough security to begin with.
When I got to the venue for the first assignment of the year, I was expected to be greeted with a security guard who would check my credentials, check my bag if needed and then let me through the employee entrance or side door to get into the venue.
This was far from the case. There wasn't a single security guard guarding the front entrance.
Normally they have the gates down in the front to prohibit people from entering early. Those weren't even in place yet.
In fact, on my way into the venue, I met these four women who were waiting at the entrance.
One lady asked me, "Are you the photographer for this event?" to which I responded, "Yes, of course."
After walking by them, one asked me how I could just walk through the front gates.
I respectfully replied, "There's nothing stopping me from walking in the gates, what's stopping you?" I laughed.
Although this was fixed by the time the next concert rolled around, it begs the question, who was stopping anyone from entering, and what was stopping anyone from bringing in something dangerous?
During my time at the venue, I noticed there were four levels of security. First was Guest Services in red polos in charge of directing traffic and checking tickets.
Second, and probably equal to guest services, was "alcohol police," in charge of cutting people off who had too much to drink as well as helping the intoxicated individuals to the exit.
Third, was the first level of true security in white polos.
These people weren't necessarily true security and you could clearly see it. As a matter of fact, I counted probably five or six security guards who were probably younger than me.
Finally, there were the supervisors wearing black polos and a headset.
These guards were in front of the stage and keeping people out of the restricted areas such as backstage or employee only areas.
During the intermission between Parker McCollum and Thomas Rhett, I got time to talk to one of the guest service guards.
I wasn't able to get a name but during the 10 minutes I had with him I decided to pick his brain.
Turned out he wasn't anything more than a nine to five worker who was just doing this on the side to make some money and listen to some good music.
Although he was very nice and polite to guests, it was clear that he had the "I don't get paid enough for this" attitude.
There are more issues at Darien Lake that happen during the concerts which will be covered in a follow-up to this article.