Buffalo State sheds light on student safety after dark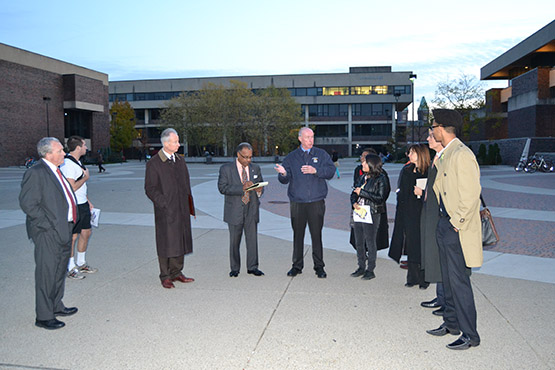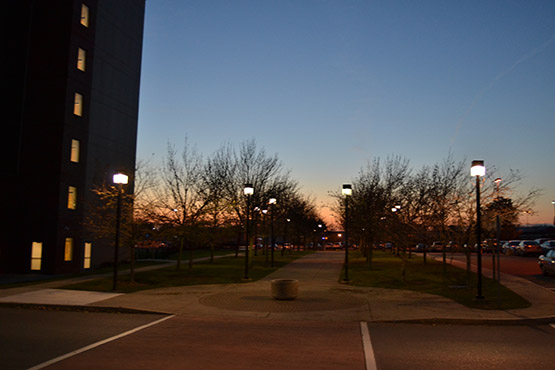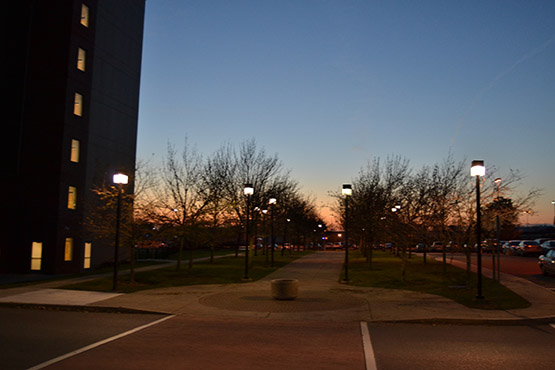 Interim President Howard Cohen conducted a safety walk Wednesday to discuss the lighting on campus. Several staff members attended the event, including Peter Carey, chief of police, and Cheryl Byer, assistant director for campus services.
Carey said that campus services conducts a weekly light outage report. An electrician on the midnight shift drives around and does the report in order to get the outage repaired by electricians.
According to Byer, all lights on campus are checked routinely by campus service. There is a second and third shift seven days a week.
"The lights are checked routinely and fixed accordingly," Byer said.
Byer said that if there are any concerns about a specific area with a lack of lighting, campus services should be contacted so they can send their technicians out to assess the situation.
"If there are specific concerns about an area, they can certainly be reported to campus services," Byer said.
There are 43 blue lights on campus. To access a map with the location of the lights, students can check out UPD's website and download the PDF. Carey said that the lights should serve as a visible point of reference for students when in need of assistance.
Utilizing the blue lights are simple; all one must do is push the button and it will automatically dial University Police. Thelocation pops up and if a victim is unable to communicate, an officer is sent to check out the location.
"You should be in visual sight of a blue light virtually anywhere you are on campus," Cohen said.
According to Carey, when underground infrastructure is taking place, the lighting is assessed and more, newer lights are put in place.
"The lighting goes through the different phases of construction and rehabilitation for the campus," Carey said. "We may go through 10 or 20 years before there is underground infrastructure in that area."
The spine, which is the center of campus that connects all the buildings down the center of campus, is the most illuminatedarea on campus since it is a major walkway. More lights were installed in the area during a major renovation in an attempt to make the spine a main pathway.
All lights on campus are numbered. Cohen shared that if a light is out and students want to report it, they must relay the number to campus services. A technician will then come out and check the light.
Escort vans are freely available for student use. Carey said that the escort vans operate on a bus route that takes 10 to 15 minutes as all blue light emergency phones are considered stops.
If a student needs a walking escort, they must dial 878-6333. The escort, which is a UPD student assistant, meets the student at its current location and walks them to any other point on campus.
There is also the NFTA circulator bus that runs during the day and the MGC shuttle, which runs through Lots M and G and drops the riders off to Lot C. The vans run 20 hours day, and when vans are not available, a USPA zone officer takes over.
Carey attends freshman and transfer student orientations to inform incomers to contact UPD for any on-campus crime. He encourages students to program UPD's number into their phones. If a student calls the police, the call will be redirected to UPD and will take longer for the student to receive assistance.
There are two exterior cameras on campus. Carey said that there is a state university construction fund project that will include about 20-25 exterior cameras.
Byer said that maintenance can be reached at 878-6111, 24hours a day, seven days a week.
Email: [email protected]
Leave a Comment