Band's missing laptops reignites controversy
Falling in Reverse vocalist, Ronnie Radke, has thrust his band into yet another controversy.
This time it was over missing laptops.
The band canceled their scheduled performance at WIIL Rockfest in Illinois on September 24 when they discovered their laptops containing backing tracks used for live performances went missing from their rehearsal space.
"We have no other option," Radke said in a Tik Tok video. "As a band in 2022 you need your laptops. It's like driving a car without an engine."
While Radke apologized for the cancellation, many in the music industry not only spoke out against Radke, but against the use of pre-recorded backing tracks in a live concert setting.
Sirius XM radio host, Eddie Trunk, who is often outspoken on this issue, was very critical of Falling in Reverse using backing tracks and subsequently canceling their performance.
"This is astonishing," Trunk said in a Facebook post. "First I heard about this I thought it was a joke to wind me up. How much longer are fans, promoters, media, just going to accept the epidemic of live rock shows… not really being live?"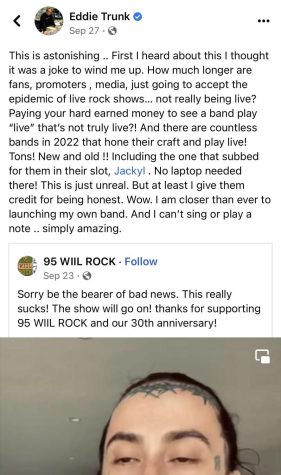 Trunk further argued that bands using backing tracks are shortchanging fans who paid to see a live performance.
Several other rock musicians, including former Skid Row vocalist Sebastian Bach, concurred with Trunk's opinion.

Radke is attempting to brush off the issue by partially blaming the band's crew for the laptops going missing and has also responded to his critics, including Trunk in a recent tweet.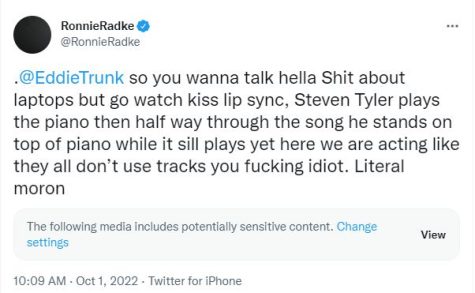 Some musicians and fans of Falling in Reverse say people shouldn't be so quick to rush to judgement on the band's use of backing tracks.
"There's such a wild, purist stigma against backing tracks," singer, songwriter and Falling in Reverse fan Collin Lacki said. "I think a lot of the people commenting on this and having a problem with it are not familiar with their catalog."
Lacki further states that using backing tracks demonstrates a higher level of musicianship.
"I think that shows an extra layer of skill to be able to play precisely on time with your backing track. I don't think that shows any lack of skill whatsoever," he said.
Many musicians and fans stress that the band's use of backing tracks is not a case of lip-synching like a Milli Vanilli type situation, but rather to replicate sounds of the original studio recordings that would be very difficult for a five-piece band to replicate live.
"It all boils down to how good of an entertainer the individual using the backing tracks is," Thom Jennings, writer for the entertainment publication Night and Day, said. "Most major artists are having pre-recorded segments or background vocals triggered by laptops."
For some musicians, there is no easy answer for this complex issue.
"I think it comes down to a question of scale," Rick Allen, keyboardist for the regional Styx tribute band, Grand Illusion, said. "For some bands where logistics, or venue come into play, it seems logical to use tracks in the sense that if you're playing cover tunes in a neighborhood bar or backyard party and you're only a three–four-piece band, there's no problem with that whatsoever.
I've seen that done with large touring regional acts, and I feel cheated somehow, like they just couldn't be bothered to go that extra mile."
Even though the use of backing tracks is a hot contemporary issue that will keep resurfacing, it is definitely not a new one.
"Todd Rundgren was using a cart machine as far back as 1975. The cart was like an 8-track that ran on a loop," Jennings said.