Love is a roller coaster, remembering Crystal Beach amusement park
The snap of the purple can of Loganberry and the sound of the rides kept everyone thrilled each year summer rolled around.
In 1969 two visitors entered Crystal Beach amusement park but never knew they were going to meet.
They waited in line at the space ride, an attraction at the park. It was a hot summer, enough to have the entire crowd squinting and everyone around you applying sunscreen every five minutes.
"I was babysitting twins, about 11 years old. The one kid, Donnie, ran after him and asked him if he wanted to meet me because he was laughing at me on the ride," said Helen Beers, a widow of Jim Beers, who met at Crystal Beach.
The space ride had a centrifugal force with floors that dropped and the force of the speed while spinning, would keep you held to the wall on. As the ride slows down gravity then takes over. For more information on the space rides concept click here.
"I was so embarrassed, he kept staring at me while I was squished to the wall across from him," Beers said.
Crystal beach amusement park opened up on May 28, 1888. Next month, if the park was still open, would mark 134 years of business.
This park was an attraction of its own. It carried years of memories for family's friends and even love stories.
Rides to remember:
The 'Terrifying Triplets'- Cyclone: many curves and many dips that will have you dizzy coming off the ride. (Hmm…reminds me of Buffalo's potholes.)
Due to numerous maintenance issues and mechanical issues, this ride was replaced with the comet in 1947 and remained there until closing in 1989.

The Comet: this coaster stood over Lake Erie and was known for its amazing views on lake Erie's edge.
The Ferris wheel: beautiful by day or night, this ride surfaced views of the park while in the comfort of sitting next to your friends. Patrons would share their treats while on the ride.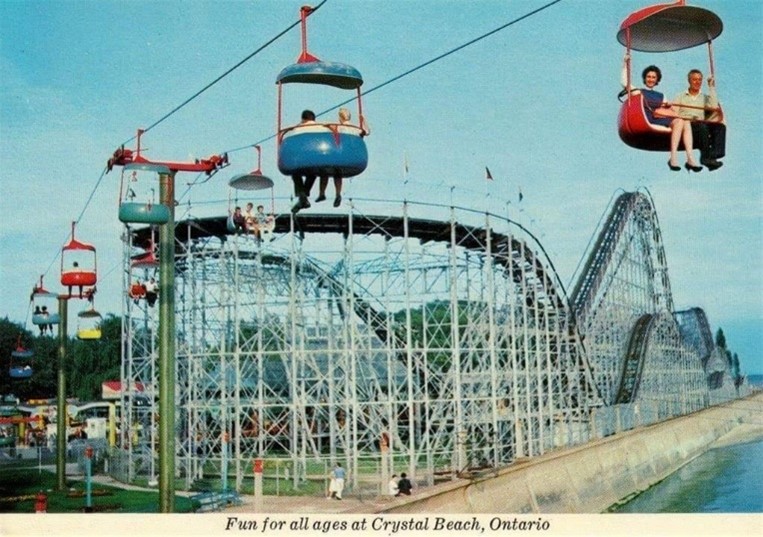 Sky Ride- this was a way to see the park from above. It slowly took you across the entire park from one end to the entrance of the Comet.
Around the park food concession stands were everywhere at every corner. The park was known for their infamous suckers and loganberry drinks.
After Crystal Beach closed, thousands were shocked, and summer was never the same.
The park may have closed but the couple's love story continued.
"After crystal beach I showed him where I lived, and he started coming over. We were both working, and he would come over after work to see me often," said beers.
The only thing holding the couple back was that Mrs. Beers did not have her green card to come over to the United States from Canada and live with Mr. Beers.
"I got my green card and moved to America in 1976 and later met his mother. Before you knew it we were married," said Beers.
The couple had been married for 42 years until Mr. Beers passed away at the age of seventy-nine.
"Since COVID I have not had the opportunity to drive past where the park once was, and I miss it. I would drive past there and remember the times with him and my family almost every day," said Beers.
This amusement park did close down but those memories and relationships it formed never broke off.