Shop Buffalo: Put a Plant on It
What if I said there was a tropical escape only 10 minutes from campus?
It's a store named Put a Plant on It, 715 Elmwood Ave.
This store is a botanically themed gift shop offering everything from succulents, cacti, and rare hoyas to potting soil, cute plant pots, and art prints.
Owner & manager Johanna Dominguez came up with the name after always thinking products will always look better with a plant on it.
"I've always put plants on things," Dominguez said.
All products are locally made by WNY artisans. Along with a large array of plants, Dominguez, and her team offer houseplant consulting, houseplant sitting, and a self potting station.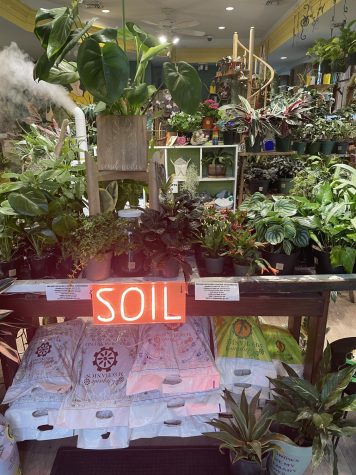 It was rocky beginning because when Dominguez went to sign the lease for a different location, the local economy shut down due to the COVID-19 pandemic.
"I felt like my dreams were getting crushed," Dominguez said. In the end, she ended up signing a lease for the current location, and opened in May 2020.
It's in a prime spot in the busiest part of Elmwood Village, next to gift shop—Thin Ice.
Once she had the perfect location, Dominguez worked hard on finding nurseries to provide her with plants.
"Six local growers and three or four…. nurseries right over the Canadian border," Dominguez said. Her storefront is home to three birds and a leopard gecko.
The store has hundreds of plants and any member of the team will gladly help you pick out the perfect plant.
For dorms, Dominguez recommends jade succulents.
"You can cut them off and share them with your friends," Dominguez said. "They're fun to propagate on your windowsill."
Dominguez and her team put a significant amount of attention into every plant and customer. Even if you don't have a green thumb, they will do whatever they can to make sure your little plant thrives in its environment.
In light of the war in Ukraine, whenever you buy any sunflower-themed prints or pots, 100% of the proceeds go to Doctors Without Borders to help the effort in Ukraine.
With the weather getting nicer, treat yourself to a nice walk down Elmwood Village and check out Put a Plant on It and get a breath of fresh air, pet some birds, and buy a little plant to help liven up your life!