A closer look at Buffalo's local art community: Featuring Akasya Crosier
The city of Buffalo undoubtedly has a strong connection to the visual arts.
Just by spending a few minutes wandering around you will find a wide range of artistic mediums on display from expansive building murals to elaborate steel statues.
So many ordinary objects and surfaces are coated with the full spectrum of color. No matter where you turn there is bound to be something to catch the eye.
This rich, vibrant culture of artistry is not something we can just take for granted, however.
It is only possible due to the expression, work and dedication of the local artists within our community. The creatives of Buffalo whose passion for the arts extends outward and helps paint the culture of the city.
Regardless of status or recognizability, any artist presenting their work to the public is contributing to the overall art community that has been cultivated here in Buffalo.
Though we understand that there are people behind these works of art there is rarely much attention given to them.
If you aren't involved in the art community in some way you may have some trouble learning about artists in Buffalo.
Unless, of course, you go and ask one!
I was able to chat with Akasya Crosier, a local mixed media artist, to talk about some of these unknown aspects of artistry and her experience doing her craft in Buffalo.
Having been passionate about art from a young age, Crosier decided to attend the University at Buffalo for an art degree, as well as communication to explore possible avenues for applying art in a career setting.
Many of these avenues must have been of interest as Crosier's current work involves several different artistic fields of work.
On her website, AkasyaCrosier.com, she runs a shop where you can purchase a variety of her trademark 'funky' designs as regular prints, t-shirts, beanies, stickers and even a Buffalo-themed coloring book!
Through partnerships with local businesses, she also holds frequent pop-up shops at various locations around Buffalo and beyond. She also promotes her graphic design freelance work, meaning businesses can hire her to create designs for their branding.
On top of all of that, Crosier said her most important work is teaching children's art classes at Locust Street Art, a community art organization that offers several free (yes, free) art classes for all ages on topics like photography, ceramics, animation and more.
They even offer free rides to and from their location for those who are enrolled in classes.
"It's the perfect way for people to get involved in the arts without the financial burden," Crosier stated, hoping that more people take advantage of the resources available at Locust Street Art in the future.
The catalog of work that Crosier has available also displays her various skills in different art mediums. Paintings, typography, the aforementioned mixed media and many other forms of artistic expression can be found on her site.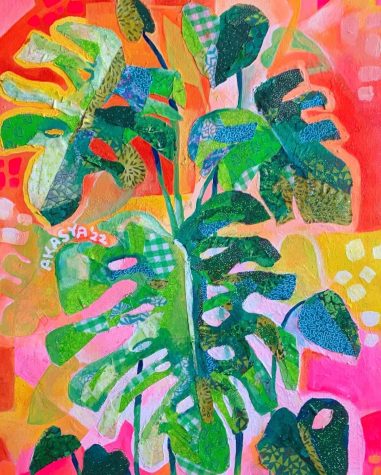 Mixed media art is particularly interesting because it incorporates more than one medium into a piece, so for example you could paint over a photograph, or incorporate felt and fabric pieces into a painting.
The potential is quite literally limitless, though ironically, because of this mixed media ends up having some unintentional business limitations.
"I don't really sell my mixed media pieces. Those are just kind of for me," Crosier said.
Because mixed media work is so unique it is very difficult to reproduce a piece for use as a product. They are more like 'one of a kind' artworks.
When working on art the most important aspect to maintain is the freedom of expression, however Crosier explains that she often has to consider things like marketability or general appeal when in a creative headspace.
"Having that mindset going into an art piece definitely makes it so that the work I make is more generally palatable," Crosier said about the art intended for selling, "Whereas with my mixed media stuff I'm not really thinking about how people will view it, because I never go in with a 'making money' mindset."
Overall, the creative integrity of the artist isn't taken away, just slightly adjusted to meet the wants of possible customers.
Speaking of the customers, what role do the supporters of the arts play in the art community?
Though they're not making or distributing the art, their financial and verbal support of those who are is what keeps the community thriving.
Jillian Fields is a perfect example of a local art enthusiast, seeing as she has an entire room of her home dedicated to the local art of Buffalo.
She described local art as more personal and varied compared to contemporary, mainstream artists' work, with a more unique perspective on art that you simply cannot get anywhere else.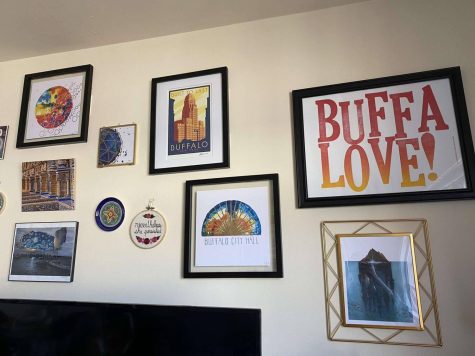 Fields also expressed her love for the art festivals held in the city each year such as the Elmwood Ave. Art Fest, as well as how easily you can make great connections with artists in the area.
Crosier described the close-knit community of artists in Buffalo, "It's like everyone has two degrees of separation from someone you've worked with."
She said that most partnerships happen through the people you know and local businesses reaching out through social media. Even if you don't know anybody you can always get involved by simply sending a message to a creator on social media.
From her own experience Crosier knows that any and all artists are happy to hear from those who appreciate their work and are excited to work with them.
During the height of the COVID-19 pandemic Fields had purchased some work from a local artist she found through social media. Because of concerns about transmission and keeping distance from others, the artist personally delivered the items directly to Fields' door.
"The fact that she was willing to do that… It's just not something you'd get from anywhere else," Jillian said.
The passion of both artists and the public is vital to the art community in Buffalo or any other place, though it seems that many people view the arts as an exclusives club, only reserved for the best.
The opportunities available for the public to engage with the community are more abundant than most know.
Crosier greatly recommends the free classes at Locust Street Art to anyone who may be interested in exploring their artistic side. For more information on what they have to offer you can go to locuststreetart.org.
And reiterating her point about reaching out to artists, Crosier added that you should "never be afraid to ask for advice from the art community – odds are your favorite artist is a DM away and willing to help!"
Art, whether you're creating or just enjoying, is for anyone and everyone, so no matter what you think may be in your way might just end up being a door instead of a wall.
If you happen to have more questions you can find Akasya on Instagram @akasyac or shoot her an email at [email protected].
Better yet, you can attend the creative conference at Tift Nature Reserve on June 3 where Crosier will be speaking on a panel about how to market yourself as an artist and build a portfolio.
And if you're interested in her upcoming pop-up shops here ar some more dates to keep an eye out for.
Saturday, May 14 – Pop-up shop and watercolor demo at Hyatt's Art Supplies Store
Sunday, May 15 – Pop-up shop at Artisan Works in Rochester
Sunday, June 19 – Lucky Flea Market in Rochester
Sunday, June 26 – Lucky Flea Market in Rochester
If you can't make it to any of those you can always check out her shop at AkasyaCrosier.com!