My interaction with every NFL head coach
I've never quite understood the quote, "Never meet your heroes."
After this week, I think can begin to understand the truth behind it.
In my three days at the NFL combine, I had the chance to meet some of the biggest names in the business. Sean McDermott, Brandon Beane, Andy Reid and Bruce Arians – to name a few.
Unfortunately, people aren't always as nice as they seem on TV.
So, I will be describing each interaction I've had with every NFL head coach. Read on to find out who is nice, who's rude and who will be giving his players "Ice Cream Friday".
Disclaimer: All the below descriptions are based on 1–2 minute interactions I've had with each coach. They were likely under a lot of pressure due to the high media presence at the combine. Their actual personalities may be totally different than the ones described below.
Sean McDermott, Head Coach, Buffalo Bills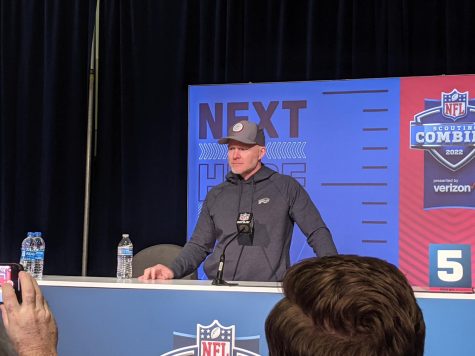 McDermott was bound to be the first man on this list. Not just because I'm a big Bills fan, but because he is a great man on and off the field.
I first ran into McDermott during his interview with the show "One Bills Live."
He smiled at me and gave a gentle nod. He wasn't wearing anything fancy, just a simple hoodie, hat and khaki pants.
McDermott was kind to everyone that approached him, and he spent way more than the allotted time talking to the media. He went out of his way to make sure every journalist went home with their million-dollar story.
On the personality scale, Sean McDermott gets an A+.
Andy Reid, Head Coach, Kansas City Chiefs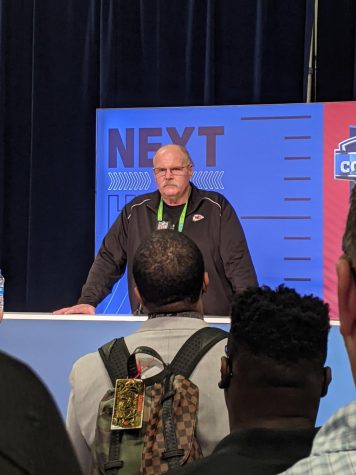 Every Bills fan knows the name, Andy Reid.
He's the criminal mastermind that's knocked us out of the playoffs the last two years.
He's the evil villain that must be slain by the heroic Sean McDermott and Josh Allen.
Although we make him out to be a bad guy, he's actually quite the opposite.
Between network interviews, I was able to introduce myself to Reid.
I opened up with his famous line, "When it's grim, be the grim reaper."
He cracked a small smile and proceeded to shake my hand.
However, Big Red, a nickname coined for him by NFL media, must have misheard me.
He thought I introduced myself as the grim reaper.
"Oh, that's your name?" chuckled Reid.
As far as Big Red is concerned, my name is Grim Reaper.
Unfortunately, I couldn't keep my trap shut and I went on to tell him how big of a Bills fan I am and how it was hard to watch him kick my team out of the playoffs the last two years.
Reid took it like a champ. He understood where I was coming from and thanked me for introducing myself to him.
After a quick handshake, Andy Reid walked away into the sunsetting horizon.
I wonder if our paths will ever cross again.
On the personality scale, Andy Reid gets and A.
Doug Peterson, Head Coach, Jacksonville Jaguars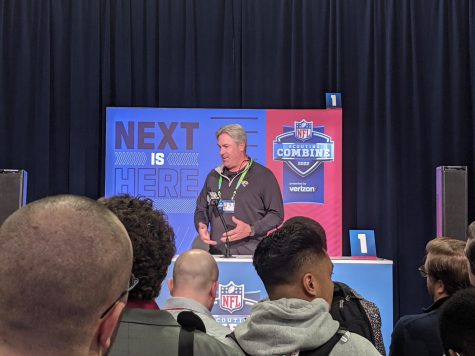 Peterson didn't get the fairy tale ending he hoped for in Philadelphia.
He led an injury-plagued 2017 Eagles team to an overall record of 14-3 and capped the season off with the city's first Lombardi trophy.
However, after seeing a significant decline in his team's performance in the following seasons, Peterson was let go only a couple of years after his Super Bowl victory.
He has since been hired as the head coach of the Jacksonville Jaguars.
After catching a glimpse of him at the combine, I only had one question to ask him – Will he be bringing back ice cream Fridays with the jaguars?
Peterson was famous for treating his players with ice cream every Friday, regardless of their performance on the field. This quickly made him gain popularity among his players and scrutiny among the public.
As a huge ice cream fan, I just had to know the answer.
I tracked Peterson down between interviews and asked him the age-old question.
Peterson's face turned into a wide smile and out came the words, "You bet I am!"
On the personality scale, Doug Peterson gets a B+.
On the dessert scale, Peterson gets an A+.
Dan Campbell, Head Coach, Detroit Lions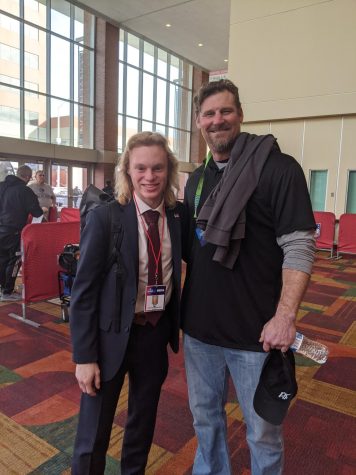 Dan Campbell will be the most interesting head coach on this list.
He has the aggression of a lion, but the emotions of a butterfly. He can bite your head off just as easily as he could give you a kiss on the cheek.
Campbell was hired at the end of the 2020 season as the head coach of the Detroit Lions. In his first year with the team, he finished dead last in the NFC North with an overall record of 3-13.
This record seems contrary to the original hype that Campbell brought to the team. Upon being hired as head coach, Campbell delivered a speech for the history books.
Campbell exclaimed that his team would falter to no one. If they found themselves in a losing position, they would simply "Bite the kneecaps" off of their opponents. Interesting choice of words for sure, but it brought a level of energy to the city of Detroit that they haven't had in years.
Unfortunately, Campbell didn't deliver any attention-grabbing lines at the combine, but he did give off his crazy mix of emotions.
After his interview, Campbell took time to take pictures with people. I was lucky enough to be one of them.
Also, he has a really cool first name.
On the personality scale, Dan Campbell gets a B+.
Bruce Arians, Head Coach, Tampa Bay Buccaneers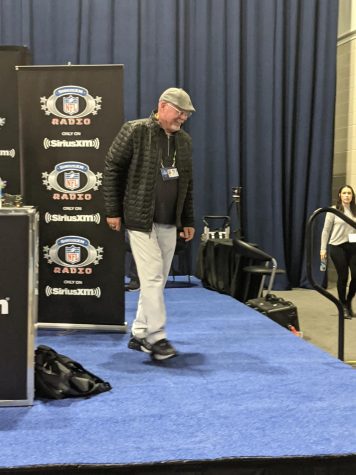 Arians is the oldest coach to ever win a super bowl at age 68.
He is also the only head coach to wear a cross-body microphone belt instead of the conventional waist belt.
None of those two things really matter, but I just thought I'd share.
At first glance, I thought Arians was a prospect. His large build is confusing at first.
I never thought I would have any interaction with Arians, nor did I want to. He wasn't high on the list of coaches I wanted to meet.
However, having said that, I am pleased with the short interaction we had. Arians was the only coach who first initiated a conversation with me.
Well, I take that back. I wouldn't quite call a pat on the back and a "How we doing bud" a conversation, but still, it was cool that he acknowledged my existence.
On the personality scale, Bruce Arians gets a B.
Frank Reich, Head Coach, Indianapolis Colts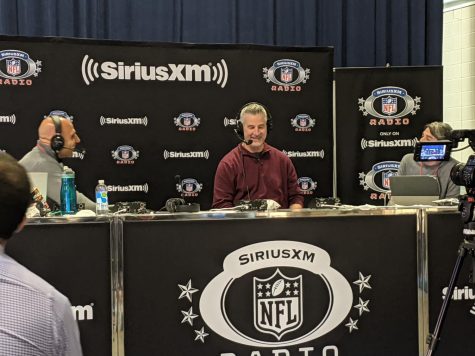 The only reason that Frank Reich is on this list is because of his historic comeback against the Houston Oilers in the 1993 AFC Wild Card matchup.
Trailing 35-3 at halftime, backup quarterback Frank Reich moved heaven and earth to pull off an impossible 41-38 Bills victory.
I never got the chance to talk to Reich at the combine, but I did walk by him many times.
He knew almost everyone there which made it very hard to get a word in with him.
However, we did lock eyes at one point.
Based on strict observation, on the personality scale, Frank Reich gets a B+
Mike Vrabel, Head Coach, Tennessee Titans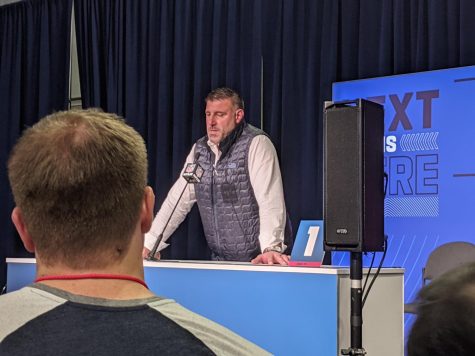 Yuck. Not only do I despise the Titans, but I am also not too keen on Mike Vrabel.
I always got the vibe that Vrabel thought he was better than everyone else. Seeing him at the combine only deepened this vibe.
Vrabel walked around with an air of cockiness surrounding him. He didn't really look at anyone and he walked around with no real purpose.
When it was time for his interview, the first thing he said to the reporters was, "Did you miss me?"
Overall, Vrabel just didn't fit the bill for me.
On the personality scale, Mike Vrabel gets a C.
7 coaches down, 25 to go!