The best of player and coach interviews at the NFL Combine
The NFL combine is a great chance for some of the most notable NFL-ready prospects to prove their worth over their competitors. However, it is also a chance for reporters, coaches and teams to get to know the players on a more personal level. Here are some of the best one-liners or phrases I've heard so far.
Brock Purdy, QB, Iowa State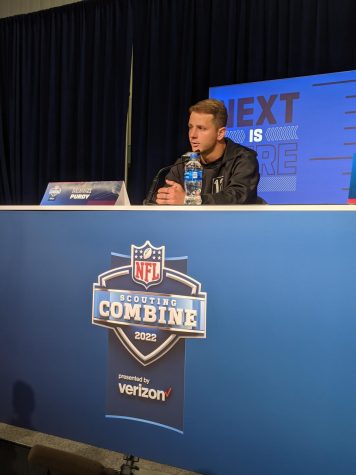 Purdy isn't one of the most well-known QB prospects in this year's draft. However, for what he lacks in skill, he makes up for in charisma.
Purdy started off with a small crowd of reporters but was eventually able to grow it through his ability to make people laugh.
Purdy got side-tracked in his press conference and shared a personal story of a time he had to get surgery on his non-throwing hand when he was a sophomore in high school.
He was playing paintball in a desert in Arizona when he accidentally slapped a cactus, filling his hand with needles. However, as Purdy went on to say, the most important takeaway from that whole mishap was that he won the game of paintball.
I hope for the best for Purdy in his NFL career. However, if his professional career as a QB doesn't pan out, he always has comedy to fall back on.
Malik Willis, QB, Liberty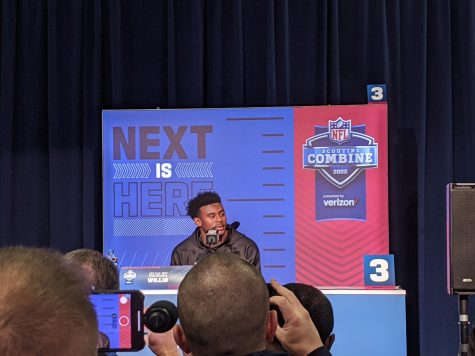 Willis is grouped as one of the best QBs in this year's draft class.
His muscular build and shifty elusiveness almost make him an evil twin of the Ravens' Lamar Jackson.
Unfortunately, this article isn't about a player's ability to perform on the field. Rather, it's about their ability to perform in front of a microphone.
And although Willis has a million-dollar smile, he could get some media training.
After stepping down from the podium, he was handed a large nametag. He was instructed to hold the nametag and "introduce himself quickly and talk about how the combine has been so far."
However, when the camera started recording, Willis just stood there. He then asked, "What do I do?"
Everyone burst into laughter. After a few more attempts, Willis finally had an acceptable attempt.
Willis should be every team's first target in the draft, trust me. His acting skills are so bad that there's no way he's faking being a top prospect.
Justyn Ross, WR, Clemson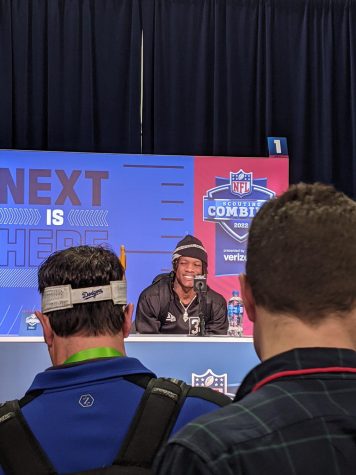 This 22-year-old stud is one of the best prospects in the 2022 NFL draft and he knows it.
Everything about this man screams "swagger."
From wearing his hoodie during the interview to the diamond-studded necklace he has around his neck, Ross is the stereotypical wide receiver.
When people are asked to think of a position in the NFL that embodies the word, "diva," they almost always think of wide receivers.
Starting with Keyshawn Johnson back in the early 2000s, wide receivers know they can get away with saying a lot. Justyn Ross is no exception to this.
Jon Robinson, General Manager, Tennessee Titans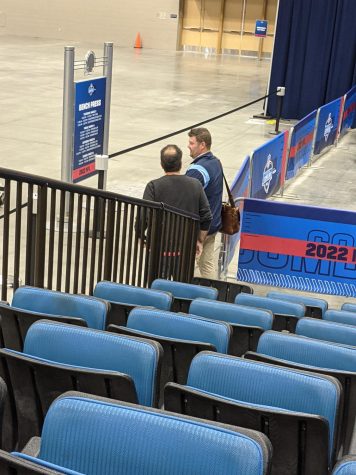 I had no intention of putting Robinson on this list.
However, while writing this article, he walked up the row of bleachers I am currently sitting in and asked if he could do an interview in the row behind me. Without waiting for my answer, tons of reporters came flooding up the bleachers.
When the interview was done, I had the opportunity to introduce myself to Robinson. After seeing that I was a Bills fan, he said "I don't like Brandon Beane."
Robinson proceeded to walk away with no explanation. It is obvious that something happened between those two, but as to what exactly, it seems as if the world may never know.
Garret Wilson, WR, Ohio State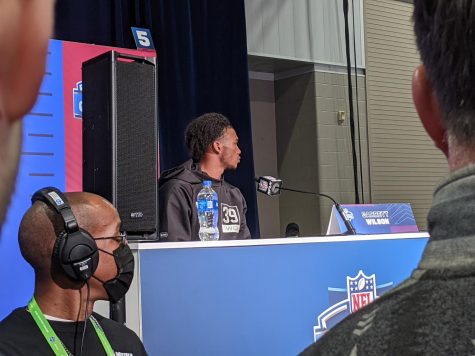 For a player with the amount of media that Wilson pulls in, it's a mystery how isn't more familiar with how a press conference works.
After walking onto the stage, he sat in a chair at the back of the stage. He wasn't visible to any media, and you couldn't hear what he was saying. A PR specialist from the combine had to tell him to move his chair up to the podium.
However, Wilson's struggles didn't end with the chair debacle. He also couldn't use a microphone properly.
Once again, a PR specialist had to come up and adjust the mic so it was in front of his mouth.
Wilson is a great guy. Extremely affable, elite ability, and NFL-sized hands.
However, as many scouts have said, he lacks skills in the media department- which makes him a great fit for this list.
As a disclaimer, this article is for comedic purposes only. All of these players and coaches are human, and they are bound to make mistakes.
As a fan, you often idolize players and think of them as "super-human."
The point of this article is to bring these super-athletes down to our human level.
We are all human, and we all have our quirks.
Remember man, that thou art dust, and unto dust thou shalt return.