Senator Kennedy speaks on the lack of rights for unpaid interns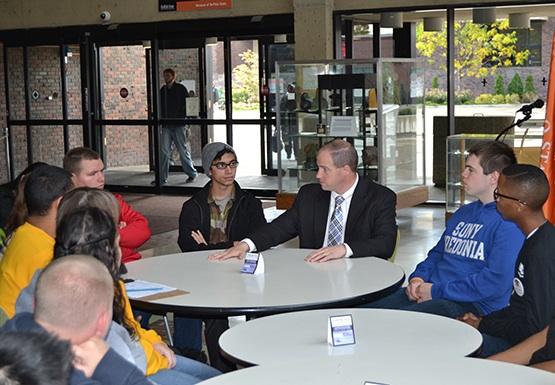 Sen. Tim Kennedy was on campus Wednesday to speak about the lack of rights unpaid interns have in the workplace. Among an audience of about 20 people, Kennedy sat down to an intimate talk with students from colleges across Western New York over the urgency to advocate for unpaid intern protections.
A ruling made by New York federal Judge Kevin Castelconcluded that interns in the workplace who are unpaidhave no human rights and are therefore not protected from sexual harassment. The case of Lihuan Wang v. Phoenix Satellite Television had been thrown out of the court because unpaid interns do not have employee status or the same protections afforded those who are paid employees. Kennedy spoke to the audience at Buffalo State about the need to fight for unpaid interns rights. Since there are currently no protections in place for any unpaid interns, he wants to have legislation create stronger human right's laws.
"There is an array of issues that needs to be dealt with from a human rights perspective," Kennedy said. "This legislation will close the gap that exists that has been demonstrated here in New York State by virtue of this court ruling to exist."
According to a press release, a Northwestern University study ranked the internship participation rate at 17 percent. For the graduating class of 2013, more than 63 percent of seniors had participated in "an internship or cooperative education assignment while working on their bachelor's degree."
Currently, the only places to have passed any laws protecting unpaid intern rights are Oregon and Washington, D.C. Kennedy is advocating for a New York law that will mirror Oregon's. The law will be co-sponsored by Kennedy and will make it illegal to have any sexual harassment or discrimination of any kind towards any unpaid intern. During Kennedy's talk with students, he spoke about how important internships are in today's society, and that many of them are unpaid. He said that this is an obscure type of legislation that has multiple impacts on families and individuals across the state.
"These unpaid internships have become a part of the fabric of student life and education in NYS and across the nation," Kennedy said. "We need to make sure that those students that are participating in unpaid internships are protected in the workplace."
There have been other court cases concerning the matter of unpaid interns rights in the past. According to money.cnn.com, there have been issues where interns file for harassment claims with unwanted results for decades. The ruling is always that the intern is not protected under law because they are unpaid and not an official employee.
Kennedy said that he hopes to pass the law as soon as possible. In order to expedite the legislative process, he is going to reach out to his allies, other students and the public across the state. He said the only way to get any legislation passed is if you get public support.
"Buffalo State is the epicenter of education in Buffalo and Western New York," Kennedy said. "We thought it'd be a central location for kicking off this advocacy to pass this legislation and it was also geographically central to the other college campus in Western New York."
Students joined Buffalo State from SUNY Fredonia, University at Buffalo, Erie Community College and Canisius College to attend the talk with Kennedy. After he finished speaking about the issue, he answered some questions people had. Then he took pictures with the students who attended.
Email: [email protected] Twitter: @lcoppola92
Leave a Comment