Monster 3.0 becoming a Buffalo tradition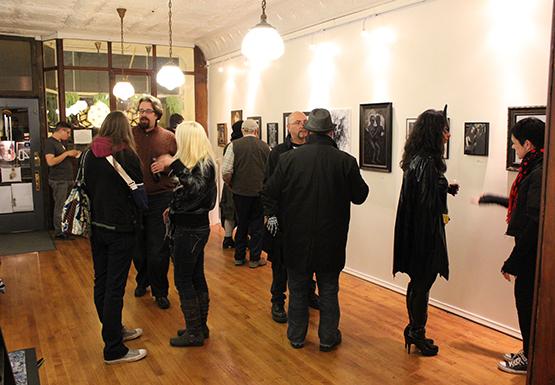 At the close of 464 Gallery's third annual Halloween bash Friday night, Monster 3.0, the art studio's owner, Marcus Wise, looked his at attendance sheet and found the number of guests was exactly 464.
What a fitting way for Wise to end another successful Halloween gallery open.
Wise first opened 464 Gallery, at 464 Amherst St., in February 2010. Fresh from the University at Buffalo, he wondered how he could get paid as an artist. He started doing research, and it wasn't long before he realized there were probably many other post-grad artists who had the same questions.
"Basically, it was an online portfolio for my work and I grew it out and invited other local emerging artists to get involved, sharing my information with them as I was learning it, as well as giving aspiring artists the opportunity to share their work and network with other artists," Wise said.
Soon enough, he had the resources to open up his own gallery, taking the people he had been working with on the Web site and allowing them to share their art in 464 Gallery.
Now, almost four years later, Wise is coming off another successful exhibit at 464 and couldn't be happier, considering how stressful it can be to put together such an elaborate event as Monster 3.0.
"It's always a little crazy getting an event together," Wise said. "It's a lot of work, but it always gives me a bit of a buzz putting it all together and seeing it in the way it turns out at the end of the night."
According to Wise, this year's event was more open. In the past, they were theming Monster 3.0 to one particular monster, but they opened it up to any kind to allow more artists to participate.
The event was held in the two stories of the art studio. Downstairs in the gallery, a group exhibition of monster themed artwork curated by Craig LaRotunda was on display.   The artwork featured work from artists Brit Barr, Jay Dieterle, Florian Ayala Fauna, Julia Finucane, Jessica Gadra, John Harrigan, Craig LaRotonda and many more. There was music provided by several DJs, a costume contest, and a bar, along with tarot card and other Sage Psychic readings. The Black Market food truck idled outside the gallery for anyone craving a bite to eat. Other bars along Amherst Street also had live music and drink specials, as part of the "Amherst Street Seance" event that evening.
According to studio manager Christina Laing, from the very beginning, Monster 3.0 has been about combining Buffalo's best art and electronic DJs for a truly unique monster-inspired Halloween experience.
Laing is a Buff State alum, and this was the first year of her involvement in Monster 3.0 as an artist.  Also a freelance graphic designer, she designed the event flyer, and collaborated with installation artist Keith Harrington of AKA Projex to project an animated remix of Laing's MONSTER poster design on the exterior of 463 Amherst St., across from the gallery.
Laing said she loves 464 Gallery for two reasons: community and support.  
"It's an amazing place for emerging artists to get involved in the local art scene and get their foot in the door," she said.
As a recent graduate, Laing knows firsthand how difficult it can be to bridge the gap between student and professional artist.
"Many times art students graduate and don't know what to do next," Laing said. "Most of the students in the photography program that I was in graduated and never pursued art, simply because they didn't know where to go or who to get involved with. 464 (and its group, ELAB- Emerging Leaders in the Arts Buffalo) provide students with the resources they need to get started."  
She said the first time she walked in the door at 464, she felt nothing but support from everyone she encountered, especially from Wise.  
"Marcus has such a sincere love and appreciation for Buffalo's art scene and sincerely devotes his time to helping others succeed," Laing said. 
Dana Saylor, a friend of Wise, thought the night went great and had fun being a participant of Monster 3.0.
"I think it was a huge success, owing to the popularity of 464 Gallery, strength of the art, DJs from Queen City Cartel, and Black Market Food truck," Saylor said. "The dancing upstairs in Studio 464 was killer too. There were many great costumes, friendly people, and good selections at the bar."
The exhibit is open until Nov. 3. The gallery is open Monday through Friday from noon to 6 p.m. and Saturday and Sunday, from noon to 4 p.m., or by event or appointment.
Email: [email protected]
Leave a Comment