What it was like having virtual NFL media credentials
There are many perks of being a journalist.
For starters, you are able to write about whatever you want and no one can tell you otherwise.
Let's take a moment to thank our founding fathers and the beautiful First Amendment.
Another perk of journalism is that you are often the first person to break the latest news to the public. This is an incredible power, but as Spiderman so kindly told us, "With great power comes great responsibility."
In my opinion, the most enticing part of being a journalist is how you get your information. There are many ways of getting information- books, documentaries, websites, other articles, etc.
However, the most rewarding way to get information is going directly to the source of your article and getting a direct interview.
For example, my passion is sports. If I am writing an article about a sports team or sports player, the best way I can learn about said team or player is to interview them directly.
After years of trying to land an interview, I finally got one. Well, I kind of got one.
Let me explain.
A couple of months ago, I registered The Record with NFLCommunications, the NFL's official media source that recognizes and distributes all media credentials for every NFL event. In order to get media credentials, you must be registered with NFLCommunications. I will be writing a future article that goes into detail about the process of registering with them.
Fast forward to one week ago, and I was sitting at my computer exchanging facial expressions with none other than Matthew Stafford, the all-pro quarterback of the Super Bowl 56 victors Los Angeles Rams.
Let me tell you, it was the experience of a lifetime. After trying for the better part of five years to get an NFL media pass, it was a sweet, sweet victory to finally get it-even if it was just a virtual interview.
I was one of many journalists in a zoom call with the star players on the Rams. I had access to interview rooms with big shots such as Matthew Stafford, Aaron Donald and Cooper Kupp, to name a few.
The amount of information I was absorbing was insane. For example, did you know that if a movie was made about Matthew Stafford's life, he would want Leonardo DiCaprio to play himself? Don't feel too bad, I didn't know that either until a journalist from NBC pitched the question.
In the 45 minutes I had with Matthew Stafford, I tried my hardest to get a question in. As soon as I joined the interview, I clicked the "raise hand" feature on zoom. After being skipped over on multiple occasions, I began to spam-click the button. That didn't work either.
Unfortunately, I was never able to get a question answered. However, I did get valuable experience on how to introduce yourself to players and how to word a question. You never want to sound threatening as a journalist. Instead, you want to be inviting and charming.
Although I couldn't get any questions answered, I did get some pretty cool pictures with the legends themselves.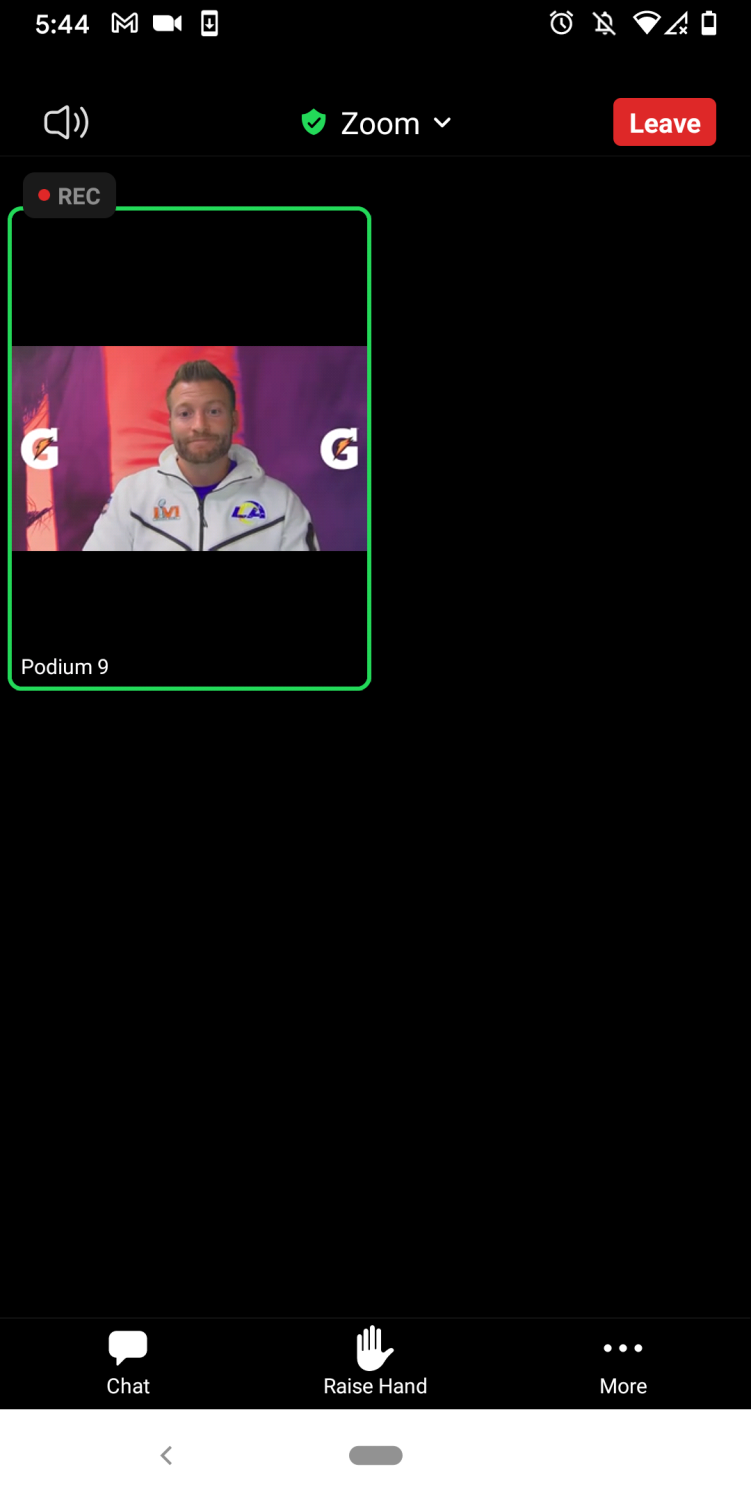 Sean McVay, Head Coach, LA Rams
As you may have noticed, there are no pictures of any Bengals' players. Here's a picture that can explain why:
Unfortunately, so many people were trying to access the zoom room that the meeting crashed.
IT guy Jay, pictured in the bottom right corner of the picture, did his best to get me into the room, but his efforts came up short. Joe Shiesty will have to wait a little while longer to be lucky enough to get an interview with me. Sorry, Joe.
Although I wasn't able to ask any questions, this was still a dream come true. Being able to hear first-hand answers from some of the best to ever do it was enough to suffice my goal of obtaining NFL media credentials for the time being.
My next goal is to obtain a media credential for an in-person NFL event. I recently submitted an application for the NFL combine in Indianapolis, Indiana. Trust me, if I get approved, there will be many articles not only recapping my experience at the combine, but how certain players look, dress, and perform.
Stay tuned for some more NFL media coverage!
Next stop: Indianapolis.