Design department offers tips for costumes that scream creativity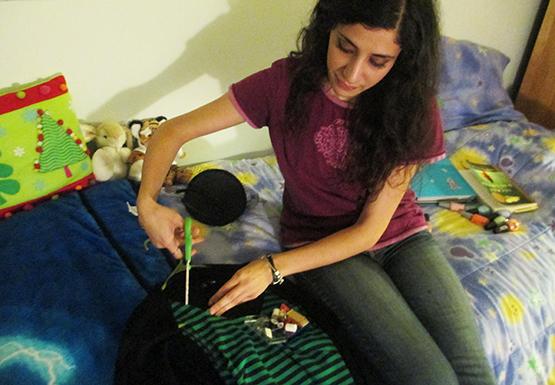 When Halloween comes around, dressing up is a given, and finding the perfect costume becomes your life's goal (at least for a short while).
But where exactly does one begin this grand costume hunt?
Of course, you can hit up stores like Party City or Spirit and buy that little red devil outfit that costs $20, running the risk of having the same outfit as every other broke college student.
Or go ahead, buy the platinum blond wig, black leotard and oversized shades and rock your rendition of Lady Gaga's "Bad Romance" — but that's so 2009, and who wants to look like a replica?
Why not spice it up and create something completely your own?
Constructing the perfect do-it-yourself costume can be a bit of a challenge, especially if you have no idea what you want to dress as, or haven't tapped into your creative side yet.  Luckily, some of Buffalo State's own have provided some advice to get you moving on your DIY Halloween venture, or to simply have fun dressing up for the day.
"Don't just buy a Halloween outfit – it looks as though you have no imagination," Lynn Boorady, chair and associate professor of fashion and textile technology, said. "Put a little thought into your outfit and realize that sometimes the simplest idea can also be the best."
According to Boorady, it's never cliché to wear black and orange in October (besides, they are our school's colors). But you may want to jazz it up by wearing an orange plaid scarf with a black outfit — you can look fashionable while still honoring Halloween tradition.
For the person who wants to keep it discreet, "A black base for the outfit with a pop of something orange says, 'I'm not dressing up, but I know it is Halloween,'" she said.
College students' budgets limit their costume purchases, so it's all right to keep it simple. Instead, work with what you've already got.
"I would recommend looking at your wardrobe first to see what you have for the makings of a costume," Boorady said, suggesting an old prom dress for a Hollywood starlet costume, a cat costume out of black pants and a shirt, or even hitting up a thrift or variety store to piece together a 70s or 80s-era outfit. She also said you can take almost any outfit and, with a bit of makeup, instantly create a zombie.
Jorg Schnier, chair and associate professor of the design department, says to go for the highest quality of materials. In other words, if you decide to sew your own costume, buy quality material so you can actually get some wear from it and use it more than once.
"It's neither ethical nor economic in the long run to purchase cheap environmentally harmful stuff," he said. "The ever changing design fashion is absolutely ridiculous, and will only make objects go out of style faster."
So do not get caught up in the idea of having to buy something exclusive for whatever piece you may be working on. Since you are making the investment, get something that will be fashionably functional for years to come.
Ultimately, the main idea of DIY costumes is to be creative with whatever idea you have. It may not be a completely new character, but the fact that you've put it together with your own items and fashion flair makes it unique and fun.
Ann Emo, a costume designer for the theater department, thinks making people do a double-take as they walk by is always fun. One way to do that is face paint — whether it's a few whiskers on your cheeks or the entire face.
"I usually use regular acrylic paint rather than face paint, but you can use something from a party store," Emo said. "I would recommend going to DC Theatricks or George and Co., and use it sparingly."
If all else fails, use Erica Fire, the theater department's costume shop manager, as inspiration.
"This year I plan to go to the USG "Rocky Horror Picture Show" in the Union," she said. "If I dress up, it will involve the corset I made as a class project when I was in college, combined with clothes left over from my goth years, and funky tights.  Instant costume."
It doesn't take much to ignite that creative spark — just take your time and you will easily come up with an original and unique costume for Halloween.
"Use your imagination," Emo said. "It is much more fun to be a ghost than the latest character that you can buy at a party store."
Email: [email protected]
View Comments (1)