'The Neutral Ground: A Story About Sore Losers' 'Beyond Boundaries: Dare to Be Diverse Screening and Discussion Series' panel recap
The screening of "The Neutral Ground: A Story About Sore Losers," which took place last Thursday at 7 p.m. at the Burchfield Penney Art Center as part of the Beyond Boundaries: Dare to Be Diverse Screening and Discussion Series, was followed by a discussion panel with Chief of Staff to President Katherine Conway-Turner and State University of New York College at Buffalo Chief Diversity Officer Crystal Rodriguez-Dabney; John Torrey, a professor who holds a doctorate in philosophy and Mikaila Morgan, an Africana studies major.
Directed by CJ Hunt, a field producer for "The Daily Show with Trevor Noah," this first movie to launch the spring semester chronicles New Orleans' fight over Confederate monuments and "America's troubled romance with the Lost Cause."
"When we talk about racism and all these deeply embedded prejudices, they're institutionalized, and when we talk about the way they're in our institutions, it's not just the statues," said Ruth Goldman, an associate professor of media production in the Buffalo State College Department of Communication and one of the series coordinators. "It's what schools are named after, national parks and state parks."
Rodriguez-Dabney explained how white supremacy values continued to be a priority by those in power even following the war.
"These are the people who, after the war, spent so much time and energy to actually make laws that kept Black people in an inferior place," she said. "They did everything they could to make sure that [racism] was interwoven into the systems we have perpetually. If they couldn't keep us in ownership, they wanted to make sure they kept us in an ownership-like state."
Torrey, who specializes in social and political philosophy and African-American philosophy, mentioned how it's even embedded in our education system, pointing out a textbook in Texas that referred to enslaved people as immigrant workers.
"There's something horrifying, it's a misappropriation of history. It's a lie," he said. "That's how these kinds of things continue to be installed at an institution level."
He also mentioned how one of the reasons why there's a resistance to Critical Race Theory is because it changes how we perceive our ancestors.
"People really rely on their ancestors to be something heroic, and there's no way to explain the Confederacy as something heroic," he said.
Talking about the history of slavery and the lack of recognition among the diversity of Black Americans, Morgan said that only specialized courses cover this topic in depth.
"A lot of Black Americans, they don't feel that they have a culture because the history is White," Morgan said. "For me, technically I'm not Black American because my parents are immigrants and it's like, 'What do I identify as? What is my history?'"
Reflecting on the movie, Morgan said that one scene that stood out in particular to her was when a man was saying that the Confederacy was about White Americans, which is something that she can't understand being that the Confederates rebelled against their own government, a notion that is Un-American.
The panelists also discussed how people like to think that segregation is mostly prominent in the South, but it can also be observed here in the North.
"Buffalo is one of the most segregated cities, and we know this, but we can't look to the government and say, 'It's your fault it's segregated,'" Rodriguez-Dabney said.
According to her, a lot of it has to do with the stories that we pass down from generation to generation and how we, as a society, tend to choose to "not get out of our comfort zone" and live in other areas.
Rodriguez-Dabney shared how her grandmother came to Buffalo in the 1960s from Alabama and reflected on how if a Black person were to visit their White friend in another area, their family would be hesitant for their safety, and vice versa.
The audience also had an opportunity to share their experiences, their thoughts on the movie and ask the panelists any questions.
Moises Rijo, a senior, shared that he's an immigrant from the Dominican Republic and said that one part of the film that really resonated with him was when Hunt was talking with his father.
"My father's father was a soldier in Trujillo's dictatorship, and then on my mother's side, my great-grandfather was a rebel," he said.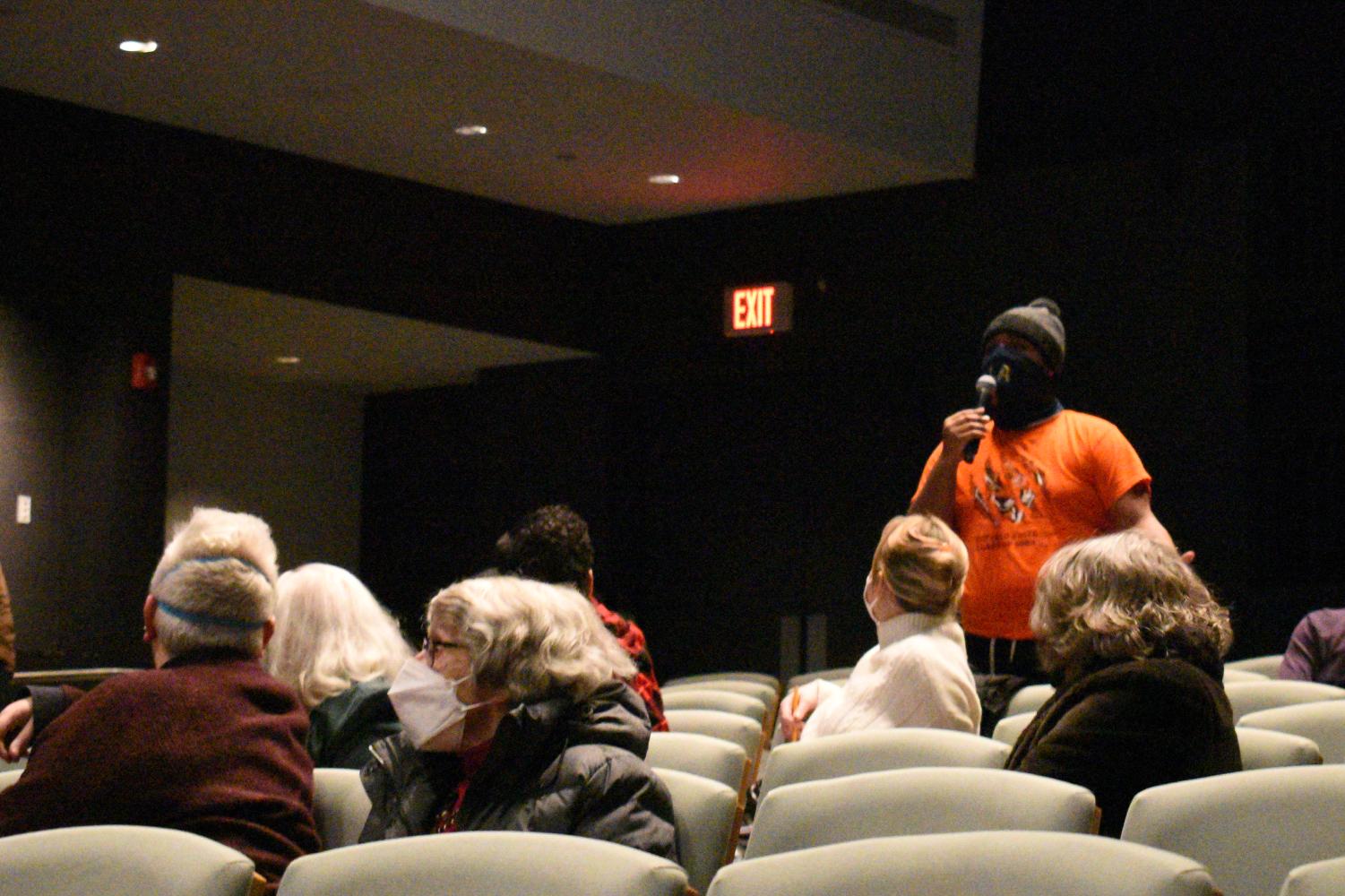 Hunt's conversation reminded him of how when he has conversations with his family, who point out that America is not the only one with a horrifying history of power struggles.
Rijo also argued that society should shed a light on these issues from a global perspective.
Buffalo State College students were not the only audience members that were present, but other locals attended as well.
"I always like a discussion after watching something," said Veren, one audience member who is new to the Buffalo community.
Veren was invited by his friend Fee Parker.
"The reason I like to see a movie with a friend is so we can talk about it afterwards," he said.
What stood out to Parker the most about the film was Hunt's rhetorical approach.
"You can't really hit people with the truth, so I like how he tried to find common ground and that also he found humor in very difficult conversations."
Meg Knowles, an associate professor of media production and one of the series coordinators, said that they were gratified at having "such an enthusiastic reception" at the screening.
"The panelists did a beautiful job responding to and contextualizing the film within both the political and cultural climate," Knowles said. "Several students approached me afterwards to say they thought it was an important film to show and that they hoped we would bring more like this to the Buffalo State campus."
The Beyond Boundaries: Dare to Be Diverse Screening and Discussion Series is sponsored by the Buffalo State Office of Equity and Campus Diversity, Buffalo State College Department of Communication and the Burchfield Penney Art Center.
For more information on future movie screenings, please visit the Buffalo State College Department of Communication website or follow @bsc.equityanddiversity on Instagram.
This article is also featured on typeawaycait.blogspot.com!