Show Stopper
Linda Banfield set Buffalo State's shutout mark. Now she leads the Bengals into the playoffs.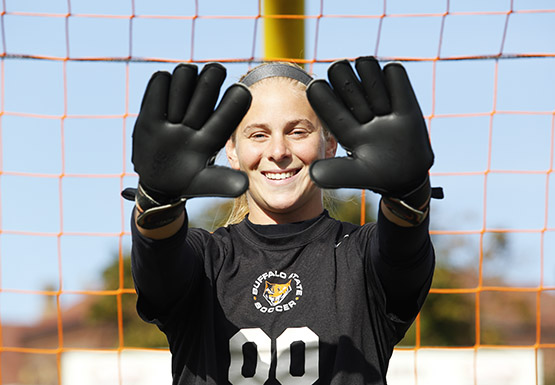 It was a crisp October afternoon and the Buffalo State women's soccer team was leading Potsdam, 1-0, with less than five minutes to play in the second half.
Goalkeeper Linda Banfield hadn't allowed a goal in almost 350 minutes of game time, stretching back nearly two weeks.
Potsdam cleared the ball up field, and Banfield seemed to have a beat on it, until a miscommunication with her defenders allowed a Potsdam forward to slip by and tuck the ball into the net to tie the game.
"It was just a terrible goal to give up," Benfield said, still visibly upset even a week after the game. "It was a huge miscommunication between my defender and me. It was just ugly, and it was not the way I wanted the streak to end."
But Banfield and the Bengals persevered. Banfield made an enormous save just over a minute into the overtime period, and fellow captain Jordan Dudish capitalized on a free kick shortly after to give Buffalo State the overtime victory.
It's this tenacity and grit that has come to be Buffalo State's — and Banfield's — calling card this season.
"This team is different than any team I've ever coached," coach Nicholas DeMarsh said. "… This team is just a bunch of stubborn, grind-you-into-the-dirt kind of players. All blue-collar. Nobody with an attitude, no real flair. Just hard work."
The hard work paid off throughout the regular season as the team finished second in the SUNYAC standings, and clinched a home semifinal playoff game for the first time in program history.
One of the biggest reasons the Bengals have found such success this year is the play of Banfield.
The senior goalkeeper posted 10 shutouts this season, breaking a school record that had been standing for 29 years. The previous record holder was Sue Hough, who had nine shutouts in 1984.
Despite Banfield's stellar play all season, she is the first person to give credit to the team as a whole for her individual accolades.
"It's an honor, but I don't feel different," she said. "I don't feel special in any way, I wish it was more attributed to the team rather than just me, because it was obviously a huge team effort, specifically with the defensive line."
What makes the mark even more impressive is the way Banfield achieved her shutouts. Eight of the 10 shutouts she had this season were 1-0 wins. The other two came in a scoreless overtime tie and a 2-0 win.
Banfield allowed only eight goals this regular season, despite playing in all 18 games. Offensively, the team averaged just 0.83 goals per game, but Banfield managed to post an 11-4-2 record.
Banfield said the pressure of being in close games has been tough this season, but the only thing that matters to her is the result at the end of the game.
"It's not enough to be comfortable being up only by one," she said. "… It does add pressure. A lot. But so far we've come out and been successful."
DeMarsh's face lit up when he talked about Banfield's role off the field. He said that she's focused on excelling on the field and in the classroom, but that her best quality might be her ability to keep her teammates loose and provide levity to situations.
"Linda is super quiet, but Linda has a very dry sense of humor, and she's hilarious," he said, grinning ear to ear. "People don't realize it, but she's a really cool kid. She doesn't say anything to anybody, but apparently everybody who hangs out with her just loves her because she's just super cool."
As a captain on the team, Banfield said it's her responsibility to show younger players how things work on campus and on the team. Off the field, she has a quiet and laid back demeanor, which she says helps when dealing with younger players.
On the field, though, it's a completely different story. On game days, it's easy to pick out Banfield's voice from the stands, shouting encouragement or instructions to her teammates.
"On the field, I try to be as outspoken as possible," Banfield said. "Constant communication is needed in order to have a functional line in the back, so during games I need to be a lot more vocal."
Banfield has become a calming force for the team as a whole this season. Two years ago, the Bengals played five different players at the goalkeeper position throughout the season. This year, Banfield played in every game, and has given the defense a security blanket in goal.
"She keeps us in a lot of games," senior midfielder Jordan Dudish said. "It's really nice having a solid goalkeeper back there. A couple of years ago we didn't have a goalkeeper and we were in a tough spot, so it's great having her back there."
One of the reasons Banfield has put so much emphasis on this season is because it is her last as a Bengal. The psychology major is on track to graduate in December, and knows that this is her final chance to play at Buffalo State.
DeMarsh has seen a different sense of urgency out of his goalkeeper this year, and said that this increased focus has helped her on the field.
"She's a senior, so obviously that creates a little bit of urgency," he said. "Things become a little bit more meaningful. There's nothing like someone telling you this is your last opportunity to spur you into action."
Now that the regular season is over, Banfield has an opportunity to catch her breath for a brief moment. Buffalo State's second place SUNYAC finish earned the team a bye in the first round of the playoffs.
The Bengals will take on either Cortland or Geneseo at 1 p.m. on Nov. 6 at Coyer Field. Banfield said the team is thankful for the week off, and that come next week, it will be ready for whomever it faces in the playoffs.
"I think we have a sense of confidence, but we're not cocky in any way," she said. "We know what we have to work on this week. We know what we need to do once we get there on Wednesday, and then it's just a matter of tuning up everything, keeping our stubborn attitude up, and just trying to score more goals."
With the playoffs on the horizon, Banfield knows that every game the Bengals play could be her last. She's focused, and prepared to go out and leave everything she has on the field.
"It's my last year, so obviously I'm not taking anything for granted," she said. "I'm putting in 100 percent every single time because it's my last time I'll be able to do this."
Leave a Comment