Physics students soar high with space balloon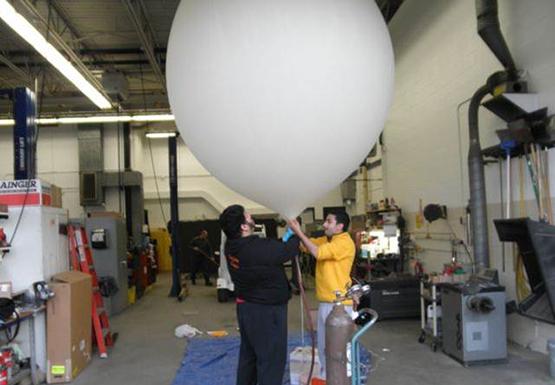 After successfully launching a balloon into space, two Buffalo State students are flying high in the aftermath of what was originally just a final project.
Edward Bryant, a senior physics major, and Mike Al-Zoubi, a junior mechanical engineering major, went just as above and beyond as their balloon, Bengal I, did last spring.
Their PHY111 professor and "Bengal Space Launch" project adviser, Dan MacIsaac, said his students usually do modest projects at the end of the semester, using what they've learned in class. The assignment is only supposed to take 20 hours of work, yet Bryant and Al-Zoubi put in 100.
"They took the end of the semester project and ran with it," MacIsaac said, calling the launch an "unusually ambitious project."
The pair's hard work paid off when they launched the balloon on May 3 at 5 a.m., with "breath taking" results.
After giving the Buffalo Niagara International Airport a courtesy call that morning to let them know that an unmanned aircraft would be floating through the sky, the pair let go of Bengal I.
Al-Zoubi said that he and Bryant had just released the balloon, and then found themselves standing under it and watching it grow smaller and smaller, calling the flight an "amazing sight."
They then quickly hopped in the car, binoculars in hand, to try to watch the little dot for as long as they could.
Not only did Bengal I make it to space, but the pair achieved what Bryant said was their ultimate goal– capturing the curve of the Earth, which they achieved using a camera attached to the balloon's payload.
The Earth's curvature was "the most beautiful thing we've ever seen," Bryant said.
The camera floated along with the balloon for its entire flight, and the images can be seen in a YouTube video documenting all the steps of the project.
Also inside the payload was a Global Positioning System to track the payload and hand warmers to keep the technological devices warm and working.
Bryant attributed much of the project's success to the collaboration done between various departments.
"We wanted everything to work and be in unison," Bryant said. "We had luck, intellect and interest. We were also very fortunate to have supporters."
For example, the helium, which is hard to come by, was donated by the chemistry department.
Bryant also contacted geography and planning department professor Stephen Vermette for help with the planned balloon launch. Vermette advised Bryant and Al-Zoubi based on his earlier experience from launching weather balloons. He knew that all too often, balloons are commonly launched but not recovered.
Vermette also offered them the help of two weather forecasting students, Chris Sica and Samantha Thomas, to provide weather forecasts for suitable launch days.
Additionally, he looked at trajectory software to forecast where the payload would land once the balloon burst.
"While the day of the launch was perfect, we had been advised not to launch, as there was a good likelihood that the payload would end up in Lake Ontario, and thus lost to Ed and his team," Vermette said.
All parties involved hoped that the balloon would not land either in water or in Canada—luckily, it didn't.
Vermette gave Bryant and Al-Zoubi potential landing spots once they went out looking for the payload, which the pair found in a field 20 minutes south of Lake Ontario. Bryant said that the success of recovering the payload was one of the best parts of the project.
MacIsaac hopes that the success of "Bengal Space Launch" will motivate future students, and said that Bengal I had "an outcome that excites."
The research project is being shown to prospective students in an effort to both teach and recruit them.
Bryant said he and Al-Zoubi are willing to reach out to high school students to offer them their experiences and incite.
"We want students to identify with the research taking place on campus," he said. "It's great for Buffalo State. We grew as an institution, as this project was done by student research and launched from campus."
Personally, both Bryant and Al-Zoubi are proud of the project's success.
"We accomplished what we wanted and what we set out to do," Al-Zoubi said.
MacIsaac said that Bengal I is being used as a "vehicle to inspire students to pursue careers in STEM (science, technology, engineering and mathematics) fields."
He added that Bengal I is evidence that inexpensive technology is progressing in new ways, adding that 20 years ago, technology was unaffordable.
"Amateurs can now fly a balloon to 100,000 ft. using low-cost technology that was unavailable a generation before," MacIsaac said.
The technological advances helped Bryant and Al-Zoubi get their SUNY Buffalo State lanyards, (which were stored in the payload) to space!
Bengal Space Launch is a project that both Bryant and Al-Zoubi plan to follow up on, with Bengal II in the works in an effort to further develop their research.
Bryant and Al-Zoubi said that Bengal II will be more of an experiment-driven launch, because they already know they can do it, so now they'll take it one step further. The pair hopes to make Bengal II even more of a collaboration between different departments. For example, Byrant said he hopes art students will help create the logo.
MacIsaac said no matter what the outcome of Bengal II is Bryant and Al-Zoubi will always remember their successful first try.
"In 20 years, Ed and Mike may not remember PHY111, but they will remember the balloon," he said.
Email: [email protected]
Twitter: @LiveWithColly
Leave a Comment