Second half surge spurs second straight win for football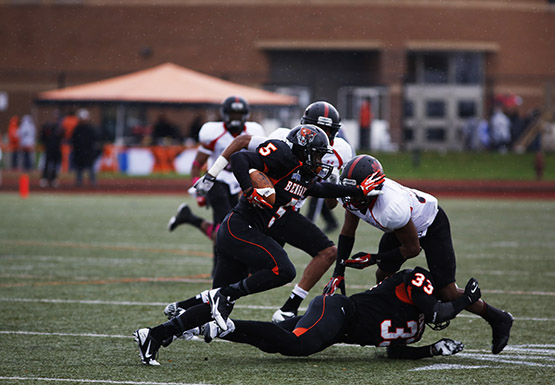 The Buffalo State football team rode a 27-point second half to its second straight Empire 8 victory Saturday.
The Bengals' 34-19 win over Utica was their second straight conference victory, improving the team's record to 4-4 on the season.
"I'm real happy the way the guys have kind of gotten back on track, you might say," coach Jerry Boyes said. "It's a real testimony to them."
Utica opened the scoring with a field goal 10 minutes into the first quarter. Buffalo State answered when quarterback Casey Kacz ran for a touchdown five minutes into the second quarter, but a Utica touchdown on the next drive made the score 10-7 at halftime.
Utica added to its lead with a field goal to start the second half, but Buffalo State took over from there. Buffalo State running back and Utica native Rich Pete scored on an 11-yard touchdown run with 6:07 left in the third quarter. The touchdown was especially important to Pete, who was playing in front of his hometown college crowd for the first and only time of his career.
"It was a real great experience, and I had a lot of fun," Pete said. "… I'm real happy I got a touchdown. It always feels good to score. I kind of wanted a few more, but it's a team game and at least we came away with a win."
The Pioneers took the lead, 19-14, early in the fourth quarter on a Ryan Burnet 22-yard touchdown run.
From there, the Bengals scored the last 20 points of the game. Kacz hit Isaiah Clarke for a 27-yard touchdown pass, then, on the next drive, found wide receiver Mike Doherty for a 58-yard touchdown toss.
On the ensuing Utica drive, Burnett lost a fumble on the first play. Buffalo State linebacker Eddie Weiser scooped up the loose ball at the Utica 16-yard line and returned it for a touchdown to put the game out of reach.
Weiser's fumble recovery for a touchdown capped a 20-point fourth quarter for the Bengals, who outscored Utica, 27-9, in the second half.
"I think guys on the sideline, the older guys, kind of opened their eyes and were like 'this is our season right here in this half,' so everyone kind of picked up their tempo and their mentality and it worked out well," Kacz said.
The victory gave Buffalo State back-to-back conference victories for the first time since the Bengals won their final four conference matchups last season.
"What I saw Saturday were those things that I've been expecting to see, frankly," Boyes said. "… It was a great team victory, because all three phases contributed to the victory."
Kacz finished 19 of 31 for 281 yards and two touchdowns. He also ran for 16 yards and a touchdown. The 16 rushing yards tied Kacz for the school record for career rushing yards by a quarterback.
Doherty finished with six catches for 103 yards and a touchdown. Pete had 72 rushing yards and a touchdown in his homecoming game.
Defensively, Mitchell Thomas and Chris Hall had interceptions for Buffalo State, to go along with Weiser's fumble recovery.
The Weiser touchdown was the first defensive touchdown Buffalo State has scored since Shaq Frederick scored on a fumble recovery on the last play of the first game of the season.
"It's so relieving to see the defense do that," Kacz said. "… It's great to see Eddie get his first touchdown in his senior year. It was just a great feeling to see the defense pick up the whole sideline with that play."
The Bengals travel to Hartwick on Saturday to take on the Hawks in their last road game of the season. Kickoff between the conference rivals is scheduled for 1 p.m.
Leave a Comment