Football snaps losing streak with blowout victory
Kacz throws for five touchdowns, runs for two more as he moves into second place on school's passing list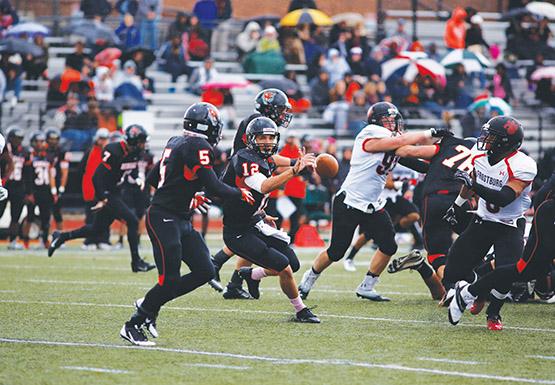 The Buffalo State football team took the field Saturday with a chip on its shoulder.
The Bengals had lost four games in a row, including three conference games, two of which were decided by one possession.
They were determined to snap the streak.
"I think we finally got sick of losing," wide receiver Mike Doherty said. "From the moment I got to the field, everybody seemed ready to go and in the zone. We came out from the start and we were ready to play."
Thanks in large part to seven touchdowns from quarterback Casey Kacz, the Bengals beat Frostburg State, 60-28, and registered their first conference win of the season.
"Casey executed very well, not only statistically but with some of the automatics that he made on the field as well," head coach Jerry Boyes said. "(It was) a very good performance on Casey's part."
Buffalo State opened the game with a defensive stop and got the ball back on its own 17-yard line.
The offense came out and went on a 13-play, 83-yard drive to open the scoring. It was just the second time all season that the Bengals had scored first in a game.
"After the first drive, you really can't tell that we're going to win off that, but once we started going I didn't think they were going to get up on us," Doherty said. "I thought we were just going to keep going like we did."
After Frostburg State tied the game with a touchdown of its own, Kacz took over. He threw three touchdown passes — two to Caesarae Lewis and one to Doherty — to push the lead to 29-7.
The Bobcats scored before halftime, but Buffalo State exploded in the second half.
Kacz threw two more touchdowns in the third quarter, and ran for another. In the fourth quarter, kicker Alex Debbins converted on a 21-yard field goal, and running back Trey Jones capped the scoring with a 23-yard touchdown run with 15 seconds left in the game.
Buffalo State's 32-point victory was its largest margin of victory since Sept. 17, 2011, against Western Connecticut State.
The Bengals forced four turnovers Saturday, and scored 21 points off of them. Boyes said that statistic had more to do with their win than anything else.
"There were two great things about the turnovers on Saturday: one, we were plus-four on the day," he said. "Two, we scored touchdowns on three of the four. A sudden change can be a big part of the game and it certainly was on Saturday."
Kacz finished the game with five passing touchdowns and two rushing touchdowns. Despite throwing for only 203 yards on the day, Kacz passed Tracy Bacon for second place on the school's all-time passing list. His 5,314 career passing yards are second only to Chris Henry, who amassed 7,9878 passing yards from 1997-2000 at Buffalo State.
"That's pretty cool, I had no idea," Kacz said about the accomplishment. "I don't know what any of the records really are for quarterbacks, but yeah that's pretty cool."
Lewis finished the game with a season-high eight catches for 86 yards and three touchdowns.
Rich Pete and Trey Jones led the rushing attack with 83 and 82 yards on the ground, respectively. Buffalo State ran for 306 yards Saturday, its highest total since the team ran for 365 yards on Oct. 15, 2011, against the College of New Jersey.
"Our whole motto throughout the year has been 'take what the defense gives us,' and when they were trying to stop the pass, we were able to have success with the run," Kacz said.
The Bengals travel to Utica on Saturday looking to improve to .500. The team knows that it has only a slim chance to make it to the postseason, so for now, the players are just concentrating on finishing the season strong.
"Right now, we're playing for a 6-4 record," Doherty said with a focused look in his eyes. "That's all I care about. You can't jump past Utica, but that's the overall goal for the season now."
The Bengals will play next at 2 p.m. Saturday in Utica.
Email: [email protected]
Twitter: @cdierken
Leave a Comment