Tribute to founder of Educational Opportunity Program to be screened Wednesday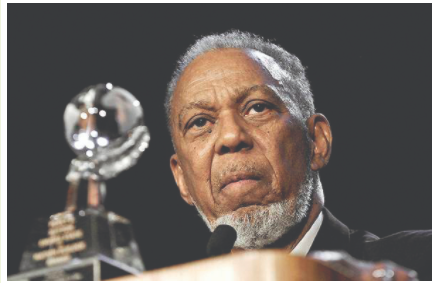 A screening of "Be Good, Make Me Proud," Buffalo International Film Festival's award-winning film for 2021 Best WNY Short, by Dorothea Braemer, an independent director and a professor of media production in the communication department, and Steve Peraza, an assistant professor in the history and social studies education department, will take place today at 4 p.m. at the Jacqueline Vito LoRusso Alumni and Visitor Center.
The short film is a tribute to Arthur O. Eve, a former New York State assemblymember and deputy speaker, who started the Educational Opportunity Program at the State University of New York Buffalo State College.
"He is driven, passionate, charismatic and doesn't take no for an answer," Braemer said in an email. "He is principled, dedicated to education and incredibly accomplished! A role model for us all!"
The Arthur O. Eve EOP was established in 1967.
The program provides "counseling and tutoring support services to students whose economic and educational circumstances have already placed them at a disadvantage."
"He knew very early on that educational opportunity or education is what can really transform the life of individuals that have been traditionally underserved and marginalized," Peraza said.
Braemer reached out to Peraza to inquire about project collaborations and was intrigued by his fascination with Arthur O. Eve.
When Peraza was a graduate student at University at Buffalo, he conducted a research project studying the legislative history of the program.
Contributing to the making of this film meant a lot to him personally as Peraza himself was a student of the Higher Educational Opportunity Program at St. Lawrence University.
"I cried when I met him because he could never know how much it meant to me to be a part of the HEOP program at St. Lawrence University, how it changed my life," Peraza said, "I have a story like so many others who come from neighborhoods like me , and here I am with a Ph.D working on a documentary, so when I saw him I was overcome with emotion."
The Research Foundation of Buffalo State College provided funding for the film to hire individuals like student researchers and camera technicians, according to Peraza.
Interviews featured in the film include the Eve family, professional staff at EOP and alumni of Buffalo State College EOP.
When it was announced that it won 2021 Best WNY Short at the Buffalo International Film Festival, it was a moment that couldn't be forgotten.
"I was surprised. I didn't even know there was an award. Of course I was happy, as it was great validation for our work," Braemer said.
After the screening, a panel discussion on access and education will be held.
Parking is available on Lot R-15 and R-14.
To make a donation to the Jaelah Yannis Jenkins EOP fund, please click here.
(This article was last updated on Oct. 27)