Former Channel 4 anchor, Erica Brecher speaks to Buffalo State students regarding her recent career change
The one anecdote that keeps most college students motivated about their career is that all skills learned can be used in alternate occupations. This takes hold as Erica Brecher, former Channel 4 news anchor and reporter, changed her career path after 10 years in broadcast television and journalism to a public relations practitioner.
Brecher said, "This is a choice I made for myself not too long ago, after a nearly a decade in TV news I wanted more stable hours, better pay and a chance at a normal life at home."
Brecher visited Buffalo State college on October 7 to speak about her new job at Excelsior Orthopaedics as their marketing coordinator.
She mentioned she was a former patient at Excelsior and had ACL reconstruction surgery through them several years ago.
"As I was looking for things I could maybe be passionate about and stand behind, having actually had surgery there I have some pretty good feelings about how I came out of that surgery and am back on my feet again," said Brecher.
She later mentioned her connection with the company brought her application more attention during the hiring process.
At Excelsior Orthopaedics, Brecher manages both external and internal communications. For example, connecting surgeons with media opportunities.
Right now, Excelsior Orthopaedics is sponsoring the 11 Day Power Play hockey fundraiser that takes place at Buffalo River Works. This includes physical and occupational therapist trainers and registered dietitians.
One of the goals of a marketing coordinator is to increase the exposure of the Excelsior brand name.
"We have physical and athletic trainers on the ice 24/7 monitoring and taking care of the players," Brecher said.
Brecher is in charge of the company's apparel during this event.
Brecher explained, "It will include both the Excelsior logo and the 11 Day Power Play logo; I am the facilitator between our vendors and facilitators to get those ordered."
Also on the agenda is a new location in Orchard Park. Excelsior will hold a grand opening with a date to be announced soon.
Brecher went on to explain the development of Excelsior Orthopaedics' medias and website.
She said, "We are trying to develop our tone, whether we are going to be serious or lighthearted and what types of things are we sharing."
"Right now, our strategy is showing who we are. I've been looking for opportunities to share pictures and stories for some fun things our team members are doing."
Their Instagram posted a picture of Brecher's son in an Excelsior Orthopaedics shirt at the Lego store in the Walden Galleria Mall. It said, "As you can see, Excelsior brand clothing has something for everyone…"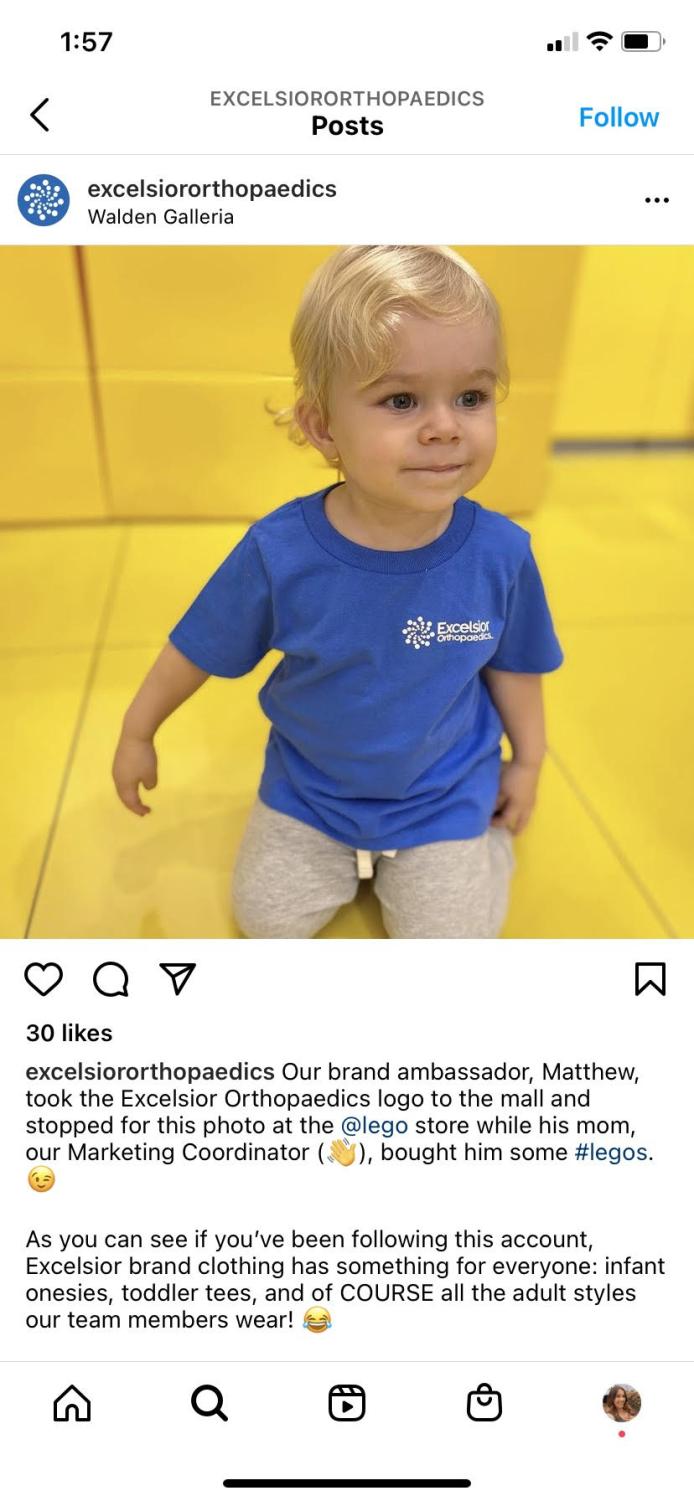 Brecher is doing a fantastic job at Excelsior Orthopaedics after only being and employee their for about 6 weeks.
The students and The Record here at Buffalo State congratulate Erica Brecher on her recent career path change and wish her the best of luck in her future endeavors.