5 Buffalo Sabres to look out for this season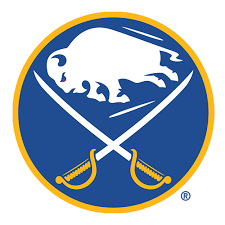 First things first, I want to say Jack Eichel will not be on this list. When healthy and playing he is the number one player on the team. Although he currently is not healthy, and I will be shocked if he ever suits up for the Buffalo Sabres again.
Now that the elephant in the room has been addressed, I want to talk about five Sabres players to look out for this year.
This is all based on previous performance at the NHL level whether it was a short sample size or seasons of sample size. The order does not matter. Player #1 does not mean he is the best player on the list.
Now that those rules are established, let's get into it.
Victor Olofsson
Victor Olofsson is a former 7th round pick by the Sabres in 2014. It is very unlikely to see players drafted so late that have so much success in the NHL. Most players drafted this late don't even see a single NHL minute.
The situation for Olofsson is completely different though. Olofsson had a standout year in the AHL with the Rochester Americans in the 2018-19 season in which he scored 30 goals and 63 points in 66 games. This earned him a spot in 6 NHL games in which he scored 2 goals and 2 assists for 4 points.
The next season Victor Olofsson was able to play in 54 NHL games in which he scored 20 goals and 22 assists for 42 points. This earned him a permanent spot on the starting roster as well as a permanent spot on the powerplay. Although his would be calder trophy finalist season was derailed by a high ankle sprain injury in January. His 42 points tied for 4th among all rookies with defenseman Adam Fox and he was second in goals behind only one player who was Dominik Kubalik with 30 goals.
Had Olofsson not been injured he very well would've been a Calder finalist along with Cale Makar and Quinn Hughes. Although you can't rewrite history so we will just have to live with what could've been.
Olofsson is poised for another great year with an increased role on the team and will be a great bright spot on the Sabres.
Dylan Cozens
Onto the former 7th overall draft pick in the 2019 draft Dylan Cozens.
The 20-year-old center was a great pick for the Sabres at the time to be the second center behind Eichel. Although as things are now he is looking to be the future number one.
Cozens has shown great potential everywhere he's been. In the WHL with the Lethbridge Hurricanes he put up 53 points in 57 games in 2017-18, and then 84 points in 68 in 2018-19, and finally 85 points in 51 games in 2019-20. Along with playoff performances of 13 points in 16 games, and 8 points in 7 games. With nothing in the last year as the pandemic ended the season.
The WHL was not the only place in which he shined. This past year he played in the World Junior Classic representing his home country of Canada in which he scored 8 goals and 8 assists for 16 points in 8 games while also serving as Captain for team Canada. He led them all the way to the final game in which they lost to the USA but earned themselves a silver medal.
He showed some promise on the NHL level as well with 13 points in 41 games. These are not necessarily great numbers but the main thing is he showed a lot of defensive maturity on his own end. Meaning when he is on the ice, the team has a better chance of stopping goals from happening than if he wasn't. Having this type of maturity at only 20-years-old is great for his future. Cozens has the potential to be not only a great player but an elite player. His maturity is a good sign already and he will hopefully grow into the player the Sabres need.
If I had to predict who the next Sabres captain is, it's him. Give it a few years of more maturity to the game and he's the perfect captain.
Rasmus Dahlin
Rasmus Dahlin, who just signed a three-year deal days before training camp, is one of if not the only bright spot on that Sabres blueline.
The former first overall pick in 2018 has shown good potential as well as decent stats in the NHL. In his rookie year, he put up 44 points in 82 games played, his second year he put up 40 points in 59 games played, and his third year and this past year 23 points in 56 games.
This past year he faced a heavy drop off but so did the entire organization and team. The Sabres were the bottom of the bottom. If there was somewhere lower than rock bottom the Sabres were there this season.
Dahlin has the potential to be an elite defenseman in the NHL and he's still young enough to hit that potential. He has great size at 6'3 207 pounds as well as slick hands and finesse.
Under Coach Don Granato towards the end of the season, Dahlin started to look like his old self from his rookie year. In the final 28 games of the season, he finished scoring at a rate of 1.06 points per 60 minutes at 5 on 5. As well as playing the puck more and holding onto it creating better, more effective possessions.
Dahlin showed promise towards the end of the year but his career so far has been a roller coaster. If he can find some semblance of consistency this year he has the chance to be a top defenseman for years to come.
Casey Mittlestadt
Casey Mittlestadt had a pretty good bounceback season after disappointing the past two years as well as during the beginning of the season.
His first three years in the NHL look like 5 points in 6 games in his first stint. Then 25 points in 77 games in his first true full season, then just 9 points in 31 games then this most recent season an impressive 22 points in 41 games.
This season started with Mittlestadt not even on the NHL roster instead on the "Taxi Squad" up until the month of March. He became a regular in the lineup in early March.
He proved that he can be the center of a line as well as produce offensively and be a big part of the team's offense.
Mittlestadt went from being just another prospect in the system from being a future piece to the team behind Dylan Cozens. If he continues to bounce back to this season's form he can be a 40-50 point player a year which is just what the Sabres could use on that second line.
Henri Jokiharju
Jokiharju who was traded in 2018 to the Sabres by the Chicago Blackhawks looks like he could be an amazing minute eater for the Sabres.
At just 20 years old the young plate averaged 17:13 minutes of playing time this year. Playing alongside Jake McCabe for most of it.
In his first full season with the Sabres, he had 15 points in 69 games and this past season he followed it up with 8 points in 46 games. Jokiharju spent most of his time this season eventually on the second pairing with Rasmus Dahlin.
Jokiharju benefited very well from the coaching change to Granato just like Dahlin did. He and Dahlin have chemistry together that will help both of them to increase performance and set forth a new age in buffalo hockey.
Jokiharju looks to make another leap in his skill this year and with Rasmus Ristolainen gone and another year to build chemistry with Dahlin he can do just that.
The hockey season is just days away and I can not wait to see these guys take the ice and hopefully lead the Sabres to some wins. As always, let's go, Sabres!