Professor gives healthy alternatives, realistic advice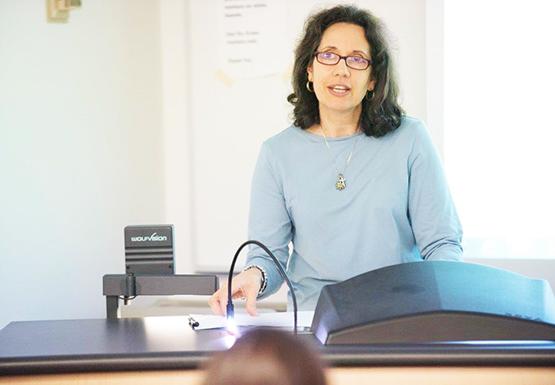 If you ask dietetics and nutrition associate professor Tina Colaizzo-Anas about the quality of her department, she'll tell you it couldn't be going any better.
"There is rich learning excellence," she said. "This is what I'm about."
Colaizzo-Anas, who has worked at SUNY Buffalo State since 1997, enjoys teaching and supervising her students.
"My biggest joy is seeing students acquire the skills to become professionals," she said.
Colaizzo-Anas, who is originally from Pittsburgh, became interested in the dietetics and nutrition field at an early age. Her parents were "way ahead of the game."
Her father used to run and read Prevention Magazine. She had a "different upbringing," noting that there always used to be something new on her family's dinner table and her mother would say, "Your father read another article."
Colaizzo-Anas grew up nutrition-conscious in a household without junk food, except for Friday nights when she was allowed to have treats. As she got older, the professor saw an ad stating that you can treat people with food to prevent disease. It was then that the nutritionist began her career.
She considered attending Ohio State and Buffalo State College, the only two options in the nation that had an internship program for students earning a Bachelor's degree. Colaizzo-Anas looked forward to both learning in class and having experience in clinical settings.
Ultimately, choosing Ohio State because it was closer to home, she would later use her education to begin a career in dietetics and nutrition that has lasted over 35 years and that has landed her jobs in Pittsburgh, Chicago and here in Buffalo.
Colaizzo-Anas uses her education to help students academically and to prepare them for their future careers. She also advises her students how to eat healthy on and off campus, even on a budget. Her advice for eating at a few different types of cuisines comes right in time for Local Restaurant Week, taking place in 200 local restaurants now through Sunday.
Colaizzo-Anas advises students to choose whole wheat over white food products and to substitute fatty dressings with healthier options, such as low-calorie olive oil, containing phytochemicals, which are plant pigments that provide protection against disease.
The professor also recommended students cut the amount of saturated fat they eat, adding that one can be creative with one's options.
For example, students can choose healthier pizza toppings, including pineapple, which is one of her kids' favorites.
"Be open-minded to trying new things," Colaizzo-Anas said. "If you haven't grown up eating veggies, try them one by one.
"Don't stop at not liking it once, keep trying. They're wonderful tasty treats."
The professor also advises students to order chicken rather than beef or lamb, noting that data found in recent years shows the benefits of skipping red meat.
A June 2012 study conducted by the Harvard School of Public Health shows "substantial benefit in eliminating or reducing consumption of read meat and substituting healthier proteins," according to Harvard Health Publications.
"If you can have a great, tasty alternative, why not?" Colaizzo-Anas said.
She added that no matter where students are going out to eat or what they plan on consuming, they should cut down their salt intake for the rest of the day so they "don't overdo it."
No matter what type of cuisine students choose from, whether they're eating at a restaurant or on campus, Colaizzo-Anas recommends that they end their meal by splitting desert with a friend in an effort to cut the fat, sugar and calories in half.
"Indulge in dessert if you're so inclined every once in a while," Colaizzo-Anas said.
She said that most nutritionists recommend that people "let nature feed them the sweets," with sweet fruits, but she knows that one's sweet tooth can lead them to eat something a bit less healthy.
Whether students are walking up Elmwood or heading to the Student Union for a bite to eat, Colaizzo-Anas knows that students' budgets can lead them to prefer eating cheaper foods.
"People think eating on a budget isn't doable, but it's most costly to eat junk food," she said, adding that there's a need for more nutrition education so that students can choose well-balanced meals.
She recommended that students pay attention to the calorie counts available on menus and look for plant-based menu items when choosing their meals.
Even with her healthy upbringing and career in nutrition and dietetics, Colaizzo-Anas said that students need to still eat what they want, but advises them to look for healthy options.
"You should feel happy when you go out to eat, not deprived," she said.
Email: [email protected]
Twitter: @LiveWithColly
Leave a Comment