British company aims to "meat" college kids' needs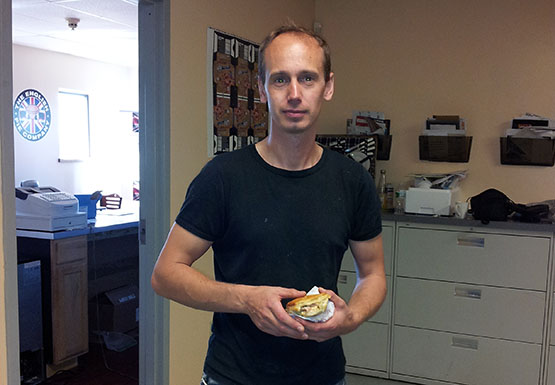 Damian Parker hasn't really had a day off in the last few years. A slim, energetic man, the British-born co-owner of Pie Mad has been spending 18 hours a day brainstorming, crafting and testing meat pies. With a wife who's part-owner and a small child, Parker admitted there hasn't been a whole lot of family bonding time.
"There is no work-life balance," he said. "It's all work. It's almost like an addiction."
An addiction to creating an Americanized version of what has become a British food staple, with a twist — a grab-and-go meat pie, tailored for busy college students.
Pie Mad is an initiative created by The English Pie Company, which operates under the Humble Pie Group umbrella. It began four and a half years ago in a converted garage in Vermont, owned by Damian's wife Vicky's parents, and has since moved to the Western New York region — which wasn't by choice.
"We were living with my in-laws — they were relocating for work, and we couldn't get a mortgage (by ourselves)," Parker said. "So they moved and we followed, and it was a lucky move for us."
They began wholesaling pies out of a 750-square foot bakery in West Seneca, and have since moved to the old hydroponic tomato plant on South Park Avenue in Buffalo, now dubbed "The Pie Factory."
The Parkers have conceived over 100 new formulas for pies since then, with many of them still in the testing phase, and have launched their products in both Tops and Dash's grocery stores.
"The infrastructure here is really good," Parker said of the location. "It's only about four miles from the Peace Bridge, and Ontario's part of the British Commonwealth, so it's a good fit for our English line."
He also noted that Pie Mad gets 85 percent of its ingredients from within 15 minutes of the factory, including a flour mill and meat plant — a sure sell for the eat-local crowd.
With its main line of pies already established, Pie Mad aims to create a regional favorite for each part of the United States. It already has an obvious concept for Western New York — the Buffalonian, made with chunks of chicken in spicy Buffalo sauce. There's also the Cheesehead, made with potatoes, cheese and onions and reminiscent of a knish; the Philly Beef, a twist on the Philly cheese steak; and the Columbus, more of a traditional chicken pot pie, for, you guessed it, Columbus Day.
Pie Mad is also working on pies for other holidays, like the Valentine's pie, which Parker describes as "steak in a chocolate stout gravy. Very rich, very decadent."
There's even a pie specifically designed with students in mind: the Morning Glory, "a complete breakfast in a pie."
The biggest challenge is marketing a handheld meat pie in a place where the traditional pie is eaten with a fork and knife, and is filled with fruit, rather than meat.
"I had no idea what to expect first coming in (five months ago)," said Kelly Mongillo, who oversees the front of house and much of the Pie Factory's public relations. "I had no idea what a pork pie even was. Then I ate one.
"That's the real challenge with the pies — as soon as people eat them, they love them. It's just getting them to pick the pies up in the first place."
The plans for Pie Mad's future are starting out small — growing their core of employees, working out the kinks of their newest automated equipment (a machine that can churn out 28,000 pies per day), and getting a food truck, for starters. However, Parker has admitted that there are ideas for creating an "English village," with shops, a brewery and even a soccer stadium.
First, though, come the basics: getting more people in Buffalo to notice and support the little pie factory with a big dream. Parker said the company has an ideas page on its web site and encourages those who try Pie Mad to submit their feedback and concepts.
"Ninety percent of the people in Buffalo don't know we're here," he said. "We're just trying to get people's engagement."
Email: [email protected]
Twitter: @A_Rodriguez39
Leave a Comment