Local Restaurant Week serves up student friendly meal deals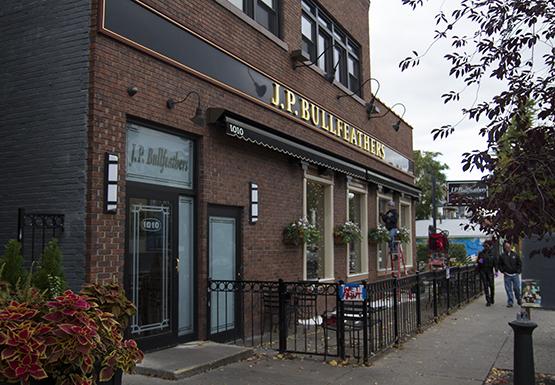 Are you hungry? If you're anywhere in the Buffalo area this week, you're in the right place at the right time.
Oct. 21-27 marks the 10th bi-annual Local Restaurant Week in Western New York. Local Restaurant Week, or LRW, celebrates the contributions that local restaurants give to the area's culture identity and regional economy.
Five years ago, LRW started with just 60 participating restaurants. It has since grown to about 200 restaurants participating twice a year, once in the fall and again in the spring.
SUNY Buffalo State is in the heart of the Elmwood Village, an area with many restaurant options for money-conscious college students.
LRW event coordinator Christa Hobart said that some restaurants offer two meals for $20.13, which, as she noted, "is a great deal and very budget friendly for college students."
There are many participating restaurants within walking distance of campus, including Cecilia's Ristorante & Martini Bar and J.P. Bullfeathers, both Elmwood Avenue eateries that have participated in LRW since it started.
Cecelia's manager Courtney Champlin said that the idea of LRW is "awesome," noting that it attracts people who are on a budget.
Scott Ockler, manager of J.P. Bullfeathers, also said that LRW is an opportunity for people to dine and not hurt their wallet.
"Times are tough for both customers and restaurants," Ockler said, noting that LRW offers savings for customers.
Champlin said that Cecelia's participates in LRW because it "gets people into the heart of the Elmwood Village, and puts money back into the local economy."
"We want people to come back and be regular customers," she said.
She noted the restaurant is featuring three-course dinners for $20.13 per customer. The first course is a soup or salad, followed by an entrée from a list of 15 to 20 choices, and a homemade cannoli for dessert.
The deal is offered every Tuesday year-round, Champlin said, however, it costs $25 and includes wine. Additionally, they have a special every Sunday for customers to buy an entrée and get a $6 bottomless mimosa. Every week, the restaurant features Monday Martini Madness, with half-off over 50 choices of martinis.
Champlin said that Cecelia's appreciates getting a lot of Buffalo State students as customers.
"It's good to get a happy hour in after an exam or before doing homework," Champlin said.
Down the road from Cecelia's, Ockler said J.P. Bullfeathers is also offering three-course dinners for $20.13 a person.
Customers will be offered soup or salad, an entrée and a choice of two desserts. The restaurant's featured entrees are a slow-roasted prime rib, tournedos of beef and citrus of salmon.
Ockler said that this deal is a nice option for students who are trying to impress a date.
He described the restaurant as having a "warm atmosphere, friendly service and a great location."
Ockler also said he appreciates Buffalo State students coming in and filling tables at J.P. Bullfeathers, mentioning Stump Trivia Tuesday Nights and every Wednesday is the 50 Cent Special, with each chicken wing only costing $.50.
With so many different restaurants and various cuisines participating, students have lots of options during LRW.
"Really, they are all good," Hobart said. "Just depends on what you are looking for."
The local economy also benefits from all the business.
"Money spent at local independent restaurants stays in the community," Hobart said, noting that the profits go to local bartenders, wait staff, owners and local vendors who sell the food.
Although there are other various forms of "restaurant weeks" across the country, Hobart believes that WNY's LRW is the largest to only feature local independent restaurants in the whole country.
"We like to eat in Western New York," Hobart said. "What can we say, right?"
Email: [email protected]
Twitter: @LiveWithColly
Leave a Comment