Local food nourishes community, business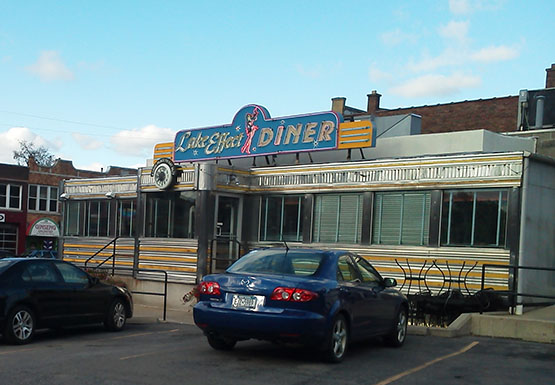 It seems that the local food movement has been gaining momentum, and fast. Whether it's the result of popular doctor shows, a demystification of factory farms, or an increased awareness of how local economies work, the result is anything but negative. Many Buffalo area businesses appreciate the interest, but have been at this game for a while.
When Lake Effect Diner opened 11 years ago, using local products in their menu was not an option because they were not be able to secure enough food to supply demand. It was only five years ago that Tucker Curtin, co-owner of Curtin Family Restaurants, started looking to integrate such products into his menu, and started forging relationships with local farmers.
"We work local as much as possible, but it's not always available," Curtin said. "If we don't secure it locally, we process it here."
The Curtins own a processing facility on Clinton Street that they are looking to turn into a full operation. In addition to processing, they cook, smoke, sear and package animals.
There is a whole vegetable side as well. The Curtins are working on full vertical integration, which will allow them to be able to make much more, including chiles, chowders and soups.
It is not always easy to form relationships with local farmers, because it forces them to take a risk.
"A farmer will only grow what he knows he can sell," Curtin said.
One of the advantages of working with local farmers is the personal experience. Kevin Gardner, co-owner of Five Points Bakery, relishes the opportunity he gets to be a part of the growing process. Gardner works with farmer John Zittel, of Zittel's Dairy Farm in Hamburg for his wheat.
During a particularly rainy spell, Zittel called Gardner to tell him that his wheat looked like it might mold. He explained to him that if the mold got into the heads of the wheat, then it would kill it, so the two discussed whether Zittel should spray it with pesticide, something he had not done before. That way, he could salvage it for feed, or otherwise wait it out and risk it dying.
Ultimately, the sun came out and the wheat dried up, so everything turned out. Had Gardner not had such a relationship with his supplier, the farmer may have just gone ahead and sprayed the wheat, leaving Gardner wheat-less.
"Buying local is so much better in so many ways," Gardner said. "You would never get that if you just got your wheat off a truck."
Five Points opened in 2009, and has been "throw-out-phobic" since Day One. Their bread share program works by having customers sign-up ahead of time, then pick what baked good they want prepared for them each week. Knowing approximately how much of each product to make helps reduce waste.
When waste cannot be avoided, Five Points donates leftovers to Buffalo Food Not Bombs, which brings them to those in need downtown.
The biggest battle in the locally grown food game is convincing people that they should buy local over grocery store products. The simplest way to go about this is by showing them that the products are better quality.
"We have a philosophy that we kind of use," Gardner said. "That the customers, they should buy locally grown stuff and locally made stuff because the products are phenomenal — because it tastes good. It has to start there."
Hanzlian's Sausage is a deli-based shop that started in 1999, selling homemade sausage out of a truck in the garage at the Cheektowaga Super Flea. By selling local quality products, David Hanzlian was able to collect enough revenue to secure a permanent location on Genesee Street in Cheektowaga in 2006.
Sausage is their main staple, but Hanzlian's now sells over 300 products in their store and at farmer's markets. The business has been able to expand because they can compete with the local stores, and often win out.
"The supermarket prices are so high," Hanzlian said. "I used to work for supermarkets. You have all that labor and everything."
Hanzlian admits that he works on a much smaller profit margin and that the shop only employs six to 10 people at a time, all family members. But the business model is working. He has seen an increase in customers over the years, along with an increased interest for locally grown and raised foods.
"My sales are huge compared to when they first started," he said. "Everybody in the health care field is saying go out to farmers markets, and they're saving 20, 30 bucks, so it works for them."
Without all of the added hormones and antibiotics, growers and owners explained locally grown and raised foods are better for our bodies, and they are also conducive to a good business model.
"We know better," Curtin said. "We want to offer good nutrition and not just food that tastes good but that makes you feel good."
Gardner has lived and learned. He found that it makes sense to not have to rely on and have his business impacted by what is going on in other parts of the world.
"We ran a bakery, and while we were managing it, wheat prices skyrocketed," he said. "Wheat prices went up like 120 percent.
"It was this huge, huge problem in the business. We had to fire people, and it was devastating, all because of fires in Russia. It had nothing to do with us yet our business was being crippled because of it."
Working with farmer's markets, co-ops and even growing some of their own product, there is room for experimentation and expansion. The Steer, one of the Curtin Family Restaurants, is about to unveil its new menu. Some additions will include "raw, vegan-type" items, like crab-less crab cakes that Tucker's wife and co-owner, Erin, made herself.
Five Points is working on opening a new space across the street from their current location, where they will be able to grow more of their own products, like vegetables and nuts.
"We kind of run our business using our intuition for a lot of things," Gardner said.
Well, keep it up, because the city of Buffalo seems to like where this is going.
Email: [email protected]
Twitter: @WulffSamantha
Leave a Comment