Food Truck Tuesday delights downtown area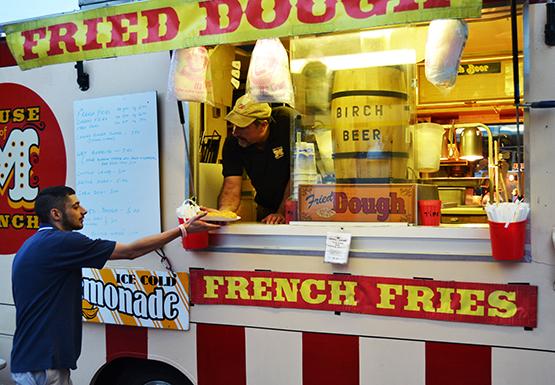 Food trucks have been a popular business installment in cities across the country for many years, but their rising popularity is being reflected in many reality TV shows.
They are also becoming prevalent in certain towns and neighborhoods in and around the Buffalo area, with many of them participating in what they hope will become a yearly tradition.
Larkin Square, a business park with a longstanding, cyclical history of development and demolition, offers a home for food trucks of all kinds from 5 to 8 p.m. every Tuesday from June through October.
This literal caravan of catering carts and trucks breathes life into the surrounding neighborhood, and into the palates of patrons.
The market complex itself is owned by Howard Zemsky, a local businessman and Buffalo State College Council chair. Zemsky's wife, Leslie, oversees Larkin's special events, including Food Truck Tuesdays.
"We may put in a small fee next year," she said. "This year we (didn't have) any kind of fee. We provide all the amenities, the security."
Leslie Zemsky said this event works for her business financially because they are the only ones who can operate under the liquor license.
According to her, though, the real mastermind behind the food truck event is her son, Harry. Because of connections he has made in Rochester, Macarollin' has joined Larkin Square, along with three other Rochester food trucks.
Like Buffalo's changing landscape, the Buffalonian palate is evolving. No longer do people want just fast food; they want to be wowed, and they want it done right.
Stefanie Rowan, a long time food truck enthusiast and current owner of The Cheesy Chick, sought to purchase her own truck after experiencing them at events around Buffalo.
"It's such a city thing … It's just really cool to see such a modern industry be popular here in Buffalo," she said. "You can really pick what you want to do and go with it."
After seeing that The Cheesy Chick was for sale, Rowan said she decided to buy into it, and make it her own, keeping only one original sandwich and adding her own to the menu.
"I liked The Cheesy Chick and the wrapping on the truck," she said.
Rowan said that the most popular sandwich on her menu is the Buffalo chicken grilled cheese on pita bread with mozzarella and blue cheese.
House of Munch, a truck that serves snack fare, was started by Mike Albarella and his son. The business originated in the Walden Galleria Mall, where it stayed for about a year.
"I had been in the concession business on the road before as well, so we decided to make the House of Munch mobile," Albarella said.
Albarella said one of the challenges with operating a food truck is going through the various steps required for licensure in every municipality the truck operates within. He explained that there are an increasing number of policies in towns dictating where a truck can go in order not to disrupt non-mobile businesses already established.
The options are varied, with about 25 trucks known to stop at Tuesday's event. Offerigs include anything from authentic Mexican tacos to fair fare, even Buffalo classics like beef on weck.
On a recent Tuesday, most patrons seemed to migrate from truck to truck before finally sitting together on the lawn to share what they found.
Not only do the trucks offer food fast, and with the flare of their unique trucks, the creativity behind the dishes is a major selling point.
Macarollin' offers gourmet mac and cheese options including lobster, caprese, original, and breakfast.
The Gelato Gypsy lives up to her name, moving her cart all around the Western New York area and selling homemade gelato. The cart itself was made in Italy, and the flavors like Stracciatella make you feel like you've left Buffalo altogether.
Carrying out every aspect of her business on her own, Amy DiSarno, made her Gelato Gypsy masterpiece mobile.
"The biggest thing trying to make it mobile … I had to figure out how to keep things cold while in transit," DiSarno said.
Larkin Square only requires that trucks be certified by the Erie County Health Department. Beyond that, the type of food served is completely up to the truck.
The real value of this event lies in the opportunity to have foot traffic near and around the trucks. People see them, try their food, and want to see them again.
"It definitely helps with making really good connections and getting that next event," Rowan said.
The food truck owners and staff socialize and support each other with friendship — and even a meal or two.
"We definitely share food, it's kind of nice," laughed DiSarno. "They come for gelato, and last week, three people came and just dropped food off for me."
That is certainly one pleasant side effect of a business that has its detractors, but provides the Greater Buffalo area with good food and a diverse array of tastes.
"(Food Truck Tuesday) is not a money maker, but it's building a neighborhood," Leslie Zemsky said.
Email: [email protected]
Twitter: @AndrewManzella
Leave a Comment