Former professor's current adventure icing on (cup) cake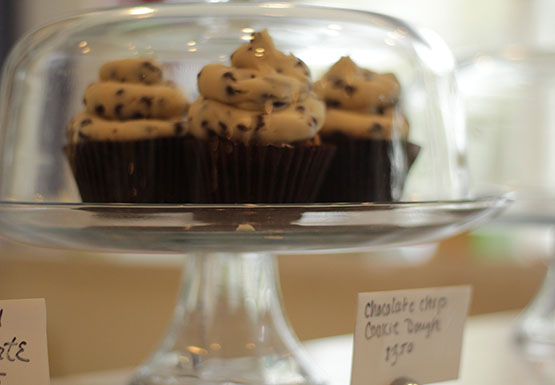 What do pancakes and bacon, chocolate chip cookie dough, peanut butter and jelly and Buffalo hot wings have in common, other than just their edible qualities?
Believe it or not, they are all signature cupcakes at Fairy Cakes Cupcakery.
Co-owners Kelly Audette and Mo Torpey opened up Fairy Cakes, at 289 Parkside Ave., in the fall of 2011. The two women had been in the cupcake business for over eight years before Fairy Cakes opened its doors.
Torpey taught writing at SUNY Buffalo State for four years and started out helping Audette with baking on the side. But eventually, the women realized they could turn this into a legitimate business, so Torpey left teaching to open up Fairy Cakes with Audette.
When looking for a storefront, Torpey admitted that the building was not their first choice when they arrived at the location. It wasn't what they envisioned, but the store is directly across from the Buffalo Zoo, and with one glance in that direction, the ladies' minds were changed.
"It was 100 percent because of the zoo," Torpey said. "We looked out the window and down the block, and there was a line full of families with children and we were like, 'This could work.'"
Two years later, the women are loving being their own bosses, and getting to do w
hat makes them happy — baking.
The cupcakery, decked out in purple walls and decorative lighting, caters to many different styles of cupcakes. Audette and Torpey have over 30 different batter flavors, along with over 60 different frosting flavors that they can mix and match. This leads to unique flavors aplenty –  from seasonal cupcakes, such as Halloween zombies, to unique cupcakes like the "Elvis cupcake," which contains some unlikely ingredients and is Torpey's favorite to make.
"It's a bunch of ingredients that you wouldn't necessarily think go together, but when you put them in the cupcake, it's just salty, sweet deliciousness," Torpey said.
"There's a brown sugar banana cake, with peanut butter buttercream, and it has crispy bacon and a honey drizzle on top. It's based off of Elvis's favorite sandwich, and he's The King, baby. You have to trust him."
The store offers a variety of cupcakes, changing its menu daily. The
owners even work with Flying Bison Brewing Company to produce cupcakes, including pumpkin beer flavors for autumn (they agree that this season is their favorite to bake in).
Fairy Cakes is currently selling pies and hot apple cider as well. And as the winter months come, they will be selling hot chocolate too. But they leave the latte business to Sweet_ness7 Café down the street.
"We don't try to compete with them," Torpey said. "We leave the coffee to them, but you can bring your latte over here and enjoy it with a cupcake."
The purple dream-like interior, along with the children's tables and toys, makes Fairy Cakes child friendly and Torpey said they host many children's birth
day parties. But there are other tables and chairs to sit at that make it an ideal place for college students and adults to come hangout in as well.
According to Torpey, they recently had
some books clubs and study groups in the store.
"In colleg
e I never liked studying in libraries," Torpey said. "I cou
ldn't stand the quiet. It's easier for me to study where there are things happening."
She thinks studying at a cupcakery has its advantages.
"It's a good reward — (tell yourself) 'if I study for two hours, I can have another cupcake,'"Torpey said.
One of the cupcakery's biggest clients is wedding parties. According to Torpey, fall is a big wedding season for them. They sometimes make orders for three wedd
ings in one weekend. Fairy Cakes has also hosted many bachelorette parties where the women can come and learn how to make and decorate cupcakes.
Amanda Robertson-Baroni has been working at Fairy Cakes for about a year and a half and said the reason she loves baking at Fairycakes is because they take these basic ingredients in the kitchen and can do some amazing and fun things with them. She said by following precise, scientific calculations with the right proportions, you will get a perfect product.
"The best part about baking is the finished product that makes people happy, and I get to say, 'I did that,'" Robertson-Baroni said.
Samantha Baker, a devoted customer of Fairy Cakes, said she walked in there one day on a whim and kept coming back because of the friendly and passionate staff, the yummy cupcakes, and the homemade frosting.
"I love the location and variation of flavors," Baker said. "I once visited a bakery that won an episode of Cupcake Wars. Fairy Cakes has (better) cupcakes then that bakery did."
Fairy Cakes is open Wednesday – Saturday, 10 a.m to 6 p.m. and Sunday, 11 a.m. to 4 p.m.
Email: [email protected]
Leave a Comment