Hundreds witness debut of Burchfield Penney's 'Front Yard' exhibit
Buffalo State's Brian Milbrand looks forward to possibilities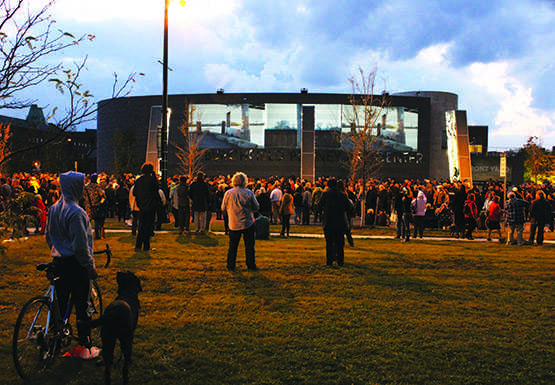 The Front Yard at the Burchfield Penney Art Center lit up permanently Friday evening as a crowd of artists, neighbors and students looked on.
During the event, parts of Elmwood Avenue were closed to traffic. Various food trucks lined the street. The art center and its café also extended their hours.
"We're happy that it's finally here," said Allie Brady, events and rental manager at the Burchfield Penney and SUNY Buffalo State alum. "It's cool to see so many people show up for a college event."
The Front Yard at the Center is the official name of the trio of projection towers and the building's zinc façade that serves as a screen for the digital artwork.
The project was created by artist Brian Milbrand, who works as a technical assistant in Buffalo State's communication department, and architect Brad Wales, who teaches at the University of Buffalo.
Billed as the world's first permanent, environmentally-responsive, 24-7-365 outdoor audio and image experience, the Front Yard projects different audio and video depending on the time of day and weather conditions.
Milbrand said that Buffalo's infamous weather made it ideal for this sort of project. He said he liked the sense of randomness it added.
"A project like this would have been a real bust in Los Angeles," he joked.
According to Milbrand, there have been other 24/7 projectors before, but none that were permanently outside and always changing. He said that the project was inspired by Charles Burchfield's own works, which show subtle changes in nature.
The Front Yard features a variety of artists. Among them is Meg Knowles, an associate professor in the communications department at Buffalo State. She collaborated with Buffalo State alum Chris Gallant to create a piece titled "Monday is Washday."
Knowles said that the Burchfield Penney had been looking for an outdoor sculpture for some time. She was glad that they chose the Front Yard design.
"I love the idea that it's something that will morph and change as more artists are added," Knowles said. "It's more imaginative than a plot sculpture."
Another artist, Emil Goranov, media productions major at Buffalo State, was chosen for the project during a class with Milbrand last semester.
Goronov attended the opening night of the event and was impressed by the turnout.
"This is a great city for art," he said. "Buffalo is on the up and up and it's going to keep going up!"
Locals were impressed by the sights and sounds of the Front Yard.
"It's nice to see something downtown here," Melissa Shonitski said, an area resident. "I like that it's local and I get to enjoy something in my own neighborhood."
The event also drew in some out-of-town visitors.
Steve Feldman, an art enthusiast from New York City, said that he had never seen anything like it before. Feldman compared the Buffalo art scene to Tribeca 30 years ago.
"I'm blown away by the concept," Feldman said. "It takes environmental art to another level. This really puts a period at the end of my Buffalo experience."
More artists will be featured at the Front Yard in the coming months, according to Don Metz, the project manager for the Front Yard and associate director of Burchfield Penney. He said that between two and four new pieces of audio or video will be added each month.
The old art will not be replaced. Instead, the projections will just change more frequently.
Metz also said that to celebrate the Burchfield Penney's anniversary on Nov. 5, a live performance inside the center will be projected on to the Front Yard.
Milbrand said he is relieved that the project has finally debuted, but he is also excited for its future. He said that he has already started to think of some new pieces for the Front Yard.
"I feel like it hasn't reached its full potential yet," Milbrand said. "I'm excited to tweak it and make it better."
Email: [email protected]
Leave a Comment