PR professionals advise students on profession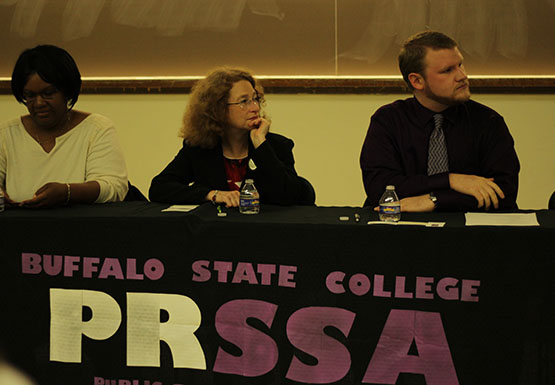 A group of public relations professionals were brought to SUNY Buffalo State by the Public Relations Student Society of America to give advice to students and speak about their careers in public relations on Wednesday.
About 30 students from various local colleges and some faculty members attended the forum.
Danielle DelMonte, Kandis Fuller, Susan Shwartz, Brennan Terry, and Clare MacClellan gave their perspectives at the forum. Professor and advisor to the SUNY Buffalo State chapter of PRSSA, Jeff Patterson, served as the moderator.
Terry, MacClellan and Fuller are Buffalo State alumni.
The forum began with the speakers giving advice to the audience. The speakers all agreed that persistence, being willing to try new things, and knowing how to dress and conduct yourself during an interview are especially important.
"Be a sponge," said Fuller, communications manager at Univera Healthcare. "Try to soak up everything. Learn new things, because the industry is changing."
DelMonte, the public relations account coordinator at Travers Collins, offered some special advice.
"Having a personal brand is important — what you stand for professionally and personally, more than just your resume," DelMonte said.
It is common knowledge that an interview can either make or break your chances at a job. DelMonte mentioned that not being enthusiastic enough could hurt your chances, while Fuller warned not to come in overly confident.
"Knowing the company and what they do is the most important," Shwartz said, director of marketing and communications at the Buffalo Philharmonic Orchestra. "Always be more on the side of professional. Dress up. Look good. If you don't care enough to do that, they're not going to hire you."
Personal social media accounts can also be problematic if there are things that could be considered risky or inappropriate on your profile.
"Make sure you know what's on your Facebook and Twitter," MacClellan said, manager of events and entertainment at the National Hockey League. "Be strategic about who you're reaching out to and follow up."
When asked about trends that practicing professionals should be aware of, social media was the most popular answer.
"Look for blue oceans," Terry said, manager of social media and internal communications at Kodak Alaris. "Blue oceans are things where there isn't any blood in the water, meaning there aren't a lot of people there."
Popular "blue oceans" include social media, healthcare, and banking.
Shwartz confirms the theory that older employees at companies aren't really interested in learning social media, but are more interested in hiring younger people to do those jobs instead.
"Our job is to manage these things, not be the experts on them," she said.
When it comes to graduate school, the professionals didn't think it was especially necessary, but they do think it helps to have a master's degree when competing for a position.
At the end of the evening, attendees got a chance to talk to the professionals a little more in depth. Niagara University students Courtney Corbetta and Allison Jenson attended the forum after their public relations professor, Bill Patterson, brother of moderator Jeff Patterson, suggested that they go.
"It's one thing that we learn what [public relations] is in class," Corbetta said, a junior communications major. "But hearing everything from people working in the field puts a different perspective on it."
The professionals touched on a wide range of topics so the attendees were able to gain a lot of knowledge in the hour and a half spent at the event.
"I liked the idea of being persistent," Jenson said, a junior communications major.  "Really putting yourself out there and making yourself known."
Corbetta said she liked how they touched on social media. She said that you have to make yourself different from other people, especially with personal branding.
"As we're in this room, we look around and everyone is our competitor, so how can you make yourself different," Corbetta said. "I think social media is great because with blogs and things like that, if you use it correctly, you'll be able to put yourself ahead."
E-mail: [email protected]
Leave a Comment