WBNY's reach extends further than it ever has before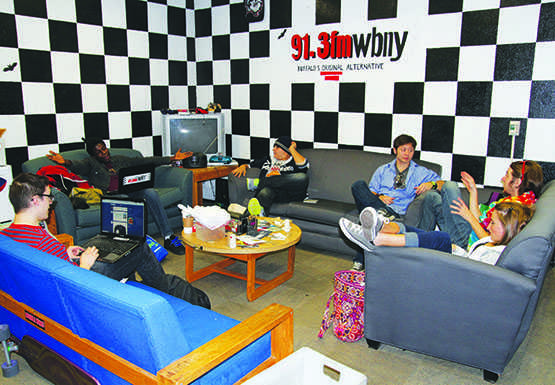 Buffalo State's WBNY 91.3 radio station began broadcasting at 1,000 watts at noon on Oct. 2. The original alternative station had previously worked at 100 watts for the past 31 years.
The request to have a new tower was first made in 1998. After 15 years, WBNY was granted a new antenna and transmitter that sends out a stronger signal throughout the city and suburbs.
Although the new signal will not reach Canada, it is now strong enough to reach North Tonawanda, South Buffalo and Pembroke.
Amanda Matthews, general manager of WBNY, said she hopes the new broadcast range will increase the audience. She hopes to create a "loyal listenership" with the new additions.
Matthews also said that they have been trying to get more involved with the community, especially local businesses.
"We've been trying to branch out into the community and get the community more aware that we exist, that we are here and that we are the original alternative since 1982," she said.
WBNY became Buffalo's first alternative radio station in 1982 when it transitioned to FM.
It started out at 100 watts, broadcasting throughout the city of Buffalo and a little bit into the suburbs. It is a licensed Federal Communications Commission regulated station.
Thomas McCray, associate professor and advisor for WBNY, said that he never dreamed that the radio could have ever increased its power to 1,000 watts. He said the upgrade is terrific and encourages members to maintain a professional station.
"It makes us seem more real," McCray said. "I think the students are excited. Certainly the staff that are on the air and certainly the executive board is all very excited about this."
WBNY is an educational station that allows students to gain experience on air and behind the scenes.
The station runs different programs that allow students to cover stories and events on the air like football and hockey games. With the new antenna and transmitter, people can listen to live updates more clearly and further away from the area.
Nick Stutzman, a Buffalo State and WBNY alumnus, said one of the benefits to having the radio station broadcast at 1,000 watts is that it'll gain more listeners.
He said that the station will gain more credibility in the area and DJs can feel excited for the bigger range.
"I think the new tower is one of the best things to happen to any college radio let alone WBNY," Stutzman said. "Plus it's a chance for students to be heard by a region not just a city."
Stutzman said he wishes the change to a more powerful frequency had happened sooner. He is glad that he can come back as an alumnus to use the station, have a show and get to experience the new 1,000-watt broadcast.
"This is more than an increase, it's a chance to make people realize WBNY is a real deal in Buffalo," Stutzman said.
McCray said that there is more competition in the commercial world for radio in today's society than there was when the station first began. However, he believes that WBNY is different and that it's allowed them to gain a certain reputation for the past 31 years it's been on air.
"It's a nice representative, I think, for our college as a whole," McCray said.
Email: [email protected]
Twitter: @lcoppola92
Leave a Comment